In a week that saw a televised address from Boris Johnson announcing new coronavirus restrictions, the return of the Great British Bake Off on Tuesday evening provided welcome escapism for many, with the show ironically following the Downing Street speech with a sketch from Matt Lucas pretending to be the Prime Minister.
Finding a similar balance between the serious and the playful has been a difficult challenge for brands in recent months, but many have excelled to show the value of good communications.
Here's my take of some of the week's campaigns:
HITS
ITV stands with Diversity in print ad
After more than 24,000 people complained to Ofcom about dance group Diversity's Black Lives Matter-themed performance on Britain's Got Talent, it would have been easy for ITV to lie-low and avoid passing comment until the watchdog had fully assessed the complaints.
Instead, ITV got on the front foot with a statement that stood by its decision to broadcast the routine, describing the performance as "an authentic, heartfelt response to many of the issues and events which have affected society in 2020".
This was followed by a powerful print ad in every national newspaper on Saturday, with ITV's logo accompanied by the call to "Stand with Diversity". A fantastic example of bold corporate communications and reacting to a major media talking point to promote an important brand message.
'We are changed by what we see. Just as we are changed when we are seen.'@BGT | @AshleyBanjo | @diversity_tweet pic.twitter.com/6JeSp8WGD9

— ITV (@ITV) September 19, 2020
Twitter brings personality to public health messaging
One of the great ways that brands have supported the COVID-19 pandemic is by using their powerful platform to share vital public health information, and Twitter took that one step further this week with its excellent #WearAMask campaign.
The social giant took out billboards across America to bring to life some of its users' wittiest tweets about the new normal of wearing face coverings, whilst those interacting with the hashtag #WearAMask were treated to an animated mask emoji sequence.
A great example of injecting personality to important public health information.
?? New Jersey
?? @umm_ahaha pic.twitter.com/TzQF0FUHC6

— Twitter (@Twitter) September 21, 2020
Burger King crowned sports marketing winners with Stevenage sponsorship
Burger King crowned a whopper of a sports marketing campaign by revealing its true rationale for sponsoring League Two strugglers Stevenage Borough this week.
Stevenage - which only survived in the Football League by a points deduction for Macclesfield Town last season - has had Burger King as a curious shirt sponsor for some time, only for the £50,000 sponsorship to be fully explained this week in an online video.
Burger King highlighted that by partnering with the Hertfordshire club, it also gained IP within the FIFA game, reaching millions of players worldwide through free burger promotions that encouraged gamers to make 'The Boro' their team of choice and sign some of the world's leading players to their online ranks. This has now led to Stevenage becoming the most used FIFA team on streaming platform Twitch.
A brilliant case study of how a brand partnership can be executed, whatever your budget.
How @StevenageFC and @BurgerKingUK took over FIFA 20, sold out of club shirts and became most used team on Twitch https://t.co/LlQ9CUWBxP

— The Sun Football ? (@TheSunFootball) September 24, 2020
MISSES
Greggs and Just Eat, roller-skating delivery service
As a former journalist, I'm all for a good pun, but this week's stunt from baker Greggs and Just Eat really took the biscuit...
A press release fronted with images of Love Island star Maura Higgins claimed that a team of professional roller skaters is now delivering Greggs' famous sausage rolls to customers, as part of a 'trial' for a new delivery service from Just Eat.
As with any PR-led story, the devil is often in the detail, and in this case the trial is restricted to just two shops in central London - presumably chosen just for the photos and press release.
Whilst not knocking this as a fun tactic to get some publicity for Greggs' exclusive listing on the Just Eat app, perhaps it's one that should have been stored in a safe place until 1 April, when the brand could have gone big without peddling this as a genuine news story.
B&Q fails to build a story with new DIY campaign
With the Government's stamp duty amnesty leading many to consider a house move, DIY specialist B&Q launched a major campaign with new creative positioning "you don't buy a life, you build one".
Whilst eye-catching slogans have appeared across a range of out of home locations, it's a prime example of a campaign that misses the mark for storytelling and earned media opportunities.
Given the agency's press release talks about the campaign "expressing the belief that anyone can change their home to make their life better", it's odd that not a single person features in the creative. A reminder to brands not to neglect the fact that people need to always be at the heart of any human-interest story.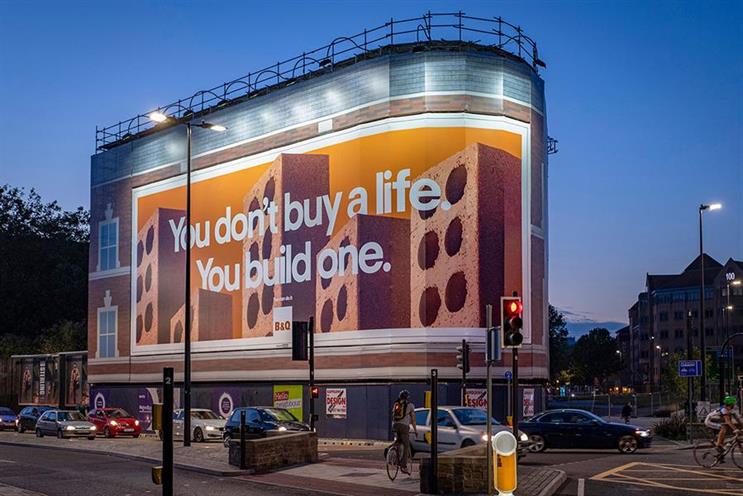 ---
Click here to subscribe to the FREE Creative Inspiration bulletin to receive dedicated features, comment and the latest creative campaigns straight to your inbox. Make sure you register for the site to access more than one story per month.
To submit an idea for the bulletin, email John.Harrington@Haymarket.com