Agency leaders have been left frustrated by the Government's latest guidance for employees to work at home where possible.
Although they understand the reasons why the Government has had to reverse its previous 'return to work' policy, many speaking to PRWeek have interpreted the new, somewhat vague 'if you can' guidance as a call to close down offices only weeks, and in some cases hours, after they had reopened following the first COVID-19 lockdown phase.
We must prioritise our colleagues' mental health as we enter quasi-lockdown

The overwhelming sentiment is that many employees were enjoying returning to an office-based culture on flexible hours, and that, while they are now proficient at working from home, it could have an impact on mental health.
One agency leader goes further, warning that the move to shut down offices and further curtail the UK's economic recovery could be a death knell for agencies already struggling to make ends meet.
Here is a selection of views from across the industry:
Lis Field, chief executive, Eulogy
After months of all of our staff working from home, we had just started to encourage small teams to get together in the office. Some were reticent, but most found that once they did it, they wanted to do it again. It was as if we'd forgotten how enjoyable working in each other's company could be. So we had a few weeks of small teams being together – COVID-secure, obviously – and it was great. The culture felt alive again. More and more people requested time in the office. Productivity – while interrupted with lots of banter and nonsense – actually increased because of it.
Honestly, I almost wish we hadn't bothered. We had that fleeting moment, and now it's been taken away again. We shut the office today for the foreseeable. We went through what everyone else did – changes to the physical environment to ensure we were COVID-secure. Signage, one-way systems, spacing, etc. Necessary to reopen, but essentially pointless. We assume we'll predominantly work from home for the next six to 12 months. I wouldn't mind so much if we weren't forking out stupid money to pay for an office space the Government wants us not to use. Landlords won't budge. Eulogy will be OK, but I have no doubt there will be many agencies that fold because of similar situations.
---
Jessica Hope, managing director, Wimbart
We were literally supposed to start our new 'bubble' regime today to start easing people back into the office on a part-time, super-flexible basis. We had signs and everything, we were so well-prepared.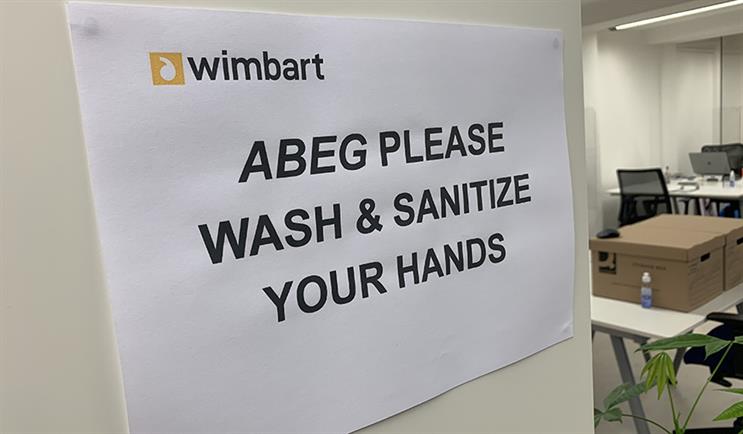 We're fortunate that in terms of client and journalist relations, we're used to working remotely, not having that many face-to-face meetings, but being apart as a team has been tough. It's always been a case of the health of the team and those around us continues as the priority. We're disappointed that it's come to this, but still thankful that at least we can still operate as a business while working remotely. For the parents working at Wimbart, we're all concerned about any potential school closures; that would be a blow to us and the business.
---
Jonathan Lomax, managing director, The Blakeney Group
There was a downbeat end to the day as we said a sad goodbye to each other for the second time in six months. Almost everyone in the Blakeney team has voluntarily been coming into the office for a few days a week since mid-August and, having had a number of new colleagues start with us during lockdown, in some cases it was the first time we'd met them in person. This isn't all about millennials desperate to come into the office while the middle-aged among us happily discard the commute. This is about different people working best in different environments, with a significant number of us finding we work best with constant and natural interaction with other colleagues. The first lockdown showed that we could remotely complete tasks for clients very efficiently, but in this next phase we will all need to work hard to maintain positive and creative cultures in teams that could spend almost a year apart.
---
Kevin Read, chief executive, Pembroke and Rye
During the pandemic we learnt a lot about ourselves and how to adapt to the needs of our clients. Our plan – partly guided by the challenges of narrow corridors and tight stairwells – was not to return to the office until January 2021. With the prospect of six months, or more, of working from home, we are now looking for a smaller space with improved facilities. That way we can carefully balance economic, cultural and social needs. Increased demand for working from home will be offset with requests from younger employees seeking to work in a safe, well-equipped, and friendly office space.
---
Boris is significantly aging us poor comms people this year who have to decipher the ambiguous messaging for their businesses #2020 ??

— Fifibelle (@EffieKanyua) September 22, 2020
---
Sharon Brigden, managing director, SLBPR
We returned to the office on a part-time basis as soon as it was announced we could after lockdown. Some staff, including me, struggled with working from home full-time. Personally, I find it stifles creativity. Zoom/Google Meets and other online video forums are great for meetings, but don't replace face-to-face interaction where conversations go off at tangents and the best ideas are born. For younger staff, working remotely doesn't help hone their 'soft skills' – listening to more senior people talking to journalists or clients, learning how to pitch or handle a situation – and in turn doesn't allow us senior staff to guide those team members when they may veer off-course on calls. As a team we had collectively decided on three days in the office with Mondays and Fridays working from home and were enjoying this combination before yesterday's announcement. We have still all decided that we want to come in one day a week, and I will review immediately if any of my team feel isolated or anxious. We have a duty to follow Government guidelines, but I also have a duty to look after the wellbeing of my staff, which I will do in a safe and secure workspace.
---
Petra Clayton, founder and chief executive, Custard Communications
We are very much an agency within the hospitality industry, so it's been a day of clarification around communication. We went back to the office in bubbles in July and have been managing it really well, prioritising the wellbeing of our team and the needs of our clients. [This] news provides so much doubt and, as an employer, I want to ensure I'm continuing to prioritise my team's welfare. We need clear direction, not just 'if you can' statements. We need solid direction and explanation so we can make calculated decisions to reduce risks. We don't rely on public transport and we have plenty of space to operate in bubbles, so technically we should be OK to continue, but the doubt the Government put in everyone's minds means we need to take steps to close again and return to working from home. We are closing for a week until we are confident that we can make an informed decision. As a close team, we miss being together, especially when we are challenged by the hospitality situation, which impacts all of our clients and our business.
---
I was just gearing myself up to go into the office for the first time since starting my new job, getting my anxiety into check but now retreating back into my WFH bubble!

— Surinder Kaur Sian (@SurinderK) September 22, 2020
---
Alex Donohue, MD and founder, Press Box PR
I had a series of office viewings lined up, which I have cancelled. My team (five full-time staff) have been crying out to find a new, safe, permanent home base. We had previously shared office space with a tech agency, which we've outgrown, but [this] news means it seems difficult to know when to commit to anything, unless rents fall even further, which wouldn't be sustainable for the landlord. I'll let the dust settle and assess, but another six months of home working doesn't seem preferable and we're bucking the trend in that everyone wants to get back into an office nearly all of the time. We miss working together; being creative is harder and, as a new young agency with a majority of staff who are working in PR for the first time, we've found the days when we have worked together this summer far more productive and enjoyable. 
---
For me, I am lucky to work for an agency that is flexible in its approach and can therefore adapt quickly to Government recommendations. We are well supported to WFH, especially with our new 1-2-3 model!

— Stella (@stella_mills_) September 22, 2020
---
Louise Stewart, senior counsel, Cicero/AMO
We're lucky in PR to mostly be able to work from home. I joined Cicero/AMO as senior counsel recently and I think it's really helpful to be able to work from home sometimes and also in the office. I've been in the office for the past few weeks, which has felt COVID-secure. I'm also missing meeting clients. It's great to have Zoom meetings, but I think sometimes it really helps to meet face-to-face.
---
Ben Rothschild, senior consultant, Sermelo
For our team the new directive has put a hold on returning to the office at least a few days a week. Although we've been lucky enough to have had a busy summer, we were all looking forward to meeting up in person more regularly, not only to catch up, but also to discuss creative ideas and campaigns face-to-face for the first time since March. However, we all agree that we need to put not only our safety but that of our families and communities first, so it's likely to be at least a few more weeks, if not months, of remote working ahead.
---
How many office space contracts have been renewed since the original announcement?

— Julio Romo ?????? (@twofourseven) September 22, 2020
---
Anna Geffert, managing director, 
Hera Communication Strategies 
The latest news has come as a real blow. Hera has doubled in size during lockdown and we now need of an office to support this growth and attract new talent. We had viewings booked in for this week and had planned to secure an office in the next month, but the latest announcement has shelved our plans. As a small and growing agency, it is just not good business sense to invest in an office right now, as the last thing you want is to be paying for an empty building or putting your staff at risk.