Shortly after launching the BME Mentoring Scheme with PRWeek in 2018, Elizabeth Bananuka started receiving messages from agencies eager to discuss diversity.
The prominent campaigner on ethnic diversity in PR visited about 20 consultancies in a year. However, most experiences were not good: "I remember sitting there at an agency and hearing them talking about how many people they took to Cannes Lions and what an amazing jolly they had. I remember suggesting a piece of work [on diversity] that would maybe cost a grand. The absolute horror on their faces!"
Sadly, this wasn't untypical. "You'd go there and sit opposite someone on a six-figure salary, and you'd sit next to all their awards, and they'd ask you, in 20 minutes, 'What can we do?'
"To some people, they didn't give a toss about the ethnic pay gap, they didn't give a toss about the gender inequality, they didn't give a toss about racial harassment – they didn't give a toss about any of that stuff. All they cared about is: 'How do I get on BME PR Pros [the group she launched in 2017], how do I get into PRWeek...?' All they actually wanted was a quick fix."
MORE FROM THE BME SPECIAL EDITION:

• 'I've started a new chapter and I don't want to go back' - Chuka Umunna on Edelman, ESG, purpose and politics
• PR at university: 'We must become the BME role models we lack'
• The roots of racism at work – is discrimination today a legacy of slavery?
• 'Humour is a powerful tool for persuading people' - Grilled with Ayesha Hazarika
• 'Being different is an advantage' - BME Comms Stars: Preena Gadher, Riot Communications
Bananuka doesn't hold back when criticising the lack of progress and the attitude of many senior figures; but equally, she's full of praise for those that have taken positive steps.
Few have a better understanding of the issues than Bananuka, who combines diversity work with her day job as a freelance PR. And few have done as much to raise and address issues around the industry's ethnic representation in recent years. In addition to the Mentoring Scheme (now in its third year), she has overseen BME PR Pros, run a full-day conference and embarked on her biggest project yet, The Blueprint (more on that later).
Bananuka's work on diversity dates back to 2015. A 'meet the journalist' event for comms professionals in international development was a turning point. She was the only non-white person among more than 100 attendees. "That was the first time I'd seen a physical representation of the people behind all these 'poverty porn' campaigns."
Bananuka, who was born in Tanzania and moved to the UK aged four, is scathing of the impact charity campaigns have had on Africa's image. "I suddenly thought: this is a problem. What would happen if the makeup of our communicators was different? Would the work be different? And would the work be more representative?"
BME PR pros started gaining a presence on social media. "It was important to me from the beginning that BME PR Pros didn't whitewash or neutralise our experience. So it's where you can be a kick-ass crisis comms pro and a Beyoncé fan, the Insta account is just as likely to reference Bollywood as it is to talk about Black Lives Matter. I wanted for it to be aspirational, funny, engaging and thought-provoking and, dare I say it, a cool diversity initiative where we're not all grinning teeth like crazies from a weird Benetton ad. It was important for me to remind people that we don't all want to be Carlton. Some of us want to be The Fresh Prince."
Following the launch of the Mentoring Scheme, Bananuka received "hundreds" of messages from non-white comms professionals who discussed their experiences of racism, but many of the agencies didn't seem to 'get it'. "Everyone wanted to talk about a really cool scheme involving young people. No one ever wanted to talk about a diversity initiative involving getting a Black chief exec or an Asian director – that's not attractive.
"Out of all those agencies I saw in that first year, year-and-a-half, not one went on to do anything."
There are other problems, too; Bananuka highlights what she sees as inaction by all-white recruitment consultant teams.
She's also been a vocal critic of what she sees as the PRCA's historic inaction. Bananuka declined to comment on the body's new Race and Ethnicity Equity Board. "I'm not going to do their PR, they are doing their own. The only thing I'd say is: for all these people who are jumping on bad diversity initiative bandwagons, or going for quick fixes, I urge them to think twice."
Was the problem ignorance or arrogance among some industry leaders? Bananuka cites a "toxic mix" of the two.
Since Black Lives Matter protests stepped up from the end of May, accusations of racism have been made to her about 19 different agencies. "I can tell you so many horror stories about some of these agencies. I think we need to be careful when we say, 'What is ignorance?' Because, yes – there are some people who are ignorant. But there are also some people who are downright racist."
There's been a notable spike in messages from agency bosses saying they need to do more since the world's attention turned to systemic racism this summer. Bananuka isn't impressed, however. "How am I meant to feel about the fact that it's taken you until 2020 to want to do something?"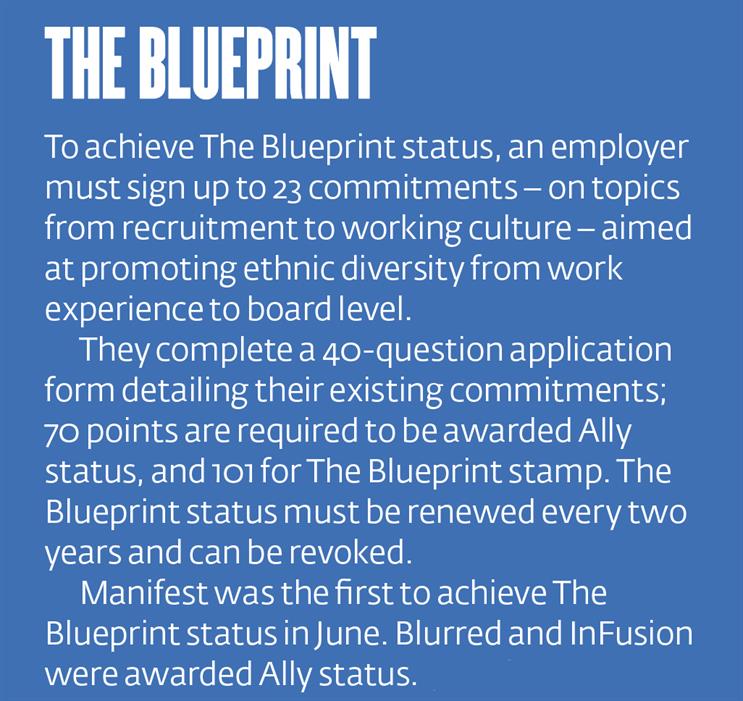 Coincidentally, June also saw the launch of The Blueprint, the 'diversity mark' scheme for comms employers. Two years in the making, the project stemmed from her round of agency meetings, which had suggested that an industry-wide "framework" was needed to tackle "some of these horrendous behaviours, remove some of these systemic barriers to progression, systemic racism, but also make people accountable".
The result, which followed two workshops, is an extensive scheme that aims to hold employers to account (see box).
Bananuka says: "The idea was twofold: it's about supporting BMEs on one side, but also about working with agencies, businesses and organisations to then nurture that talent, attract that talent.
"Other initiatives have focused far too much on getting people into jobs, but have never addressed the problematic behaviours, perhaps within those companies, that don't allow people to flourish."
She extols the thoroughness of the process, which asks for a range of data, including the ethnic pay gap and board-level split, supplied annually.
Is she concerned that agencies might make 'quick-fix' hires, or redundancies, to meet the criteria? "Absolutely, which is why in two years' time, when we ask you for your diversity data, it's not just about the make-up of your staff – it's also about the retention of your staff and the jobs they do.
"I know an agency, for example, that has a load of BMEs – they're all in junior positions. That's not what we're interested in. It's not about traineeship after traineeship, it's not about internship after internship... you can't fake retention level, you can't fake gender or ethnic pay gap."
Career
Bananuka's career began in charities rather than comms. The politics graduate and MA was inspired by PR after working on campaigns as project manager at the Refugee Council.
Following a "hideous" year trying to get into comms, in 2006 she secured a place at Hotwire. Leaving the following year, she worked for several organisations – among the highlights being spells at the British Council and Voluntary Services Overseas, which included much crisis comms work. But there were many bad experiences, too, and by 2015 she'd had enough and went freelance.
"I've been called [the n-word] three times in three different jobs. I got so fucking angry with it, because there is that double injustice of having to walk away from a career and jobs for your mental wellbeing, or staying and doing absolute damage, and the detriment it can have. I know BME [people who] have had jobs where they cry horrendously every day. Your readers can say: 'It happens to all of us, all of us cry.' But not all your readers have to cope with racism on top of that."
Given the increased focus on racism and the launch of schemes such as The Blueprint, is Bananuka optimistic about the future? She is – perhaps surprisingly – upbeat.
"I've got to the point where, fortunately, I've got better at spotting the BS, and the bad apples, quite quickly. What I love is there are a lot of people that do good work."
Among the many people Bananuka highlights for praise are agency bosses Jo-ann Robertson (Ketchum UK), Alex Myers (Manifest) and Richard Fogg (CCgroup), alongside Effie Kanyua (director of PR and comms, Hearst UK), Indy Selvarajah (creative director, Edelman Deportivo), Abby Sampson (director of external affairs, Energy UK) and several more from The Blueprint Advisory Board. She also stressed her huge pride in the mentees who have participated in the Mentoring Scheme; there have been 101 to date.
"For the people who do good work, it's great, and there are going to be positive changes, definitely. There will be a lot of people who never get it. What I think 'good' will look like is [when] we get to a point where, out of the top 150 consultancies, 30 get it and are doing good work."
Upcoming Blueprint schemes include a leadership initiative The Xec, and #CareerHack, aimed at young BME adults keen to enter the sector.
Bananuka says more agencies submitted for the second round of The Blueprint accreditation than the first, and the calibre is "incredible". The plan is to welcome in-house teams next year.
"When you get big brands emailing and saying: 'When can I sign up to The Blueprint?', that is exciting," says Bananuka.
"When I went from last year spending my own money on the conference and barely breaking even, to suddenly getting big companies working hard to give us money to fund it, that's amazing. That gives you hope."