Top: Candidness over plastic boosts Iceland
Supermarket chain Iceland has publicly upped the ante again with a new environmental challenge to its rivals.
Having made a high-profile pledge in 2018 to remove palm oil and plastics – supported by the memorable 'Rang-tan' film – Iceland this week published its own "plastic footprint", revealing it used 32,000 tonnes of the stuff in 2019.
The group called for other supermarkets to publish how much plastic they use. It also urged the Government to make such reporting mandatory and set plastic reduction targets.
Managing director Richard Walker (below) said: "For several years now, businesses have been using incomplete information to represent the scale of their plastic packaging, their commitments to change, and the progress being made. We will all be better served by a more accurate and transparent picture on this issue."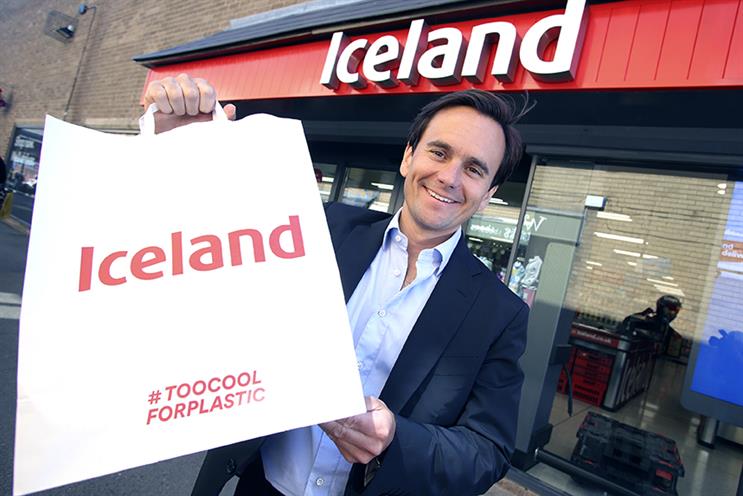 Disclosing its plastic waste figure was a bold move, and could have backfired. It also leaves Iceland, which has vowed to eliminate all plastic packaging from own-label products by the end of 2023, open to accusations of hypocrisy if it doesn't meet its commitments. This happened in early 2019 after reports found the company had not fully achieved its stated palm oil-reduction goal.
But Iceland once again gives the impression of a company committed to transparency and action on one of the most crucial issues of our time.
The timing also helped, with environmental issues rising up the media agenda given the significant publicity around the broadcast of David Attenborough's 'Extinction: The Facts' on Sunday (13 September), and recent Extinction Rebellion protests.
It tops a good period on the comms front for Iceland, which last week announced it had created 3,000 new jobs to cope with increased online demand during the pandemic.
John Harrington, PRWeek UK editor
Flop: Jo Malone editing out Boyega in China
John Boyega is fast becoming one of the most high-profile voices in the Black Lives Matter movement.
The actor, who starred in three Star Wars films as Finn and courageoulsy spoke out about how the franchise had marketed a black character only for non-white characters to be "pushed to the side" in the movies themselves, recently made a rousing speech at a Black Lives Matters march in Hyde Park.
Therefore, it beggars belief that perfumes and cologne brand Jo Malone would get Boyega to conceive and star in an advert, 'A London Gent', which traces his life story, only to substitute his character with Chinese actor Liu Haoran and a Chinese cast in an almost identical ad for the Chinese market (see a comparison below).
The Peckham native quickly resigned as Jo Malone's first global ambassador, explaining: "I have no time for such nonsense. 
"Their decision to replace my campaign in China by using my concepts and substituting a local brand ambassador for me, without either my consent or prior notice, was wrong. The film celebrated my personal story – showcasing my home town, including my friends and featuring my family," he said.
"While many brands understandably use a variety of global and local ambassadors, dismissively trading out one's culture this way is not something I can condone."
Jo Malone's apology did little to appease Boyega, and understandably so.
The context to why it was decided to edit him out is complicated. There have been many reports of racism and racist attitudes toward Africans in China, including discriminatory COVID-19 checks and quarantines against this community in recent months. It is conceivable that the brand had taken this cultural sensitivity into account when repurposing the ad for a Chinese market. 
But that betrays Boyega and what he stands for – which the perfume brand should have been aware of. If it really wanted different creative for a specific market, why not ask Liu to come up with his own ad concept?
The saga leaves Boyega's reputation enhanced, and Jo Malone looking rather shallow and culturally insensitive at a time when racial equality is firmly in the spotlight.
It also leaves Jo Malone without one of the better perfume campaign executions of recent times.
PRWeek UK news editor, Arvind Hickman