The 'COVID-19: Returning audience targeting in consumer health' report, by the Brands2Life healthcare team, segmented five audiences to help brands adjust their comms approach and messaging during the pandemic.
The findings were partly informed by a survey of 2,000 adults by over-the-counter medicines (OTC) trade association the PAGB, published in July, which found that nearly 70 per cent of people who had not considered self-care as an option before the pandemic were more likely to do so now.
Nearly one third told the same survey they would use the NHS differently in light of the pandemic and that A&E and GP services were less likely to be their first response to a self-treatable condition, such as backache or a sore throat.
Lockdown optimisers


The report said this group used lockdown to take more control of their health, fitness and personal care.
Exercise, health and personal care
Citing a Nuffield Health survey that found more than three quarters of the public have taken up a new form of exercise, optimisers – the report said – have used their time at home to become fitter than before, ordered new home gym equipment, or tuned up their old bicycle.
They are also taking care of their nutrition and eating balanced meals complemented by supplements.
This group is up-to-date with vaccines and knows how to make a virtual GP booking, if needed, and is likely to have a personal health insurance plan. Taking charge of their own and their family's health during the pandemic by keeping their medicine cabinets well-stocked with OTC treatments has helped optimisers feel like they are in more control.
And they are not shy of reporting price gouging, with hundreds contacting consumer association Which? about unfair price hikes on essential hygiene and medical products.
Meanwhile, the image-conscious optimisers' personal care routine has changed. They have used the lockdown to ditch make-up in favour of products that enhance their natural skin, and are busily sharing the results of their health, nutrition and fitness regimes on Instagram.
How to target them
According to the report, optimisers are influenced by Instagram fitness accounts, celebrity diets and like-minded friends.
They shop at Holland & Barratt, Amazon and Waitrose and their shopping baskets are likely to contain plenty of fresh greens and treatments for fitness injuries.
Their online searches are for fitness regimes, gym equipment and injury prevention and they follow Joe Wicks and Emily Skye.
How to communicate with them
Brands should use aspirational language to communicate with high-achieving optimisers and convince this group that their product can make them faster, stronger, or more beautiful.
Images for campaigns should be idealistic, and they respond well to influencers and positive messaging.
Darren Foan, practice director, health and wellbeing at Brands2Life, said: "Bounding with energy and enthusiasm, the optimiser is receptive to inspirational messaging and imagery. Their passion for self-improvement and eagerness to share success, makes Instagram their platform of choice."
Lockdown indulgers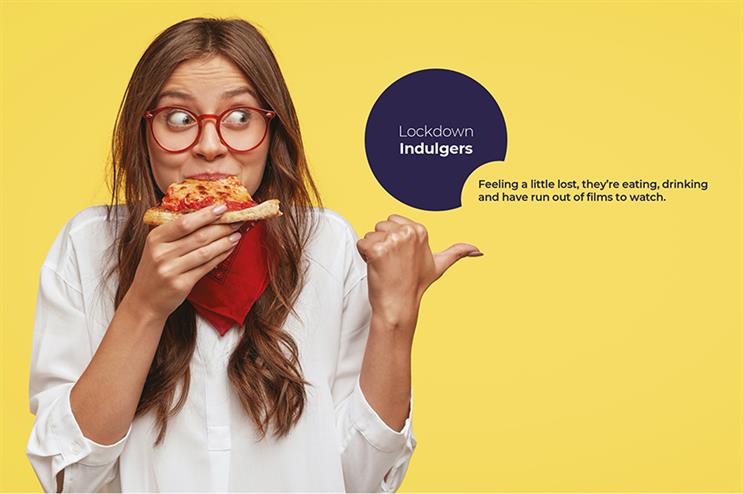 The polar opposite of their optimiser fellows, indulgers are eating and drinking what they like, personal care is out of the window and they are not, generally, feeling very healthy.
Food, health and personal care
According to a global drug survey cited in the report, more than 50 per cent of UK respondents had increased the number of days per month they drink during lockdown by either a little or a lot, several percentage points above the global average.
The report said this group had thrown caution to the wind and were eating and drinking as they pleased, whether out of stress or because they saw lockdown as a moment to indulge.
The report argued that they need an intervention and a good role model to help them out of the rut they have got into.
Personal hygiene standards have also fallen for many in the wake of months mostly spent sitting on the sofa watching television.
More seriously, a Nuffield Health survey found that 80 per cent of respondents said lockdown had negatively affected their mental health.
Meanwhile, the unhealthy eating and lack of exercise means indulgers are more susceptible to mental ill health, as well as the usual gamut of colds and bugs.
How to target them
Indulgers are influenced by Facebook, their friends, LADbible and 'red-top' media outlets.
They shop at Aldi, Tesco and Amazon and their baskets are likely to contain junk food, alcohol and OTC treatments for headaches and indigestion.
They search online for TV programmes, celebrity gossip and local items to buy or sell.
How to communicate with them
Brands should use motivational language to gently encourage indulgers off their sofas and explain how their products can help this group gain the confidence to make positive changes.
They should use empowering images that take account of the self-conscious indulgers' need to feel comfortable in themselves and take care to present this group with people who look like them.
Brands should show empathy and the tone of campaigns should be gentle and kind to this audience.
Foan said: "Deflated and downtrodden, brands will win Brownie points for the support and empathy they show to this group, which will be key for their short-term recovery, as well as their longer-term prosperity."
Lockdown solvers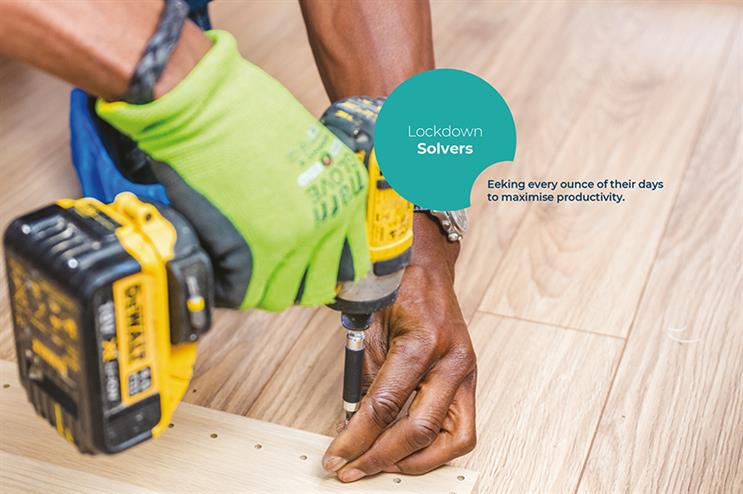 This audience of problem-solvers has taken a DIY approach to everything from food and gardening to crafts and health, expanding the limits of what they previously thought possible.
Solutions, self-care and taking risks
Citing research that Google searches for home-made face masks increased by more than 200 per cent in the spring, the report identifies the solvers as seeking home-made solutions for all of life's needs.
They take a preventative approach to minor health concerns rather than wasting time and health resources seeking the advice of a GP.
Solvers also research DIY skincare and herbal foot treatments and are open to new solutions, which they share with their friends – making them potential brand ambassadors.
But the risk of getting out of their comfort zones with DIY means solvers are also more prone to small injuries such as cuts, grazes and sprains, which they display as a badge of honour.
How to target them
Solvers, who follow Big City Gardener, are influenced by Pintrest, Gardeners World and the Discovery Channel, while they shop at Hobbycraft, B&Q and garden centres.
In the solvers' trolley, you will find herbal remedies and DIY materials, and their online searches reveal a yen for 'how-to' videos on YouTube.
How to communicate with them
Brands should use confident language to inspire and convince solvers to engage with them, and should try to convince them that their products can offer improvements they can't achieve on their own.
Images should surprise, using fresh designs and angles this audience has not seen before and brands should choose similarly minded, proactive influencers to engage with them.
Foan said: "Their laser focus on self-care makes them a prime audience for any consumer health brand and, while providing them with education is a fruitful route, using creativity to capture their attention and instil self-confidence is also key."
Lockdown copers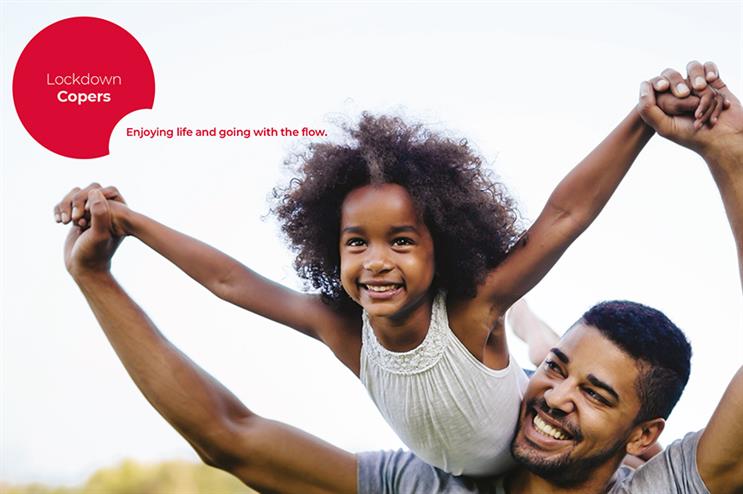 Lockdown has not fazed this audience and they have focused on the positives, such as spending more quality time with family, playing games and planning virtual quizzes.
Time outdoors and planning for the future
Citing figures that suggest half Britain's families have been spending more time outdoors than usual, copers have used the limited opportunities to socialise by putting on their walking boots and exploring their local parks and nature reserves, picking up some cuts and bruises along the way.
This audience is also one of inveterate planners, reorganising everything from their health to their homes while looking forward to the staycation holidays they have booked.
How to target them
Solvers are influenced by social-media posts from friends featuring the outdoors and 'top 10 guides', and they shop at Sainsburys, the Co-op and WHSmith.
In their virtual baskets you will find suncream, picnic food and camping equipment.
Their online searches are for 'life hacks' and local interests, and they follow The National Trust and Instagram cleaning influencer Mrs Hinch.
How to communicate with them
Brands should use playful language, relying on the copers' ability to see the bright side of the situation and products should offer an antidote to negativity and hysteria.
Campaign images should have a joyful feel that promises the opportunity to continue doing the things they love. The best type of influencer for them is one who is down-to-earth.
Lockdown burnouts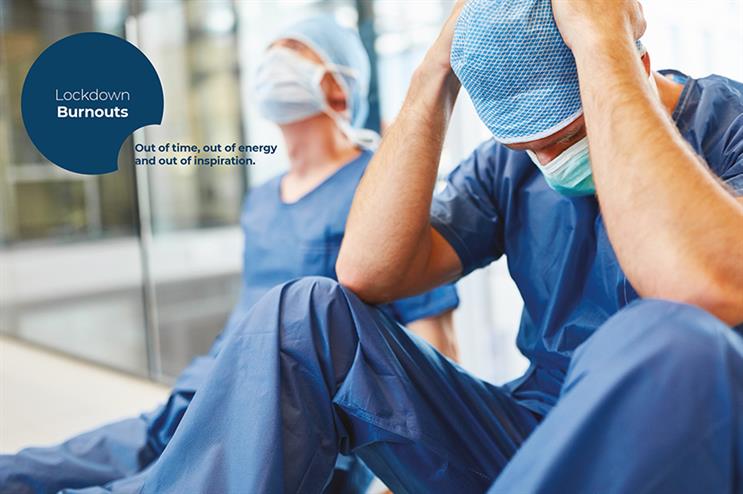 Rounding out the five audiences, burnouts have no time, little energy and even less inspiration.
Fitness regimes abandoned, lonely and feeling guilty
A survey by think tank the Institute for Employment Studies found that half of respondents were working longer or more irregular hours since the lockdown, with two-thirds reporting increased fatigue and lack of sleep as a result.
Burnouts were mistaken in thinking the lockdown would allow them more time to spend on their fitness and they have barely flexed their muscles since the pandemic arrived in the UK, except for a swift yoga session.
Parents in this category have juggled home-schooling with a full-time job, but are wracked with guilt because they feel they are not managing any of these tasks well.
This audience is craving a return to normality and social interaction with their friends, so any sense of escape from work or home life is welcome.
How to target them
Burnouts are influenced by Instagram fitness accounts, celebrity diets and lifestyle publications and they shop online at a variety of supermarkets, as well as Amazon and eBay.
In their shopping baskets you will find alcohol, ready meals and kids' toys, as well as home-school materials, and they are searching for life hacks, kids' entertainment and ways to relax online.
They are followers of money advice guru Martin Lewis, mindfulness website HeadSpace and fitness magazines.
How to communicate with them
Brands should use reassuring language to convey the message that the pandemic will eventually end, but their product will offer relief from stress in the meantime.
The report said imagery should be calming and relaxing, and influencers who work in the mindfulness and meditation space are best for winning engagement with this group.
Foan said: "Looking for a guiding light and an A-Z of life hacks; reassurance and realistic goal-setting, served as short, snackable content, will pave the way for better peace of mind for Burnouts."
Educate and motivate or drive awareness and inspire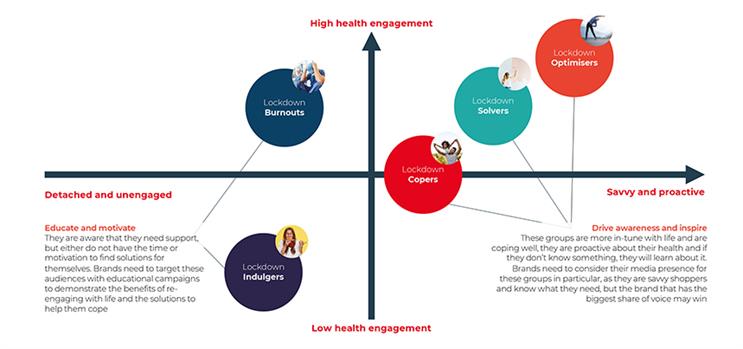 The report suggested that brands might want to consider recalibrating their strategies in light of where these five audience types appear on its graph.
The approach to indulgers and burnouts should be to target these audiences with educational campaigns that show the benefits of re-engaging with life and offering solutions to help them cope.
But brands targeting copers, solvers and optimisers should consider their media presence for these savvy and proactive audiences, because the biggest share of voice could make all the difference.

---
Click here to subscribe to the FREE pharma and healthcare comms bulletin to receive dedicated healthcare news, features and comment straight to your inbox.
Make sure you register for the site to access more than one story per month.
To submit a news, comment, case study or analysis idea for the pharma and healthcare comms bulletin, email Ian.Griggs@haymarket.com