Singapore-registered company Bellagraph Nova (BN) Group has been outed for doctoring publicity photos as well as falsifying press releases, among other incriminations. 
Reuters—which broke the story—said that BN Group spokesperson Nereides Antonio Giamundo de Bourbon had admitted to doctoring photos to make the company's leaders to appear as if a private meeting had been held with former US president Barack Obama. The original image showed the company founders sitting in a general meeting with others in a room with Obama; but the doctored version showed the company's logo plastered in the background (pictured below).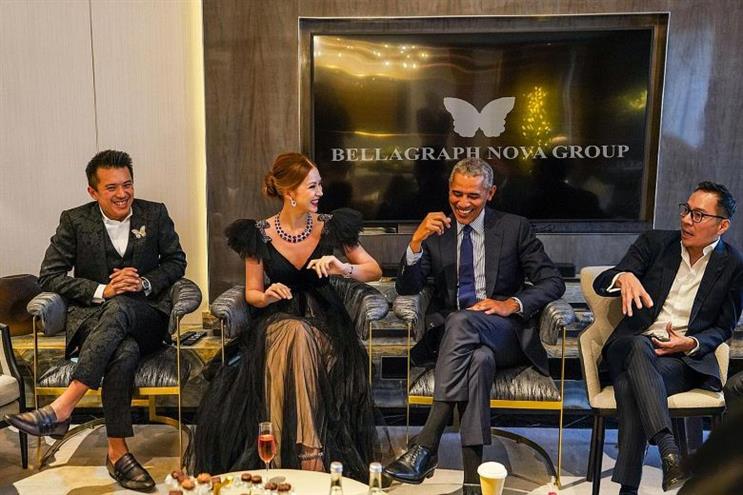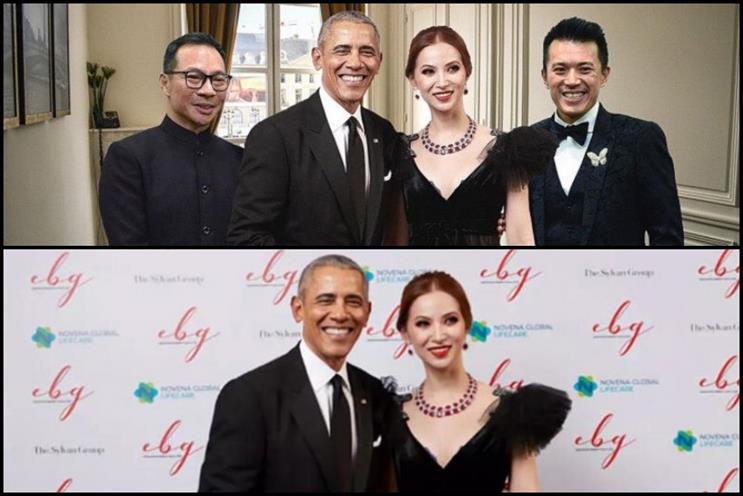 "We are serious people ... the only ambiguous thing has been the photoshop picture," Bourbon told Reuters. "There wasn't any malicious aim behind it." 
On top of that, press releases that had been on the company's official website had been falsified to include information about the 'private' meeting with Obama. The releases had also been published on PR Newswire but has since been taken down.   
The controversy surrounding BN Group surfaced when the company was in talks to takeover the Newcastle United football club, with the bid involving BN's three founders: Terence Loh, Nelson Loh and Evangeline Shen. 
The Newcastle bid drew attention to the company and prompted Reuters to learn more. When Reuters found inconsistencies when speaking to firms and persons BN Group says it is involved with, the company said "some of the information in those materials was released prematurely or contained errors".
BN Group's office on its website points to a swanky Paris address, Place Vendome, also home to the Ritz and luxury stores such as Chanel and Louis Vuitton. But the Reuters report said that upon resporters visiting the address, they found no such company registered to the address.
Instead, its Singapore registration leads to a more modest Singapore office above a row of shophouses. It shares the address of Novena Global Lifecare and other firms it owns such as a fine wine merchant and an investment manager.
In marketing materials, BN Group also mentioned setting up a "luxurious anti-aging clinic" at Bulgari Shanghai, a claim the hotel refuted.
In July this year, the company appointed Claire Jedrek as global communications and media officer to be based in Singapore. Upon reaching out to Jedrek, PRWeek Asia received a notice of undelivered mail.
The Group is said to dabble in a variety of sectors including real estate and financial services, and claims to be the "world's fastest-growing conglomerate". An excerpt from its website says:
"BN is the only group in the world to boast an international presence in all major commercial sectors: healthcare and medical specialty, financial services and investment, luxury and real estate, discretionary consumers, products & services, lifestyle, entertainment, technology and media. 
The Group currently employs 23,000 people across the world and reported sales of US$12 billion in 2019. Sustainability, diversity and ethics constitute the cornerstone of BN Group's model and compliance policy for its executive, employees and stakeholders."
Co-founder Shen—also a jewellery merchant— today resigned from the board of Axington where she was a non-independent non-executive chairman.
On whether newswires should be responsible for the credibility of the releases they publish, Jennifer Kok, founder of rival service Media Outreach told PRWeek Asia that newswires are a connector between the clients and media, which means that diligence is important.
"If the release is from a PR agency, we would trust that it is from a credible source. While if it is from a client, we would check their website to see that they are a valid company. If a company intends to mislead the public, we are unable to identify it as well. We are more vigilant towards cryptocurrency and bitcoin releases as there are more scammers happening in this area. As a rule, we would not issue a release from this industry unless it is from an established agency," said Kok.
---
Click here to subscribe to the FREE Asia PR & comms bulletin to receive dedicated news, features and comment from the region straight to your inbox. Make sure you register for the site to access more than one story per month.
To submit a news, comment, case study or analysis idea for the Asia bulletin, email Surekha.Ragavan@haymarket.asia