Luxury-focused digital marketing consultancy Gusto Luxe has launched what it calls a series of dedicated solutions for sustainable brands.
The agency said it will support brands to drive awareness and affinity, and ultimately business results, by offering consulting and marketing services. These include sustainability audits, industry reports, thought leadership, strategic communications programmes and execution. In addition the agency said it will drive ecommerce through ongoing social media management, livestreaming and campaigns, and it will use its strong network to facilitate collaborations, partnerships and outreach to industry experts.
"Sustainability is the new luxury in China and Asia," said Chloé Reuter, founding partner of Gusto Luxe (and its precursor Reuter Communications). "Whether in travel, fashion, jewelry or lifestyle…what was already a growing trend over the last few years has been accelerated in a Post-Covid world."
She added that in China, the agency's research shows that consumers' environmental and consumption consciousness is rising. "It has become apparent that sustainable brands, those with a clear point of view, resonate with consumers, which drives sales," Reuter said.
"Brands need to understand that being sustainable is not just important for business and reputation, but it can also play an integral part in driving affinity and sales."
Gusto Luxe announced that its Sustainability Advisory board includes Lena Yang (right, below) of WWD China and Kresse Wesling (left, below) of Elvis&Kresse.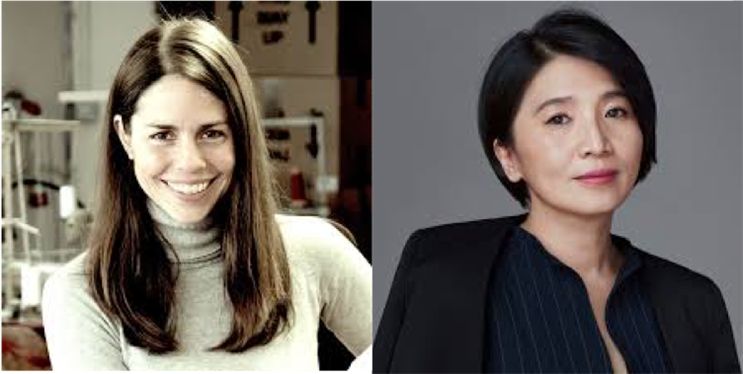 Kresse is an award-winning environmental entrepreneur and Young Global Leader with a background in venture capital and startups. Her company Elvis & Kresse turns industrial waste into innovative lifestyle products and returns 50% of profits to charities related to the waste. The company now collects 12 different waste streams, has several charitable partnerships and is involved with collaborations across industries, including most recently a five-year partnership with the Burberry Foundation.
Yang is CEO of WWD China (Chinamindnext Media), and has been a senior fashion media executive for the past 25 years. Before launching WWD in China, she was former CEO of Hearst Magazines China and managing director of Marie Claire Taiwan. Before her executive roles, she was editor in chief for Marie Claire and ELLE in Taiwan.
As well as producing regular reports on sustainability trends and taking part in industry events, Gusto Luxe said, it already works with a number of brands to prioritize their sustainability initiatives including Everlane, Swarovski, Mulberry, Canada Goose, Gemfields and Vivienne Westwood.
"As a business we want to be at the forefront of this meaningful change to support our clients, whether sustainability is one of their key pillars, or whether they are embarking on their drive for positive change," Reuter added.
---
Click here to subscribe to the FREE Asia PR & comms bulletin to receive dedicated news, features and comment from the region straight to your inbox. Make sure you register for the site to access more than one story per month.
To submit a news, comment, case study or analysis idea for the Asia bulletin, email Surekha.Ragavan@haymarket.asia