How big is your agency?
We have two offices: our headquarters here in Solana Beach, a small beach town in San Diego County, and one in Manhattan. We have 15 employees. We specialize in consumer packaged goods, and we've been in business for 13 years.
When did you send everyone home?
We sent everyone to work remotely right before it became mandatory. It wasn't even a question, especially in New York. I never worked from home, however. Because our office here is a standalone building and I see no one except the FedEx driver, I felt safe and that I wasn't endangering anyone.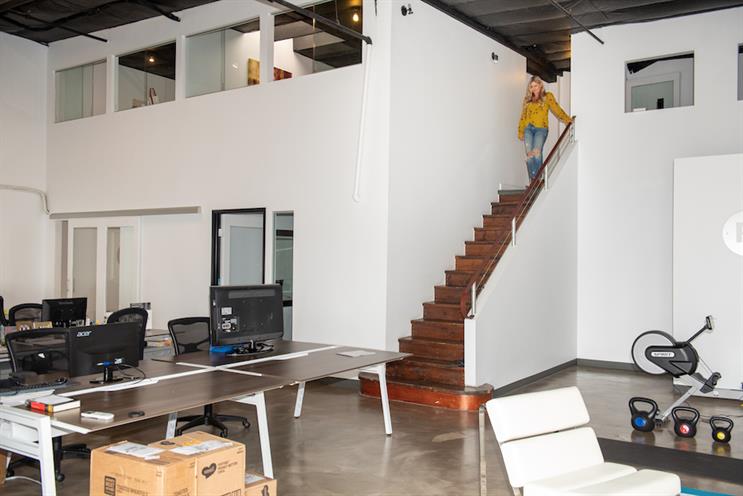 Did you try working at home?
I thought about it for 60 seconds, panicked, and said no way. I'm a creature of habit. I like my workspace to be set up in a way that's conducive to my productivity. Working from home is distracting for me. At home, we have one home office, and with my husband and I both on the phone quite a bit, I knew that wouldn't work. So I also did it to maintain marital harmony. And someone really needed to be here for deliveries.
Would you want the home office even if he gave it up?
No, I really wouldn't. This office went from being my workspace to my personal shelter-in-place bunker.
What was the first day without the staff like?
I work on the weekends quite a bit because it helps me concentrate, so it felt a bit like an extension of that. After a while, it became a little lonely, and I did miss the conversations and the camaraderie. It's a big space for just one person. My office is upstairs, so I had to put a dog bell on the door so I wouldn't be startled if someone came in.
You've added workout equipment at your office?
Like many people, the stay-at-home order was tough for me. I felt sad and let myself go for about a month. Once I realized this wasn't going away, I said it's time to get it together. So I bought a rowing machine, kettlebells, resistance bands, a strength training board and a Mirror [workout device], which connects to the same one I have at my house.
So I'm trying to do multiple workouts every day in between calls and meetings and I'm also walking a couple of miles daily, too. It's been a great way to get in a healthier mindset and create good habits, and I hope when my colleagues return they can all enjoy it, too.
I also have a massage chair, cable TV and an air fryer, so I could move in if I needed to. My sister and I have even been doing pedicures here on the weekends.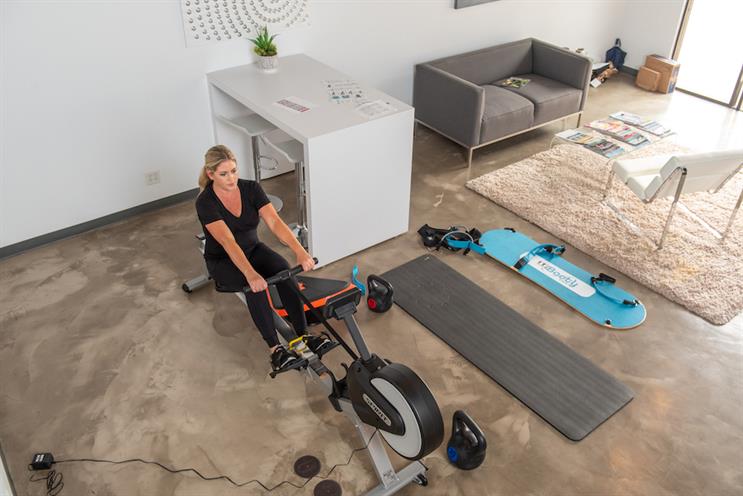 Are you spending more time there than before?
Yes, I definitely am, but that's partly because there aren't that many other places we can go. I've been trying to take the recommendations as seriously as I can. So it feels safe to be here if I'm not at home.
What kind of meals do you make at the office? What sort of workouts are you doing?
I got an air fryer so I could cook here more, and that was a great idea. It's like having an oven at the office. It really helps eliminate Sunday meal prep that I often don't feel like doing. I'll bring a piece of chicken or salmon and toss it in 15 minutes before I'm hungry and pair it with a salad. Much healthier and less expensive than takeout. I've even made bacon.
In terms of workouts, I do all kinds of fun things. I created my own little circuit with three strength activities with kettlebells and then I'll do five minutes on the rower and keep doing that for a half hour. I'll find stuff online. Or the Mirror is just the most amazing piece of equipment anyone would need. I can do pilates, weights and I even tried boxing, which I didn't care for.
Is your husband jealous of your office setup?
Very much so, but he's living his best life at home. Every day, I come home and he's working by the pool, so he's not hurting. He's started going back to his office once or twice a week now. But he hasn't tricked it out like I have.