In a special episode of The PR Show, Jewish PR leaders David Fraser (founder and MD of Ready10), Sophie Raine (consumer brand lead at Ketchum) and Graham Goodkind (co-founder and chair of Frank) joined Tin Man Communications director Natalie Neave to discuss the scourge of antisemitism and what the comms industry can do to tackle it.
The panellists condemned Wiley's behaviour and inauthentic apology, but pointed out that it is social media that provides a platform and megaphone for such views to cause real damage to society.
Goodkind said it was appalling that it took Twitter and Facebook more than four days to remove Wiley from their platforms, and that Twitter's subsequent apology "doesn't wash".
"Jewish tombstones in cemeteries [across the UK] are often defaced. Swastikas appear on them seven or eight times a year and you read about it in the Jewish press," he said.
"By the next morning, I promise you, those tombstones are wiped and scrubbed clean. The swastikas are removed… it's dealt with within hours. To say that Twitter and the other social-media giants couldn't deal with it at that pace is a sorry affair."
'Hate crimes are surging'
Ready10 founder and MD David Fraser said social-media platforms get away with such responses due to poor regulation, and that a zero-tolerance approach is needed.
"Now, if they were mainstream media outlets, if it was a message board on a national newspaper website, these [comments] would be moderated pretty tightly, and these things would be off there," he said. "But for some reason, social-media platforms as publishers appear to fall into this gap where there isn't the pressure or the will from them to police them properly."
It's a point that Raine agreed with, explaining that social-media companies have washed their hands of the ethical responsibility of properly policing their own platforms.
"The terrifying truth is that over the past decade or so social platforms have essentially obliterated such a big chunk of newspaper journalism, yet refuse to assume the civic and moral responsibilities of these publishing platforms that they've pushed out," she said.
"And it's frightening because we're living in a world where conspiracy theories that were once kind of confined to the fringe are going mainstream and hate crimes are surging, as are attacks on religious and ethnic minorities."
Raine is not confident "these big, money-making machines" are going to property regulate their own platforms until there is greater regulation and legislation in place.
"The sad truth is that the sanctions are likely to be the only language that social-media companies will understand," she said.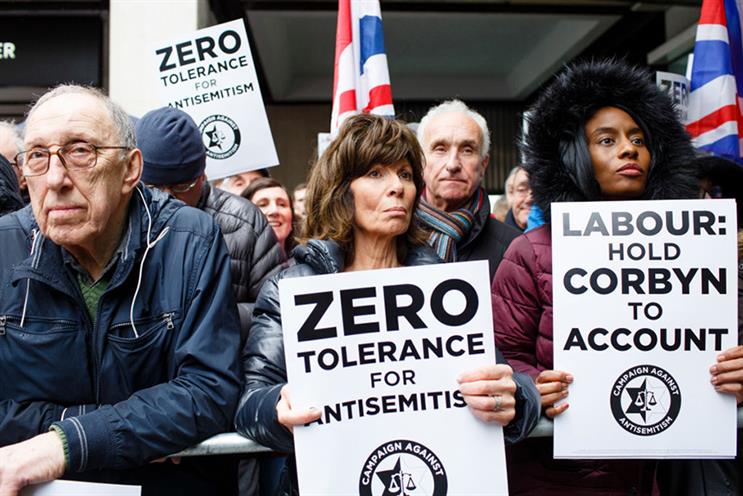 Ready10's David Fraser said former Labour leader Jeremy Corbyn helped make antisemitism mainstream. Photo of demonstrators by Getty Images.
'Israeli-trained guards protect our kids'
Goodkind later explained the disturbing reality of living in a society where antisemitism is far too common.
From his days at university, when the Jewish society was frequently being attacked by "the far left", to more recently, when his children's Jewish school was heavily fortified with security guards trained by the Israeli military, Goodkind says antisemitic attacks – physical acts and on social media – are on the rise.
"This is the stuff Jewish people in this country are living with today… and Jews have been very good at keeping their mouths shut and not speaking out against antisemitism. I think it is good we are not doing this today," he said, adding that the PR industry has been a "safe haven" from antisemitism.
Other guests shared their own experiences of antisemitism. Fraser said the "terrifying thing" is that antisemitism has been becoming mainstream in the past few years.
"These comments have got a voice, perhaps through social-media platforms. And perhaps I know there will be people who listen to this podcast that won't like what I'm about to say, but people like Jeremy Corbyn and the previous incarnation of the Labour Party has, in my opinion, made these issues mainstream, and that is what is so terrifying. It feels like it is increasing, not decreasing," he said.
Antisemitism in PR
Neave told the panel that she was advised by people not to take part in this podcast because it was "a minefield".
She told The PR Show that Tin Man, which was founded by Jewish PR leader Mandy Sharp, has come up against "quite a lot of antisemitism".
"It's the microaggressions. And the unconscious bias, which is kind of thinly-veiled as a funny comment or a joke," she said. "For example, we've had a comment from a new business prospect that when we were costing up a campaign, because our founder is Jewish, that we were in some way greedy or charging more.
"And we worked with a number of different app developers from Tel Aviv. Obviously, though, Israel is one of the world leaders in tech innovation. Some industry people suggested we won those clients purely due to our Jewish connections and not due to our own merit."
The panellists believe the PR industry has a role to play in tackling antisemitism. Listen to this important episode of The PR Show to find out how.