For the report, Cision looked into over 100,000 press releases distributed through PR Newswire's global network from June 2019 to May 2020.
Expectedly, the last five months saw an increase in press releases that mentioned COVID-19 and a drop in non-COVID releases. Altogether, 48 per cent of total press releases sent out between March to May this year mentioned COVID-19. This happened as brands scrambled to communicate their plans to employees, customers and stakeholders.
In terms of content, a majority of releases during this period included updates on future events and plans followed by CSR and public safety information. By industry, travel press releases were down 36 per cent while infectious disease control saw a massive jump, up 3,140 per cent.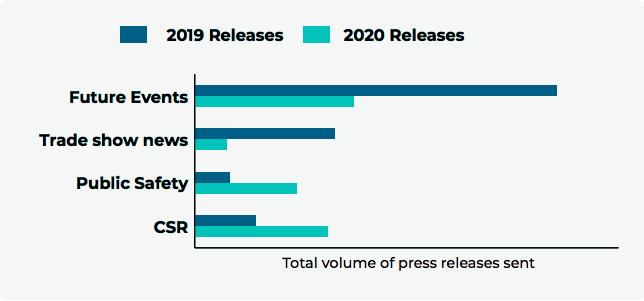 What are the best times to blast out a press release? The report said a high volume of news is sent on Tuesdays, and this starts to whittle down at the end of the work week. It added that while there was no right or wrong time to send a press release, if one is looking to maximise visibility, the best days are Tuesdays, Wednesdays or Thursdays in the middle of the day, avoiding the top of the hour.
In terms of style, findings show that including multimedia content within a press release significantly increases click-through rates compares to releases with just text or text and images. In terms of length, a good word count to aim for is 400 while headline length average at 88 characters. Finally, using conclusive terms such as "confirms", "reveals", "launches" and "proves" will garner more views.
---
Click here to subscribe to the FREE Asia PR & comms bulletin to receive dedicated news, features and comment from the region straight to your inbox. Make sure you register for the site to access more than one story per month.
To submit a news, comment, case study or analysis idea for the Asia bulletin, email Surekha.Ragavan@haymarket.asia