Better Health is an integrated, multichannel campaign, spanning PR, digital, media-buying and partnerships, which will drive people to digital products and tools designed to change their behaviour. It forms a major strand of the Government's new obesity strategy.
The first tranche of the campaign, which launched last night, will encourage adults to make lifestyle changes that will help to reduce their weight and be more active.
Further activity under the Better Health branding, later in the year, will look at exercise, smoking and mental wellbeing. PHE's annual 'Stoptober' campaign will be folded into it.
A unique moment for public health
PHE and its agency partners said one effect of COVID-19 on the UK was that people had started to take their own health more seriously and that the pandemic presented a unique opportunity to make lasting changes.
A media blitz over the weekend followed the publication of a PHE report reviewing evidence that people who are classed as overweight or obese are at far greater risk of dying from COVID-19.
Official figures show that nearly two thirds of adults in England are in this category, with the problem affecting a third of all women and a quarter of men.
Meanwhile, data suggests a third of men and nearly half of women are not active enough in their daily lives.
PHE said obesity reduces life expectancy for men and women, increases the risk of Type 2 diabetes, and that it cost the NHS more than £6bn on related ill-health in 2015.
Apps and channels
As part of the campaign, which combines traditional PR with advertising and partnerships, a free NHS Weight Loss Plan app has been developed by Flipside to help the public make healthy food choices.
A key plank of the PR campaign is a short film that emphasises the health risks of excess weight and highlights the benefits for members of the public lowering their Body Mass Index (BMI), a common clinical indicator used to gauge obesity.



The PR strategy is to support the film by deploying a range of PHE experts, including its chief nutritionist, Dr Alison Tedstone, to amplify the campaign's messages and influence the public to make better choices.
Meanwhile, a 60-second TV ad was launched on Monday evening, with further paid-for channels to include radio, digital, print and outdoor, as well as paid-for social posts.



Agencies
Freuds' Health and Behaviour Change unit is leading on PR for Better Health, while advertising and creative was provided by M&C Saatchi.
PHE has also brought in Multicultural Marketing Consultancy to advise it on specific aspects of the campaign directed at people from BME backgrounds, while agency 23red is handling partnerships and OmniGOV and Wavemaker are delivering media buying and media strategy respectively.
Behaviour change
Freuds said the campaign was designed to take people through a "sequence of activity": 'alert', 'motivate', 'support' and, finally, to 'sustain' behaviour change.
The agency said it was necessary to balance highlighting the harm of obesity with encouraging people to see themselves in the campaign and understand that they must take action to help reduce their risk of COVID-19.
Freuds said its research had shown that people are not receptive to uncomfortable facts and so a key priority for the campaign was to make it personally relevant to people – but to do so in a way that motivated, rather than scared, its key audience.
Target audiences
Better Health was devised for all adults in England, but two types of demographics will be specifically targeted, based on socioeconomic background and ethnicity.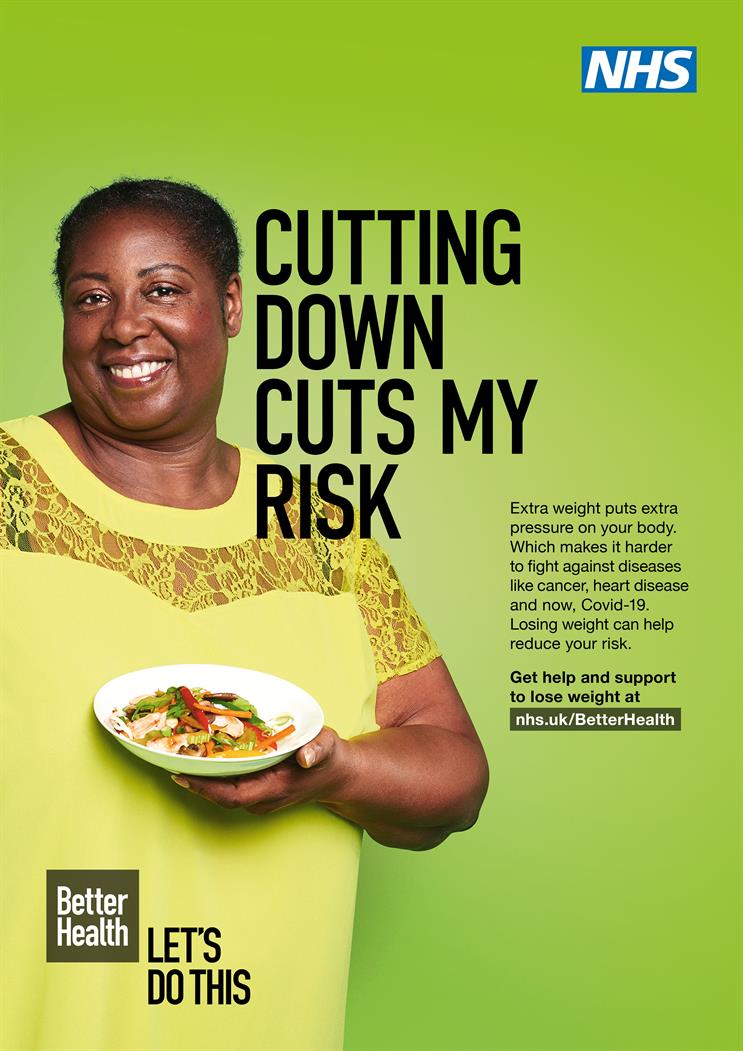 Strands of the campaign will target people from BME backgrounds including South Asians and Black Africans, who, PHE says, have higher than average rates of obesity and of contracting COVID-19.
Multicultural Marketing Consultancy was used to reach these audiences using bespoke messaging and specialist media channels, such as radio stations and publications that are most likely to reach them.
Freuds said the campaign will seek to engage BME groups with translated materials, "empathetic copy" containing relevant cultural references, and directing them to the appropriate digital resources in a range of languages.
The campaign will also target people from working-class backgrounds, the unemployed and pensioners, as well as people in the 40-60 age range, who will be prompted to make small changes that could have a positive effect on their lives.
PR activity will be concentrated on areas where there are "regional skews" in obesity, including London and the North West.
ChangeForLife/Stoptober
PHE has been running its highly successful 'Change4Life' campaign, which encourages families to "eat well, move more and live longer", for more than a decade – a campaign brand with 90 per cent awareness among the public.
Similarly, its annual smoking cessation campaign, Stoptober, has been running for eight years.
Both behaviour-change campaigns are run by Freuds.

PHE confirmed to PRWeek that, from this autumn, the Stoptober campaign will become part of the Better Health brand. However, Change4Life will contine as a standalone.
Partnerships
PHE has built a coalition of partners to "inspire and support" the target audiences to make changes.
The public will be given exclusive offers from WW (Weight Watchers), Slimming World and Man vs Fat as well as from companies in the leisure and media sectors, as part of the campaign.
Evaluation
The Better Health campaign, which will run for nine months, will undergo "rigorous evaluation" to establish whether it has had a tangible effect on people's knowledge, confidence and motivation to make healthy lifestyle changes.
PHE aims for the campaign activity to prompt 8.5 million "actions" by the end of March 2021, including downloading and using the app and members of the public reporting lifestyle changes.
Sheila Mitchell, marketing director at PHE, told PRWeek: "By running a full integrated campaign we hope that the many different touchpoints will reach and engage our target audience and help people to feel empowered to make a change. By providing people with the knowledge and a range of tools to support them on their own weight-loss journey, we're hoping this campaign will have real impact."

---
Click here to subscribe to the FREE pharma and healthcare comms bulletin to receive dedicated healthcare news, features and comment straight to your inbox.
Make sure you register for the site to access more than one story per month.
To submit a news, comment, case study or analysis idea for the pharma and healthcare comms bulletin, email Ian.Griggs@haymarket.com