PRWeek UK is backing the BME Mentoring Scheme, which aims to increase the number of PR professionals from ethnic minorities in top UK roles.
Nineteen senior industry figures from BME (black and minority ethnic) backgrounds have agreed to be mentors. Applications to be a mentee were open to any UK-based comms professional from an ethnic minority background who has worked in the industry for a minimum of six months. The application form asked about their experience and what they need to progress their career.
Successful applicants have now been matched with mentors who are deemed to be the best fit for their particular circumstances. They will receive advice and guidance through face-to-face and remote meetings.
BME PR Pros founder Elizabeth Bananuka said: "The BME PR Pros/PRWeek Mentoring Scheme mentees are a reminder that talent comes in many shades. From a podcast host to a filmmaker, agency to in-house, Wales to Sheffield, journalist to campaigner, healthcare to tech - they are diverse in their backgrounds, interests and professions but they all have one thing in common: they are all talented rising stars.
"I genuinely hope the sector has listened and learnt these last few months. You say you value diversity? Great. Then dismantle barriers to progression, cut the inequality and start rooting for talented BME PR pros like this year's mentees. They deserve great careers and you deserve to benefit from their talents."
Full list of mentors and mentees:
Kanayo Agwunobi – senior account executive, Aspectus Group to be mentored by Frances Shondé, account director, Four Communications
Rifah Ahsan – digital engagement officer, Eastern AHSN to be mentored by Selena Dhanak, account director, H+K Strategies
Nadia Ali – campaign assistant, Cowshed Communication to be mentored by Kat Dare, brand strategist
Ayesha Baker – communications manager, NHS North West London Collaboration of Clinical Commissioning Groups to be mentored by Doyel Maitra, group communications director and board member, Hachette UK
Left to right: Kanayo Agwunobi, Rifah Ahsan, Nadia Ali, Ayesha Baker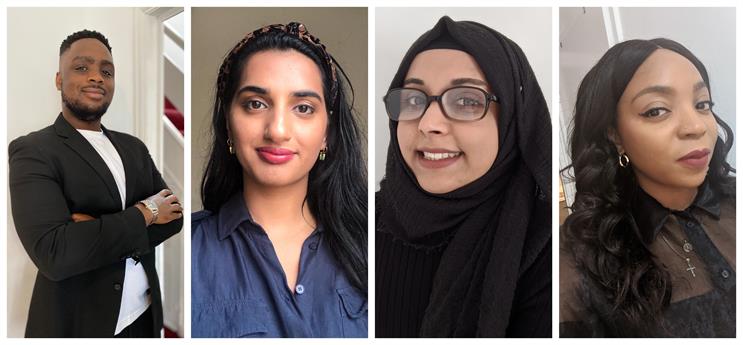 Paige Caldeira – account coordinator, Ketchum to be mentored by Sinéad Gosai, press manager, BookTrust
Jahanara Chaudhry – accounts assistant, Nelson Bostock Unlimited to be mentored by Elizabeth Bananuka, founder/CEO, BME PR Pros/The Blueprint
Mary Davoudi – PR & marketing consultant to be mentored by Pema Seely, PR manager for EMEA, Alibaba Group
Christina Halm – account executive, 90TEN to be mentored by Darain Faraz, director, brand marketing (EMEA & LATAM), LinkedIn
Left to right: Paige Caldeira, Jahanara Chaudhry, Mary Davoudi and Christina Halm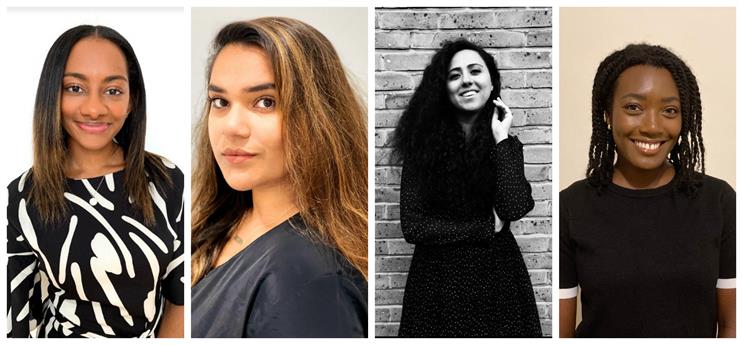 Asha Jani – PR assistant, Center Parcs to be mentored by Jermaine Dallas, senior copywriter, Edelman
Lateefah Jean-Baptiste – media officer, Terrence Higgins Trust to be mentored by Harriet Otoo, head of communications, PA Media Group
Deepak Kumar – assistant account executive, Edelman UK to be mentored by Matt Brown, director of news & external relations, TfL
Corrine Lewis – senior account executive, Burson Cohn & Wolfe (BCW) to be mentored by Annique Simpson, change comms business partner, A2Dominion Group
Left to right: Asha Jani, Lateefah Jean-Baptiste, Deepak Kumar and Corrine Lewis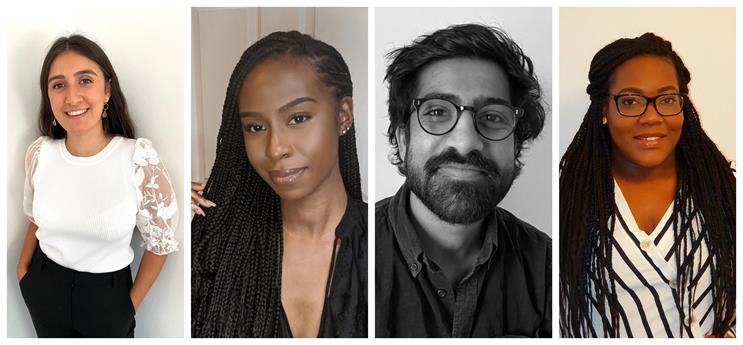 Brenda Juliet Nabanja – account assistant, Nelson Bostock Unlimited to be mentored by Kamiqua Pearce, CEO, Coldr
Natasha Padhiar – account manager, Ogilvy Health UK to be mentored by Lee Leong, art director, OMD EMEA
Sonam Patel – media relations manager, EY to be mentored by Armand David, managing director, Applied Innovation, Brands2Life
Nikita Rathod – communications & events officer, Institute of Global Health Innovation, Imperial College London to be mentored by Shruti Sharma, associate director, Weber Shandwick
Left to right: Brenda Juliet Nabanja, Natasha Padhiar, Sonam Patel and Nikita Rathod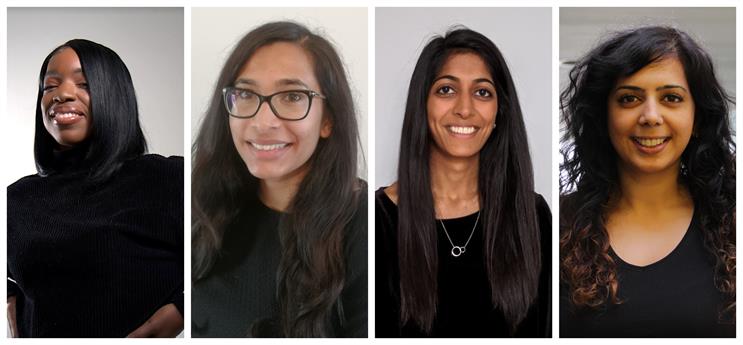 Naomi MG Smith – account executive, Westco Communications to be mentored by Alicia Solanki, deputy managing director, brand, Ketchum
Annalisa Toccara – founder, Toccara Laurent to be mentored by Andrea San Pedro, founder & director, ASP PR
Isa Yahya – communications & market intelligence assistant, Vivo Energy to be mentored by Maria Adediran, senior account manager, Wimbart
Left to right: Naomi MG Smith, Annalisa Toccara and Isa Yahya