The combination of WPP stablemates Finsbury, Glover Park and Hering Shuppener, announced earlier this month, may have surprised some industry observers. But it needs to be placed in the wider context of running a large holding group in 2020.
It's also a sign of things to come, according to experts, who say the market is ripe for consolidation and strategic M&As once the furloughing period has subsided.
The merger of Finsbury, Glover Park Group (GPG) and Hering Shuppener is a continuation of WPP's journey to streamline and simplify legacy businesses, according to Joe Hine, an M&A advisor and partner at SI Partners, who specialises in marketing services deals.
This process had earlier led to the consolidation of different Ogilvy shops into a single entity and the merger of Burson Marsteller and Cohn & Wolf.
"WPP's wider strategy is how it rationalises its business and puts itself in a better position to recover from where it was pre-COVID," Hine tells PRWeek. "Rather than having three competing businesses, it's about trying to simplify [the structure] and bring it all together. It's more in line with holding groups that have got a more modern take on things, like Dentsu with the way [it works] with one P&L, and it's the way that clients want to work."
The latter point about clients wanting more single-agency structures is key. The days when a roster of agencies and dealing with multiple points of contact are seen as efficient or desirable for many larger clients could be numbered. Hine reckons the trend to consolidate sister shops within holding groups will only accelerate.
"Clients now want one P&L, they don't want disparate groups where you've got multiple brands that you're trying to aggregate," he said, adding that the Accenture Interactive model is at the innovative end of how marketing services groups are structured.
"You are not having to stitch together constituent parts. This is just one group that sings from the same hymn sheet, rather than sister agencies competing for different parts of the business. In terms of conflict shops, it's expensive to run two management teams and two new business machines."
The trend toward having a single P&L is also happening within big agencies, including recently at Portland.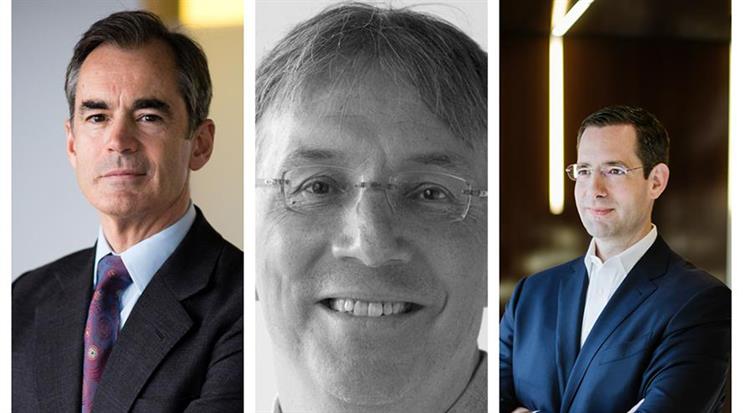 Finsbury founder Roland Rudd (above left) and GPG founder Carter Eskew (centre) will become co-chairs of Finsbury Glover Hering. Hering Schuppener managing partner Alexander Geiser (right) will be chief executive.
Holding groups need 'shaking up'
Hine believes the idea of strong conflict agencies competing with one other may still exist within the very largest groups, but he wouldn't be surprised if further consolidation takes place and other structures emerge in which sister agencies operate from single P&Ls.
He describes the traditional holding group model as "outdated" and in need of "shaking up".
"Part of the problem is the fact they've got so much legacy of businesses that aren't digital or contemporary. There is a need for them to basically sharpen up what they're doing."
When pressed on which group structure he believes is most in need of modernisation, Hine responded: "The obvious one for me is Omnicom. It's got some overriding structures behind it but still has a very disparate structure and has been the slowest to react and least dynamic in the M&A marketplace over the past five years… and not kept pace with the changes. It has a need to rebuild its business model to maintain competitiveness."
Hines wasn't the only expert to predict further consolidation and M&A activity. PRWeek approached several industry leaders, some of whom are plotting their own acquisitions.
Frank co-founder Andrew Bloch, who recently joined M&A advisory firm PCB Partners, tells PRWeek that COVID-19 will have encouraged holding groups to look at their operating models to find cost savings, operating efficiencies and ways to avoid overlap.
"They will look to build on their scale and maintain their profitability by cost savings," he says. "On a more positive note, it's about adapting to changing trading conditions and moving forward. Some will consolidate while others will look at opportunities that are more acquisitive to basically get their growth back quicker. This situation amplifies the pressure to invest in future growth."
Bloch believes there is still merit in groups having several agencies that offer similar services with a different approach, particularly in boom times where there is plenty of work to compete for.
"I think now the situation changes," he adds. "It's partly that there is overlap and similarities, but also the requirements for an agency are changing and the traditional comms and PR agency doesn't really exist now. To compete at the highest level, you have to be able to offer a much more integrated offering."
'Hacking away the fat'
One global holding group that has recently restructured its agencies across geographies and disciplines is Havas. A year ago it combined Havas PR and Red to form Red Havas, and more recently combined the UK's biggest public affairs consultancy, Cicero, into the AMO fold, sitting alongside Maitland in the Havas Village.
Red Havas global chief executive and chairman of the Havas PR Global Collective James Wright believes this is the perfect time for holding groups to consider restructuring and finding ways for agency stablemates to work more closely together.
"Everyone is being impacted by the pandemic… bigger businesses and holding groups can generally weather it for longer, but you are seeing strategic changes across the board," Wright tells PRWeek.
"We have seen mergers within networks, a greater sharing of resources that is beyond just sister PR agencies, and considerable reassessing and restructuring of real-estate footprints.
"This will only increase in the next 12-18 months. The situation has created an accelerated, unique opportunity to unwind the sometimes unwieldy nature of holding groups that have grown through acquisition and [were] previously hamstrung by legacy structure and management approaches. Here is the time to streamline them, hack away the fat, bring all the agencies closer in a meaningful way. Not just in the words on the website, but actively working together, sharing resources, real estate, and technology and IP."
(Clockwise, from top left) Andrew Bloch, Tim Dyson, Warren Johnson and James Wright predict further consolidation and strategic M&As.
'Pac-Man' acquirers
A business leader who has successfully acquired and grown his communications group in recent years is W Communications founder Warren Johnson. He predicts further consolidation as well as strategic M&As.
"There will be larger groups looking to smash P&Ls together to find more efficiencies," he said. "I think people are going to be looking to generate better EBITDA through further cost savings because it will be through the 'M' bit of M&A."
On the 'A' bit of the M&A equation, Johnson predicts a number of 'distress purchases' once the Government Coronavirus Job Retention Scheme's furloughing support ends in October.
"Smaller agencies whose clients perhaps haven't quite recovered suddenly have got a huge wage bill and they're going to look at either folding businesses or being sold," Johnson explains.
"There's an opportunity for certain mid-sized companies to be 'Pac-Man-like' and go around gobbling up small businesses that still like the craft of what they do but are beaten by six months of economic pain."
Potential targets are specialised agencies, such as sector-specific boutiques with annual revenues of up to £3m. These are solid businesses that may have found COVID-19 trading conditions too difficult to survive.
Johnson also believes there could be smaller agencies looking to "buddy up" to strengthen their position in the market.
Another potential target, argue Johnson and Hine, are mid-sized, listed groups that are currently undervalued and "definitely struggling".
"The ones that haven't been taken off the market are definitely ripe and even the ones that have been taken off the market are either up for sale or will be looking for big offers," Hine says. "The exit strategies [for these groups] could well be 'divide and conquer', acquiring constituent parts rather than as a whole."
One business that fits this profile and was mentioned by several people interviewed for this article is M&C Saatchi Group, which has reorganised after financial difficulties in the wake of a multimillion-pound accounting error.
It recently combined its PR businesses to form M&C Saatchi Talk, and also has a strong sports marketing agency, M&C Saatchi Sports & Entertainment. Other groups that were named as either targets for sale or private-equity exit strategies include Engine and Mission Marketing.
Four Communications group chief executive Nan Williams predicts some M&A activity will return.
Groups on the hunt
One group known to be on the hunt for strategic acquisitions is Four Communications.
After a two-year pause on the acquisition trail and a recent restructure of the group, chief executive Nan Williams confirms that Four is on the lookout, but won't return to levels of its M&A spree in 2015.
"I think there will be some activity as agencies look to build as strongly as possible for the future. Clearly, it has to be done both strategically and sensitively at this time," she says.
"Our experience after the financial crisis when we started acquiring [again] was that it strengthened the existing business and enabled us to recover quickly and to protect the company and jobs. There is a lot of interest in the health sector at the moment. And, of course, in digital extensions. I think there will be less activity from the big groups – but independents with strong balance sheets are well placed."
Another group that is looking for strategic acquisition opportunities is Next15. Group chief executive Tim Dyson tells PRWeek that there has been a "pull back" on acquisitions across the industry, but he expects activity to pick up once economic conditions stabilise.
"I don't think the rebound will be that strong, though," he says. "Some deals that were in the works will get done first and some distressed business sales will likely follow. I suspect the market will then slow as buyers look for quality and predictability of revenues."
Dyson and others points to a familiar type of acquirer identified by most experts speaking to PRWeek: private equity firms. Most notably, in 2019 Teneo sold a majority stake to UK-based CVC Capital Partners.
That same year, another investor – LDC, the private equity arm of Lloyd's Bank – acquired a majority stake in Instinctif. It followed shortly after LDC made an investment in MSQ Partners, owner of Belfast-based PR agency Smarts.
PRWeek has been told private equity money is circling other potential targets.
"Beyond that, a lot will depend on the health of the acquirers' balance sheets," Dyson adds. "I suspect the big consulting groups and the large agency groups won't be in any hurry to get back into the market in a big way."
The major risk for anyone looking to invest is that it is difficult to predict how strongly marketing services firms will rebound, particularly as there is so much uncertainty about the nature and length of the economic recovery.
This means that those willing to take a punt will need a stronger balance sheet than normal.
"The winners will be the ones that strike the right balance of investing in their current portfolio so that they can grow while also investing in new areas," Dyson points out. "COVID-19 has accelerated the shift to digital by five years. The winners will be those that can modernise fast enough. As one of my people described it, it's the survival of the fastest."
Red Havas boss Wright points out another risk to any M&As during this time.
"The biggest issue is that the number-one ingredient you are looking for in a deal is chemistry. The fact that we can't travel as easily and meet people face-to-face to get to know one another and really feel the chemistry of the people makes that hard. So we need to be innovative to get around that," he said.
That said, recent weeks have shown that consultancies are still willing to combine. Aside from Finsbury Glover Hering, public affairs firm BECG acquired Cavendish, and it is likely that we will see more.
Whether it is consolidation, mergers or strategic acquisitions, the COVID-induced global economic downturn will shrink the comms marketplace and force some businesses to either combine or go bust.
The trickle of M&A activity at the moment could soon turn into a surge when the Government's furloughing taps are turned off.
There will be winners and losers, but one thing is guaranteed – the shape of the industry and how it operates will evolve, and hopefully for the better.