You became Golin's sole CEO not long before the lockdown. What were you doing before the pandemic hit?
In January and February, I flew to London, Hong Kong, Chicago and Los Angeles, so somewhat prophetically, I managed to get a lot of work travel in before the music stopped.
I had planned to visit our Dallas office and spend a lot more time physically in our headquarters, but, thanks to our technology, the irony is I've been able to spend much more time talking to our team. I hold global town halls over video every couple weeks. Even when we're all able to travel again, I want to keep this connectivity.

When did you go on lockdown?
Friday the 13th of March was our last day in the office.
Where is home?
I live in an apartment on the Upper West Side of Manhattan with my two daughters and Milton the cat. It's a modest size, but we have great views, which was a help when we didn't really leave the building for 12 straight weeks.

What was it like having to stop traveling so suddenly?
My first account way back in 1997 was an international one, so from month one — and for the last two decades — I have been getting on planes at least every other week. Working with people from other countries and experiencing other cultures has been something I've loved, so to be confined to my kitchen counter has been an enormous culture shock. Also, Milton is not happy that I'm spending more time in "her" apartment.
How do the kids feel about having dad around all the time?
My daughters are seven and 10. I'm fortunate still to be in the parenting phase of unconditional love, so seeing them more often has been a joyous gift to us all. I'm a very lucky father.
Have you had to learn any new housekeeping or cooking skills? And how is homeschooling going?
I've really upped my dinner repertoire. A seven-year-old doesn't have a filter, so there is pressure to up your game each meal.
Their mum has done most of the heavy lifting with the homeschooling, and it was really hard at first. She's done an incredible job. They go to school in the city and it has done remarkably well, considering.

How did you all stay entertained in those first 12 weeks?
We have built a whole street out of Legos involving more than 10,000 bricks. Someone at Lego headquarters must be wondering what's accounting for a sales spike on the Upper West Side.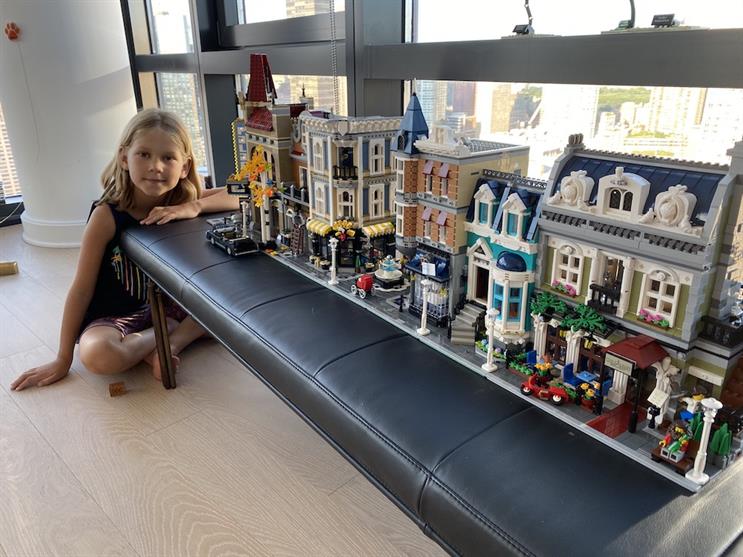 I've been told it's easier to schedule time with agency CEOs now that there's no travel involved. Is that true?
That is true, but what I have noticed more is that technology has somewhat democratized how teams work. If anything, the voices of more junior or more specialist experts can be heard, and I believe this is making our work better.
Despite us trying to fight against it, corporate America is quite hierarchical. Sometimes that is good, when you need a clear decision made, but in the planning and ideation phase, we need diversity of thought. It is easier for a junior staffer to ask a direct question via a chat bar than when they are face-to-face in the room with a senior agency leader.

Do you feel like you're working harder than before the lockdown?
There have been weeks where the hours were extreme and the pressure to make the correct, informed decision was acute. I'm trying to persuade my teams to take time off over the summer as working at this pace is not sustainable. It's a false economy for our business and it's critical to disconnect and breathe. 
Part of traveling for work meant sometimes getting back to the U.K., where you're from. Do you miss it?
I've lived here for five and a half years and America and New York is where I want our long-term home to be. Part of my heart will always be in London and hopefully in 2021, I will be able to see my friends and family again.
What do you miss the most from pre-lockdown life?
Bookshops. Three Lives & Company in the West Village is one of my happy places. They reopened last week and I bought nine books!