Unilever had a plan for bringing Fabian Garcia on board as the company's new North American president when he started January 1. And no doubt Garcia expected his hire to roll out much as it had for other senior executives joining the company.
However, COVID-19 had its own plans. 
"You always hear people talking about 'My first 90 days. My first 100 days,'" he says. "This company has a protocol for everything. And there is, of course, a protocol for onboarding an executive."
At first, Garcia says, things proceeded as expected. He met with his predecessor, Amanda Sourry, and began working on the transition. And he also began traveling to meet other Unilever executives. However, on one of those trips, it became obvious that the situation had changed.
"I remember vividly when things started to heat up," Garcia says. "We had a visit in China and started to hear things from the executive team and we started to observe the lockdowns."
As a result, the executive onboarding protocol was jettisoned and a crisis protocol was enacted. The company tweaked that plan based on its experience in China, and Garcia dove in.  
"It was a catalyst to [really] getting to know [the team] very well," he says. "But it was an unpredictable sequence. I went from a standard orientation program to a nonstandard crisis management protocol that allowed me to penetrate the organization really deep, really fast." 
Even without the crisis Garcia's hire would have been atypical, though it did fit a pattern that had emerged after Alan Jope was named CEO early last year.
Garcia was an outsider; his former gigs included CEO roles at Revlon and Colgate-Palmolive and senior positions at Timberland, Chanel and Procter & Gamble. Many Unilever executives, however, were longtime employees. Sourry had been there 30 years. And the company's new CMO, Conny Braams, had a 30-year tenure. The person she replaced, Keith Weed, had been at Unilever 35 years. Even Jope was a 14-year veteran for Unilever in North America alone, and had been with the company since 1985.
Garcia was the most recent of four outsiders joining the executive team since Jope took the helm. The others are Richard Slater, appointed chief R&D officer in April 2019; Hanneke Faber, named president, foods and refreshment in May 2019; and Sunny Jain, named president, beauty and personal care in June 2019.
"So, you have lifers of Unilever who provide transitioning values and bring the experience of having worked in the company all their lives," he says. "And now, we have people who have had a diverse range of experiences outside of Unilever."
Unilever and COVID-19
Perhaps it's fitting Garcia's start coincided with the pandemic. The qualities he found attractive at Unilever have played out directly in the company's recent financial results and its charitable response (at least when measured by scale) to the crisis.
Garcia says he always admired Unilever's stable of iconic brands and during the pandemic demand for those products has soared in the U.S. 
Yes, it's true, as Jope told CNBC in April, the pandemic has not been good overall for the company. It reported that sales growth was flat in Q1 and that underlying sales in food and refreshment declined 1.7%. But, in the U.S., where stockpiling helped underlying sales grow 4.8%, Garcia says the demand was incredible. 
"[It's] unprecedented. It's multiples. There are not like 10% or 20% [increases] but in some categories you've seen three times the demand," he says. "Our plants are designed for efficiency. And when we design for efficiency, you design to grow [production] within a brand to [at most] a 10% peak. And we were running much faster than that."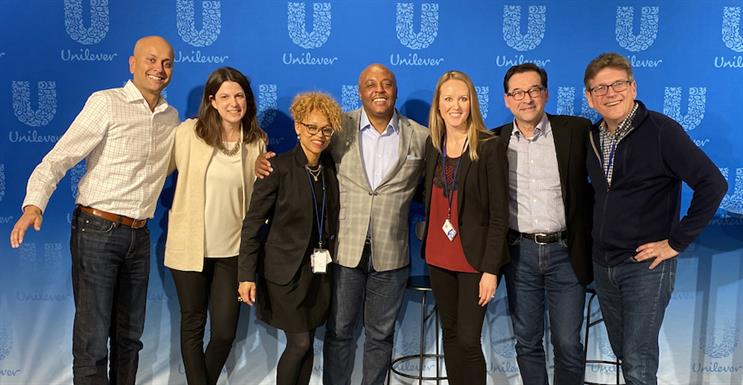 Garcia says he has also always admired Unilever's commitment to purpose and to "positively impacting the world." During the pandemic, Unilever and its brands have made significant contributions of cash and goods to support frontline workers and others. 
Hellmann's Mayonnaise, Garcia says, donated 30,000 meals to frontline workers and the brand Shea Moisture donated $1 million dollars to entrepreneurs. Even Dove changed up its
PRWeek award-winning campaign to the Courage is Beautiful campaign, honoring frontline medical workers. 
Under Garcia, Unilever also began working with Edelman to roll out its latest CSR initiative, the United For America: Day of Service. On the chosen date, May 21, Unilever donated $20 million toward direct food relief in the U.S. — the equivalent of one day's worth of production at the company's plants. 
Brand messaging
The CSR efforts are central to Unilever, Garcia says, because it's not enough, especially now, to simply tell people your products are good. You have to tie the value of a product to a strong social purpose that addresses the larger needs of consumers.
"The one thing that we want to make sure of is that our messages are, in whatever media we use, relevant and appropriate for the times." he says. "It's important that you are not just peddling your benefits but also responding to the cycle of the consumer at this point in time."
That duality also expresses itself, Garcia notes, in the comms tactics Unilever uses — a combination of earned media, paid media and owned media. Yes, he says, the company maintains a famous relationship with Edelman. But it works with many agencies, both traditional ad shops and comms firms, because the mix of purpose and brand marketing demands it.
"You can't do it only on purpose and you cannot sell only on functionality," Garcia says. "It's a fact that you build your reputation based on trust and on the quality of your product, but you also build it on the purpose. And how you do that is through both earned and paid and obviously owned media."
"I see it as a very delicate balance," he adds. "I don't think there is any conversation here about moving money away from earned to paid or from paid to earned. You cannot have a great PR campaign if the consumer doesn't believe you have a great quality product. But the truth is if the only thing you do is to clean my hand, you don't really matter. So there is this symbiotic, complementarity to both paid and earned."
Unilever and many of its brands have also come out strongly in favor of the June protests that spread across the U.S. in response to the death of George Floyd while in police custody. 
"Unilever believes it is our responsibility to take action to create systemic change to address institutionalized racism and social injustice," Garcia says. "Like any purpose work we do, we believe our actions are more important than our words, so we are starting with five focus areas. First, we have pledged more than $1 million in 2020 to organizations and activists working for social justice and racial equality. These commitments come from Unilever and our brands such as Shea Moisture, Axe, Tazo, Seventh Generation and Degree.
"Second, we will continue to increase our work with and investment in diverse suppliers," Garcia continues. "Third, we continue to work to ensure the diversity of our workforce fully reflects the communities we serve. Fourth, we uphold a zero-tolerance policy on intolerance — both among Unilever employees and the suppliers, customers and partners that work with us. And last, we will add our voice and influence to advocate for all to have safe and fair access to voting this November."