Where are you working from?
I'm in rural southeast Missouri, in the Ozark mountain foothills in Piedmont. My home office window overlooks Clearwater Lake. It's two and a half hours south-southwest of St. Louis, three hours northwest of Memphis and three and a half hours north of Little Rock, Arkansas. Really remote! The nearest Walmart is an hour away. Even when I was the president of PRSA St. Louis, I lived down here. Most people didn't realize I drove that far every month for board meetings and events.
Do you encounter woodland creatures?
Yes! We sat out on the deck the other night and saw bunnies, squirrels, even a deer. Oh, and a pesky armadillo that our dog did not like and chased away. We can hear coyotes howling in the hills at night. We've also heard wild hogs off in the distance. Those things are scary. And, last year, we spotted a small bear.
What about connectivity? Is that a challenge because you're so remote?
It has been in the past, yes. At one point, maybe 15 years ago, the only internet we could get was satellite, and it was awful but somehow I made it work. I now have DSL and the speed is completely adequate to do web meetings, as long as I don't have 30 Chrome tabs open. They had to run over a mile of cable to get to me, because we built where no one had ever lived. It was logging country.
How did you end up there?
We wanted a view of Clearwater Lake, where we kept our boat, and bought land to build on. Then we had to have a lot of excavation to get a flat spot in these hills, a well dug, a septic system installed, a phone line run, etc. It was worth it to have our own 'little slice of paradise' with no visible neighbors.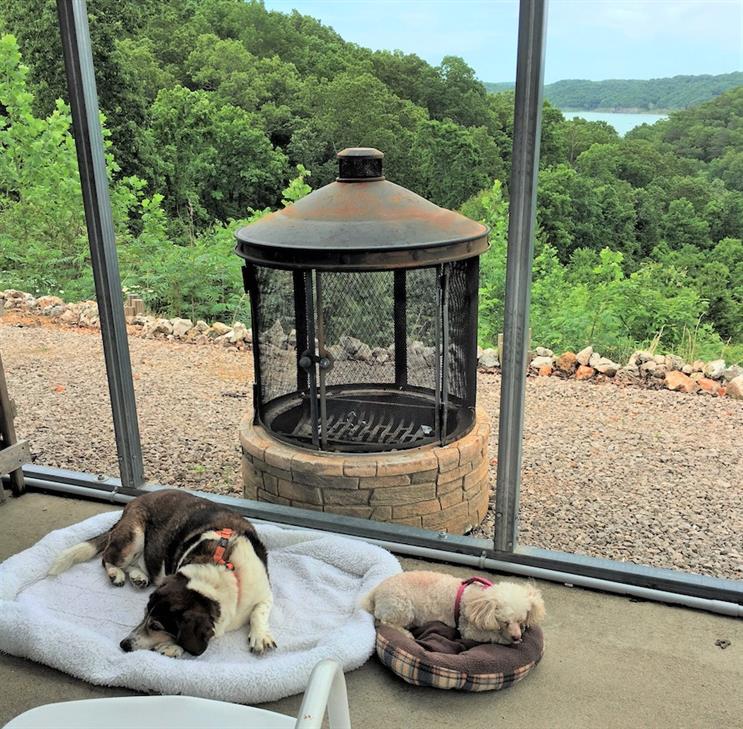 Where is the company based?
The Burrelles corporate headquarters are in Florham Park, New Jersey.
Why are you in Missouri?
In the late 1990s, the company was expanding across the country with offices from coast to coast and wanted to grow its Midwest presence. They interviewed people in St. Louis, and I lived in the St. Louis area...and I was hired.
That was way before remote working was a thing. Did you have to negotiate that?
It was way before 'remote work' was even in our vernacular. I told some people I telecommuted, but even then had to explain. In the other cities, the company had physical offices. However, I had worked remotely for my previous job and had a fully equipped office set-up in my home in 1997, so why go to the expense of renting space? The hiring manager agreed.
When the rest of your company went remote during the lockdown, did people ask for tips?
Lots of people asked for tips, mostly from outside the company. We already had collaboration tools and cloud technology deployed, so it wasn't a huge change. If I had to narrow my advice down to one key component, it would be to communicate, communicate, communicate. When you're working remotely, there is no such thing as over-communicating. Don't be afraid to pick-up the phone!