This leads to some uncomfortable conversations when this lack of diversity is raised or clients are dismissive of BAME agency staff.
Speaking on PRWeek's podcast, The PR Show, Manifest brand strategy director Julian Obubo said that racism in PR is often much more subtle in the way it influences the industry than the overt cases that have been covered in detail on news channels in recent months.
"For far too long our approach and our definition of racism has been so narrow that a lot of people are not aware of systemic racism and microaggressions – things that are not done in bad faith that could still be harmful," Obubo said.
He highlighted an example in the recent CIPR report 'Racism in PR', where BAME staff were prevented from working on prestigious accounts, and one case where a client had been racist to a BAME agency employee, but instead of dealing with the client's behaviour, the agency employee was pulled from the account team.
"Talent is being married to this culture where if they speak up to HR or to line managers, they are penalised for it – either directly or in subtle ways," Obubo added.
Please visit The PR Show's website and follow us so that you do not miss an episode. The PR Show is the industry's premier panel discussion pod where industry leaders debate the hot topics of the day. Check out all of our past episodes and go deeper on issues.
Diversity in campaigns: 'a blind spot'
One of the ways in which the industry is poorer is a lack of diversity is in the quality of the output.
Obubo told The PR Show that during his career he has seen many campaigns that were non-inclusive and did not represent the audiences they were seeking to engage.
He described this as a "blind spot" that clients have had about diversity in campaigns so they are inclusive. Another term sometimes used to describe this phenomenon is 'cultural whitewashing'.
"You'd have conversations with clients or even in the pitch process where they're just not seeing that the approach or the brief is so restricted and not inclusive enough," Obubo said. "And when you do bring it up, it becomes uncomfortable because instead of it just being a matter of saying, 'Look, this does not represent the audience you're going for', it becomes, 'Oh, are you trying to suggest we're racist?'"
"'Well, actually, yes, I am. Let's talk about it.' I've had a few instances of that, of trying to broaden the creative approach and being met with discomfort in silence rather than hostility. But you know that underneath that is: 'We don't want to talk about it because we don't know how to talk about it. So I'd rather you don't bring this up again.'"
Blurred co-founder and CEO Nik Govier told The PR Show that diversity in creative should not just be framed as the right thing to do – it's a business imperative.
"In terms of creativity, it's not just about creativity, it's about being good at our jobs," she said. "A company that doesn't have a diverse workforce cannot possibly claim to be top of their game because how can they possibly represent the views and opinions of different segments of society?"
A recent example of this in the industry is when Stormzy (pictured above) is the answer to urban briefs.
"There are too many siloed, clichéd views and that really lazy notion of an influencer, or a celebrity, to front something and all of a sudden that's going to appeal to a segment of society," Govier added. "[It's] laziness, frankly, the kind of PR that makes me feel embarrassed to be associated with this industry."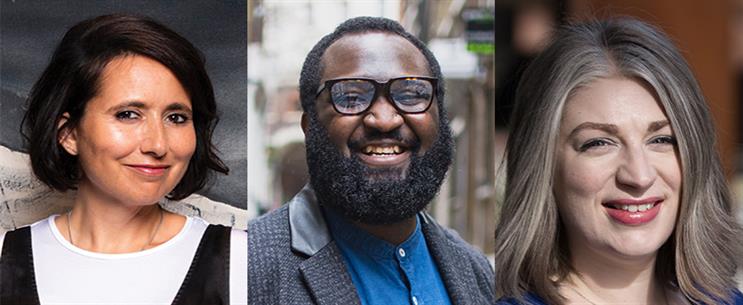 Govier, Obubo and Hawthorn pull no punches in tackling Racism in PR on The PR Show.
'Too much pressure on BAME staff'
Govier was sympathetic to what Obubo had experienced, posing the question: "Why does it have to be the black person that has to stand up and point these things out?" 
InFusion Communications managing director Sara Hawthorn told The PR Show that throughout her career she had predominantly worked in white agencies and serving sectors dominated by white men.
When reading the CIPR's 'Racism in PR' report, Hawthorn said she found it "horrifying" but was not surprised.
"One of the things that jumped out for me is that we have not fully realised the pressure that we have put our black, Asian and mixed-race ethnicity colleagues under to fix the diversity problem," Hawthorn said. 
"They feel it's their responsibility, it's on them, and we've just let them take that responsibility. We have not acknowledged the weight that has been put on their shoulders, and, as [business] owners we need to stand up and say: 'No, we're not doing that any more.'"
The PR Show asked panellists what more the industry should do to fix racism in PR and improve its diversity. Listen to the full podcast below. 
The racism in PR discussion begins at 24 mins 30 secs. Prior to that panellists talk about how to earn Blueprint accreditation.