The Singapore press and social media are abuzz as the general elections take place this Friday. As the end of the two-week campaign nears, social data from media monitoring firm Isentia shows which politicians, parties, and issues take the spotlight. Data is pulled from over 7,000 public social media channels on Facebook, Twitter, YouTube and Reddit among other platforms from June 23 till July 7.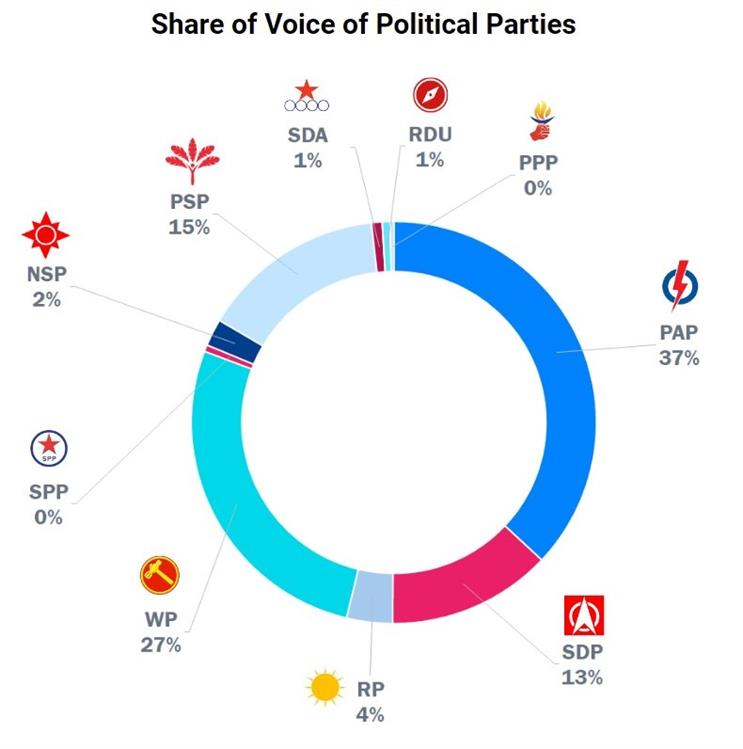 Ruling party PAP and opposition WP take up the majority of voice share at 37% and 27% respectively. The buzz volume in the last two weeks show that PAP has dominated social chatter throughout most of the campaign period, but WP swiftly overtook them earlier this month as candidate Jamus Lim was widely praised for his performance during a televised debate on July 1.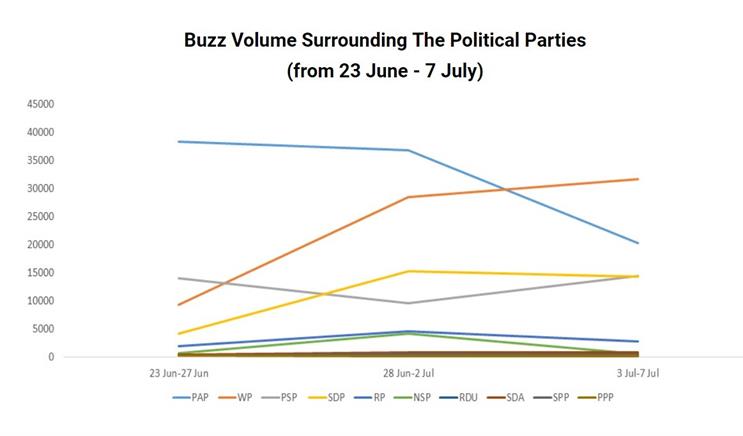 Incidentally, data showed that Lim garnered 14,500 social interactions, the most of any new candidate in the race.  PSP's Terence Soon came in second with 3,741 interactions. Many on social media felt that Soon's background as a Singapore Airlines' pilot would contribute to the diversity in PSP's party. Abdul Rahman Mohamad, Desmond Tan and Nicole Seah follow based on number of reactions and interactions.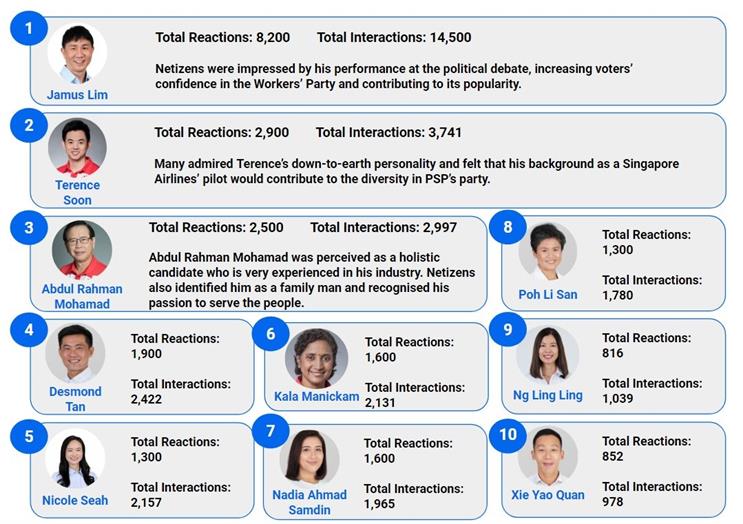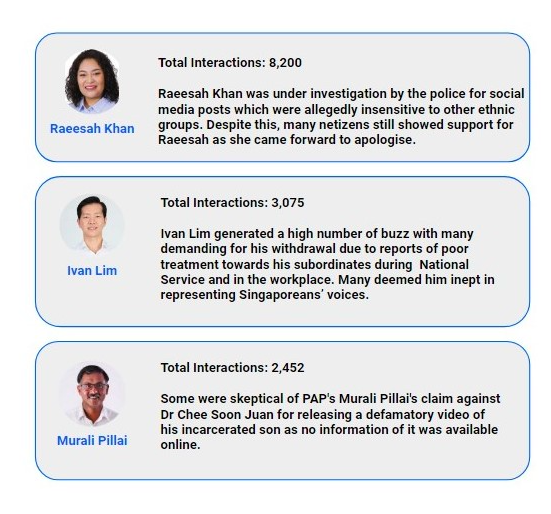 Buzz volume continued to increase for WP as candidate Raeesah Khan was investigated by the police earlier this week for her Tweets that call out Singaporean-Chinese and white expat privilege in the city-state. The police alleged that her Tweets promoted racial enmity, and social media users were split between their support for Khan or otherwise.
PAP's Ivan Lim, meanwhile, dominated conversation at the start of the campaign following a wave of criticism over his behaviour at work and during military service. Lim swiftly dropped out of the race.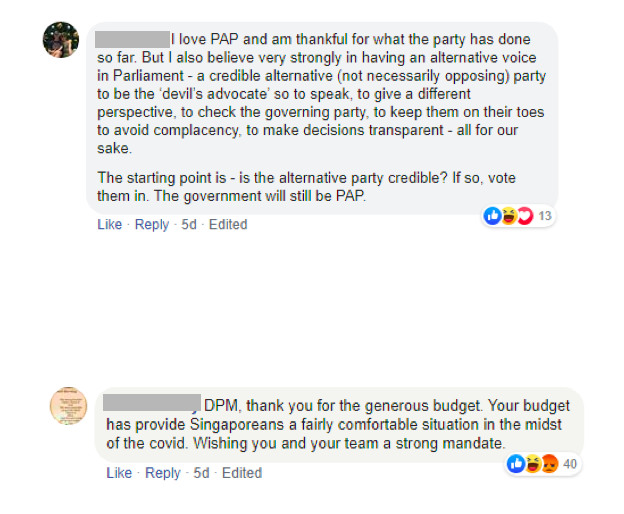 This campaign has shown that more voters are seeking an alternate voice in government, and have made the switch from PAP to WP for the purposes of 'checks and balances'. On the other hand, loyal PAP supporters are shown to be grateful for financial aid from the government during COVID-19.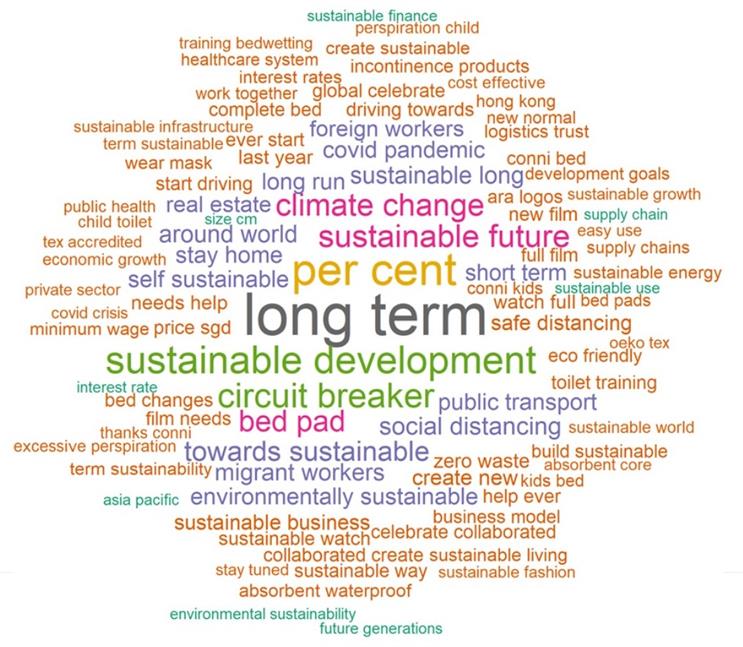 In terms of issues discussed, jobs and the economy have been top-of-mind for many Singaporean voters. A main concern going into this election was the misconception of negative impressions of the traineeships aimed at helping graduates prepare for the workforce. On the backdrop of COVID-19, health and safety were also key concerns, especially mental health. Issues included the availability of social workers or counsellors to provide mental health support.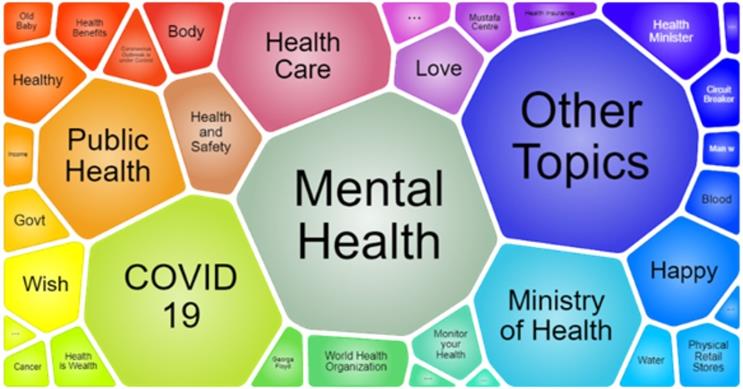 The disproportionate COVID-19 infections in foreign worker dormitories have also opened conversations about the living conditions of workers in Singapore. And data shows that one takeaway from election chatter is Singaporeans are willing to pay up to 15% more in construction costs to improve the quality of living conditions of foreign workers. Meanwhile, nearly half of Singaporeans are willing to take up construction worker jobs if salaries were tripled.
Overall, Singaporeans worry about job security, manpower resources, and automation overtaking jobs. These findings are in line with Edelman's recent Trust Barometer on the Singapore market. 
---
Click here to subscribe to the FREE Asia PR & comms bulletin to receive dedicated news, features and comment from the region straight to your inbox. Make sure you register for the site to access more than one story per month.
To submit a news, comment, case study or analysis idea for the Asia bulletin, email Surekha.Ragavan@haymarket.asia