#Justice4Grenfell – Typographical Tower
Sunday 14 june was the third anniversary of the Grenfell tragedy, and there was a fear that the victims' story and much-needed reforms – were dropping off the news agenda. A new campaign, by ad agency BBH for #JusticeForGrenfell, was launched, literally bringing the names of the 72 who perished in the fire, back into the news.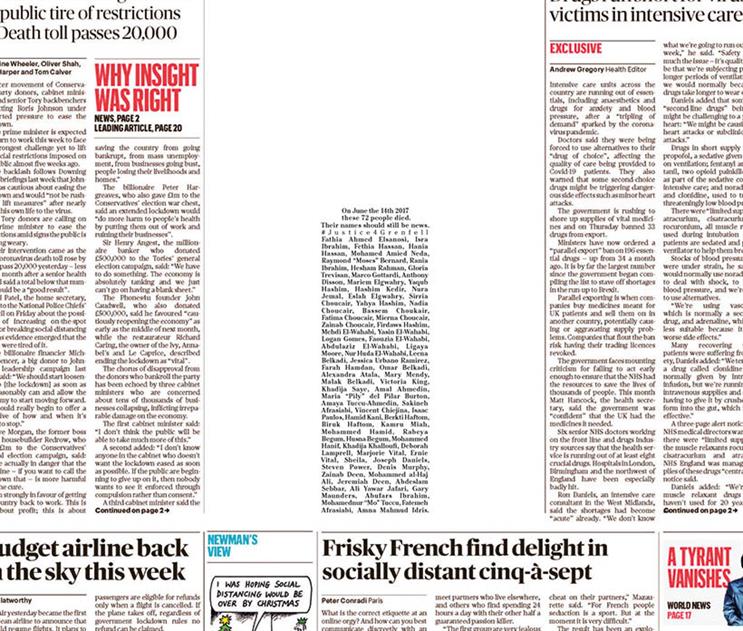 The campaign took over newspapers and outdoor sites in London, forming a typographical tower to serve both as a memorial and a reminder to those who need reminding.
Lego – Building Understanding & Ethical Foundations
This bold campaign was the toy brand's response to the death of George Floyd and the subsequent Black Lives Matter protests.
Lego emailed its reseller network and requested they pull the advertising for over 30 products that feature police officers (including dog units, patrol cars, mobile command centres and various other models). Also was the adult-builder version of The White House.
As Clearly PR managing director Paul MacKenzie-Cummins pointed out in PRWeek, the campaign could potentially be viewed as overtly antagonistic, positioning Lego as anti-police.
But in these extraordinary times, it was an effective symbolic gesture that gave the impression that the brand cared about the issue and was attuned to the public feeling.
June 3, 2020
It was also more than just a stunt - Lego promised to donate $4m to causes linked to helping black children and to help education around racial equality.
EasyJet – Masks For Kids
Taylor Herring devised this simple but creative way to make flying in the COVID-19 era a more fun (and less traumatic) experience for children.
With facemasks compulsory on all flights, mask covers featuring comic book-inspired designs are being given away for free to children flying with easyJet from airports across Europe this summer.
The two designs - a lion and a pilot - are from Irish artist Will Sliney; best known for his work on Marvel comics Spider-Man and Star Wars.
The agency has also produced a pre-flight safety measures video and photography series that explain new pre-flight procedures and disinfection methods. 
Dove – Father's Day 'Taken'
A short but poignant campaign for Dove 'Men+Care' for Father's Day in America last month centres on the Black Lives Matter movement.
The script and voice-over capture the mood of the times as black fathers tell their children to dream big but to prepare to face injustice. The film then pivots to the shocking truth of black fathers who will not be with their children as they grow up.
This campaign moves beyond opportunistic brand activism and puts its money where its mouth is with a $1 million donation pledge for the families of black fathers "taken by racism and violence", which is exactly what black commentators have been telling brands they should do to make a real difference.
Lynx & Marmite – Social-Distancing Deo
Two of Britain's most iconic brands came together with the launch of a deodorant and wash for the social-distancing era, targeting consumers that are looking for more of an "anti-people body spray".
Marmite and Lynx collaborate to unveil body wash and spray https://t.co/eUw9fVCrSg

— The Independent (@Independent) June 24, 2020
The campaign, by W Communications, also included branded social-distancing blankets sent to influencers and secured more than 150 pieces of coverage, including a segment on Good Morning Britain.
In case you missed it: Five Campaigns We Liked in May: your winner revealed
---
Click here to subscribe to the FREE Creative Inspiration bulletin to receive dedicated features, comment and the latest creative campaigns straight to your inbox. Make sure you register for the site to access more than one story per month.
To submit an idea for the bulletin, email John.Harrington@Haymarket.com