PepsiCo Foodservice's global CMO Scott Finlow has zeroed in on empathy throughout the COVID-19 crisis and continued using it as a guiding light for the company's response to racial injustice and police brutality issues thrust into the spotlight by George Floyd's death.
Finlow's immediate reaction to the protests was to reach out to Black members of his team to see how they were doing. It's important for everyone, he explains, to check in, show they care and want to help. 
"I'm learning they're exhausted, upset and in many cases scared for themselves, their families and their friends," says Finlow. "They also want to see action — and we owe it to them to be bold and [to] move quickly. I've learned so much by listening to the personal stories from my own team and it's helping guide me as a leader." 
Externally, in early June, PepsiCo CEO Ramon Laguarta shared a letter on LinkedIn expressing solidarity with the Black community, and the company's brands are exploring the authentic, meaningful ways they also can take a stand, says Finlow. For example, Gatorade shared a message on social media supporting the Black community and committed $500,000 across multiple Black justice organizations. 
Finlow says companies, brands and leaders need to commit to real, sustained action to help Black Americans and stop the "heartbreaking and infuriating" violence and injustice they face every day.
Just a few days before Floyd died, in response to alarming evidence of the continued disparate, negative impact of COVID-19, PepsiCo and its philanthropic arm The PepsiCo Foundation launched a $7 million initiative to provide increased medical and economic aid to communities of color across the country. 
"I'm proud of PepsiCo's history in support of the African-American community and of our recent commitments — and we need to do more," says Finlow. "We're looking at how we can provide additional support. I'd say to everyone — start taking action that makes a difference."
The marketing team's approach to the pandemic
Finlow has worked at PepsiCo for 24 years and has been in his current position since last February. But he says his focus as marketing head hasn't changed with the onset of the pandemic: It continues to be on employees, consumers and their needs.
"We started with our own people, making sure everyone is safe and healthy and being empathetic to their situation and circumstances," he says.  
The Foodservice division is a wholesale unit that sells Pepsi products such as Pepsi-Cola, Mountain Dew, Lipton Iced Tea, Aquafina, Lay's, Doritos, Gatorade, Quaker and Tropicana to the foodservice and hospitality sectors, from restaurants and hotels to offices and schools. Finlow oversees 80 staffers and his team is all working from home but staying highly connected amid lockdown. 
"Three times a week I do full team calls, making sure we are over-communicating, being transparent and empathetic," Finlow says. 
He notes that the team's organizational health has actually increased over the past few months. 
"As a team we feel very connected, very clear on our agenda and purpose, people recognize the importance of the work we are doing and everyone feels really valued," says Finlow.
The PepsiCo Foodservice team, which primarily partners with Golin, has also been focused on how consumers are feeling, behaving and navigating through different phases of the crisis. The company has also tapped its global insights organization to get a sense of what consumers' needs are and pivoting to help them.
"Consumers are looking for brands to be helpful but also to surprise and delight them," says Finlow.
In April, during an episode of actor John Krasinski's' digital news show Some Good News, PepsiCo and The PepsiCo Foundation announced that it committed to raising an additional $3 million for the Restaurant Employee Relief Fund, spearheaded by the National Restaurant Association Education Foundation and Guy Fieri. Additionally, Pepsi sold limited-edition shirts and a tote bag with a Pepsi logo hand-drawn by Krasinski's daughters with all proceeds going to the Restaurant Employee Relief Fund. 
Finlow calls PepsiCo's appearance on the show "marketing magic." 
"The show was good news in a world of bad news," says Finlow. "For our brands, that makes a ton of sense. People are looking for good news and joy and entertainment, so we want to participate in that." 
The episode PepsiCo appeared on received 3.7 million views and the brand saw a tremendous amount of earned media and social coverage.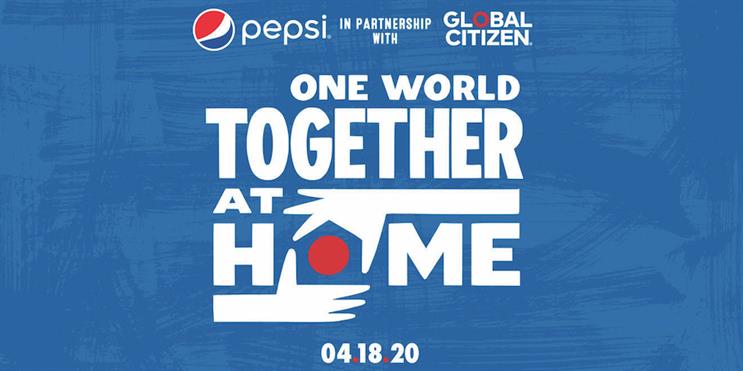 In April, Pepsi also partnered with music festival Global Citizen to produce a live streamed concert featuring Lady Gaga and other performers to help those impacted by COVID-19.
"We made a purposeful investment in that with the Pepsi brand," says Finlow. "It was a way to bring joy to consumers through music, which is an important platform for PepsiCo and the Pepsi brand."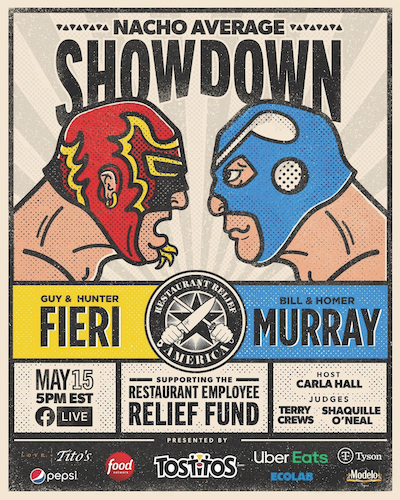 Additionally, on May 15, live on Food Network's Facebook page, Fieri and actor Bill Murray teamed up for a "Nacho Average Showdown" a virtual nacho-making competition to raise awareness and donations for the Restaurant Employee Relief Fund, presented by PepsiCo's Frito-Lay division brand Tostitos.
PepsiCo also focused its attention on the impact of school closures on kids who rely on school for food. Children in that situation have missed more than a billion meals to date due to COVID-19, says Finlow. In response, PepsiCo launched Gives Meals, Give Hope with No Kid Hungry and enlisted more than 20 star athletes, including the New York Giants' Saquon Barkley and the New York Yankees' Aaron Judge, to encourage America to match PepsiCo's $1 million donation and help connect kids with the meals they need. The campaign exceeded its fundraising goal to raise another $1 million in just a few weeks.
Changes to the industry
COVID-19 has led to a number of challenges and opportunities for the foodservice industry. 
"As the traditional dining experience has been dramatically altered, emphasis is now on takeout and delivery options and a surprising number of restaurants across the nation were unprepared for the quick switch and sheer volume of orders," Finlow says. 
Through PepsiCo's Foodservice Digital Lab, the company has been offering free access to a unique suite of capabilities and digital partnerships to help customers adjust to new digital trends and "appeal to consumer tastes in a new and engaging way," says Finlow. Right now, the company is addressing immediate needs such as online ordering and streamlining operations, but ultimately the goal is to help operators maximize presence across digital platforms, he says.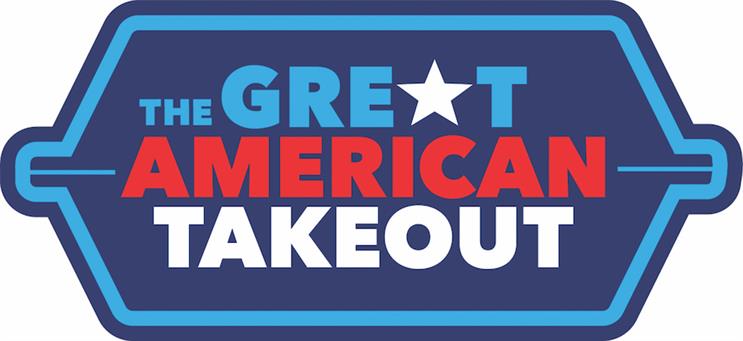 PepsiCo Foodservice leveraged partnerships with platforms such as Toast Now to offer three months of free service for restaurants to quickly ramp up online ordering in a cost-effective way. 
Restaurants and foodservice operators are enhancing sanitization procedures for equipment to ensure safety while creating social distancing protocols as orders are picked up. PepsiCo is also working with its partners to provide solutions in these areas, says Finlow.
The pandemic has also brought on some changes to PepsiCo as a whole that will stick going forward. Finlow and his team have learned to deal with a lot of ambiguity through the crisis, while at the same time having to move fast with the company's response.
"It has forced us to act more quickly and decisively as a marketing team and organization and company," says Finlow. "We will continue to do that; it's an important lesson to carry forward."