What has been your work situation during COVID-19?
We were a semi-virtual organization anyway; there's only six or seven full-time people, and then we have a network of people from strategists to creatives to media folks to producers that we bring in, depending on each project. Seattle and New York have been our two hubs. 
We have two shared workspaces in Seattle, one of which is literally adjacent to CHOP (Capitol Hill Occupied Protest zone) or CHAZ (Capitol Hill Autonomous Zone) or whatever acronym it is. It's called the Cloud Room. It's on 11th right next to Pike Street, which is where CHOP begins. My apartment was literally above it.
So your home is right above the collaborative space near CHOP?
I fortuitously moved about five months ago to about five blocks away, which is just far enough away to be out of the hullabaloo. I've been to the Cloud Room maybe once in the last two or three months since the lockdown. Ironically, it never actually closed. It somehow was deemed to be an essential business and stayed open. I guess some people have felt comfortable going there. I haven't. 
Have you walked by CHOP?
We've been to CHOP or CHAZ a couple of times, not least because my wife is about to sign the lease on her studio. She's a designer and an artist and her lease is up and she was about to sign a new lease, which is literally inside CHOP. 
So we haven't signed that one just yet. We're waiting to see how things transpire. There's a lot of uncertainty in the city. I think the thing that a lot of people probably don't realize is that there are lots of working businesses that are located within CHOP, from restaurants to tattoo parlors, to all kinds of studios and agencies and everything else.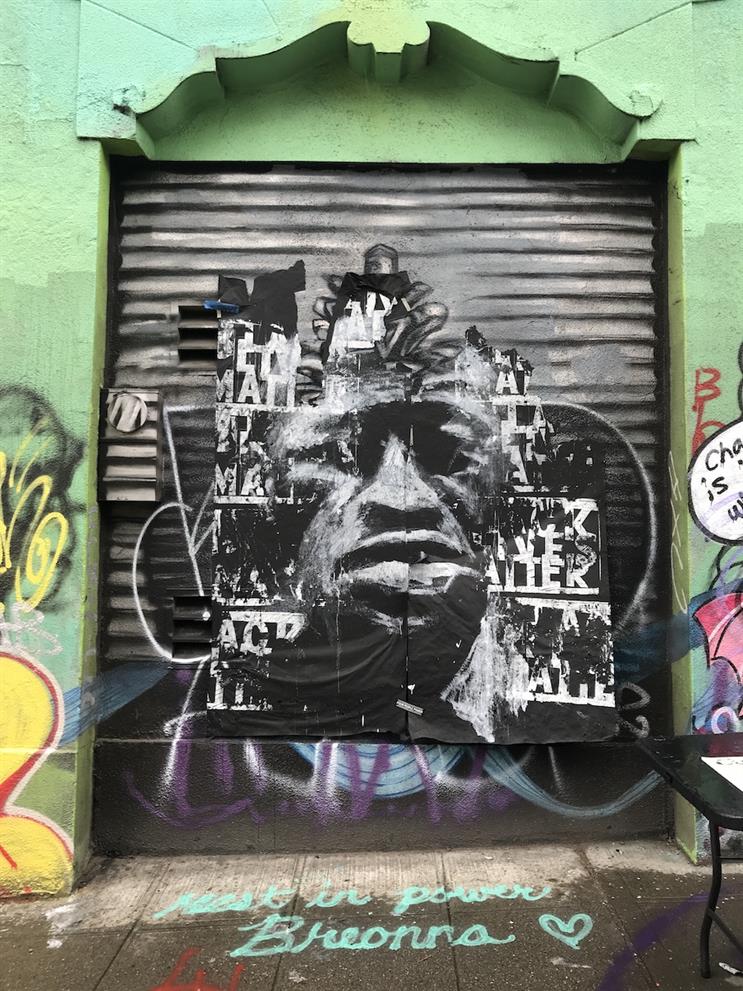 It's been quite a disruption for the pre-existing community. There's a lot of mixed feelings.  Everybody is in support of the protest movement and Black Lives Matter. And Seattle, being what it is, there's been a lot of support from within the community that was already there. 
But it's become untenable. During the riots, there were families that had to move out because they were getting secondary tear gas and three-year-olds were having respiratory issues and businesses were essentially being targeted. So it's a really uncertain, sort of uneasy, coexistence right now.
How close did you actually get to the borders of CHOP?
We walked through the whole thing. We walked Pine Street, where they've got the beautiful Black Lives Matter painting on the street that stretches the whole city block. We were able to walk up and down during the day right through the middle of it. 
We weren't stopped. We didn't have to show our CHOP passport or anything like that. We've lived in the neighborhood for the last 10 years and have dozens and dozens of friends from people that run the local hardware store to bars and restaurants around there.
We wanted to see how everybody was doing and see for ourselves, because the media, depending on which side of the fence you're on, is reporting it quite differently. 
So what was it like? 
It was tense. You've got everybody from people that have sort of taken over the soccer fields, where I used to coach my daughter's soccer, turning it into a sort of vegetable garden. Then there were definitely some types that you probably wouldn't want to come across when it gets dark. 
And then there's everybody in between from families that were walking around buying hot dogs to definitely some undercover journalists. We were going to go and take a look later today at the studio space and also just kind of gauge the temperature of what's happening.
What are you planning to do with the office space? 
I'm going to keep it, at least for now, in the hope that at some point there will be some form of resolution. I have a bunch of stuff that's there that I need to pick up. I'm contemplating sort of going in for a couple of hours, maybe a couple of mornings a week, for a change of scenery more than anything else. My partner and I are sitting opposite each other at desks in our dining room and kitchen. Sometimes a change is as good as a rest, as they say. 
I heard you got into a car accident near CHOP? 
Yes, I got into a head-on collision last Wednesday in Capitol Hill about 10 blocks away from CHOP. I was at a stoplight and [the other car] careened out of control and then they reversed and sped down the street. So it was a hit and run. I called the police and they never came because it's within the East Precinct jurisdiction.
They told me on the phone, 'Well, we're a little bit busy at the moment. Things are taking a lot longer. So unless there's a major physical injury, it might take a while.' 
We waited for an hour and a half until the tow truck arrived, and [the police] never turned up. I had to give the police report by phone. So I can attest personally that police response times are definitely not where they used to be. They say that things come in threes. So there was COVID-19, CHOP and how a hit and run.