A few tips when it comes to pitching to the UK's leading editors
Sarah Jossel, the beauty director of Sunday Times' Style, won't feature single use products, so don't send her sheet masks. HuffPost's Head of Life, Nancy Groves, is scouring her inbox for ideas every day between 8am and 8.30am before her daily editorial meeting. If you want to get coverage in her section of the website, this time period is your window. Meanwhile, Anna Murphy, Fashion Director of The Times, says a big reason many brands don't make it into her pages is that they only have catwalk and lookbook imagery. This style of photography is not relevant to her readers; she needs pictures in which models are looking directly at the camera and smiling. No strange props in the background, please. She also thinks the idea of "age appropriate" is dead. 
How do we know these things? 
The company CORQ, which is an influencer intelligence, media insight and social trend forecasting company, has launched a series of exclusive online events called 'Brand Briefings'. Through these, PRs can tune in to weekly one-to-one interviews with the UK's leading editors and learn how their editorial plans have changed in the face of Covid-19, plus what they are prioritising in terms of coverage. You can also hear where they see their industry — and the industries they cover — is going next.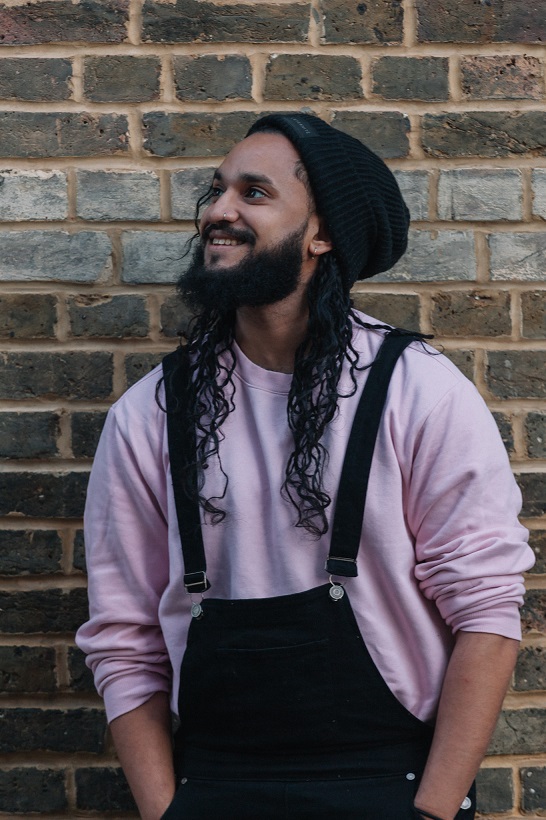 The programme for the series, which is running until Christmas, includes editors such as Jo Ellison (Financial Times' How To Spend It), Melinda Stevens (Conde Nast Traveler), Kate Reardon (Times Luxx), Lisa Smosarski (Stylist) and Hattie Brett (Grazia). Ticket holders can also tune into practical workshops to help them gain a better understanding of their consumers. Our first session is on issues affecting young black people in the UK today and how brands can help. This session will be led by the Bilal Harry Khan (pictured right) and is essential for anyone mobilised by the Black Lives Matter movement. In addition, you'll get the chance to download our upcoming three-part podcast, Making Change Happen, which will map out how brands should address the world now. 
Why has Brand Briefings been developed and what will be the outcome?
The reason for creating Brand Briefings is to deliver insight directly from the decision makers to brands and agencies. To broadcast key actionable points that PRs could immediately use to make their strategies more efficient and in the case of agencies, use to advise their clients on what is possible in this new communications landscape. Understanding where the media is going next is crucial in these tumultuous times and the place you can reliably find out what's coming next and ask the editors your pitching questions too? Brand Briefings. These conversations are timely, essential and ultimately exist to help every PR get closer to the media at a time when distance is the order of the day.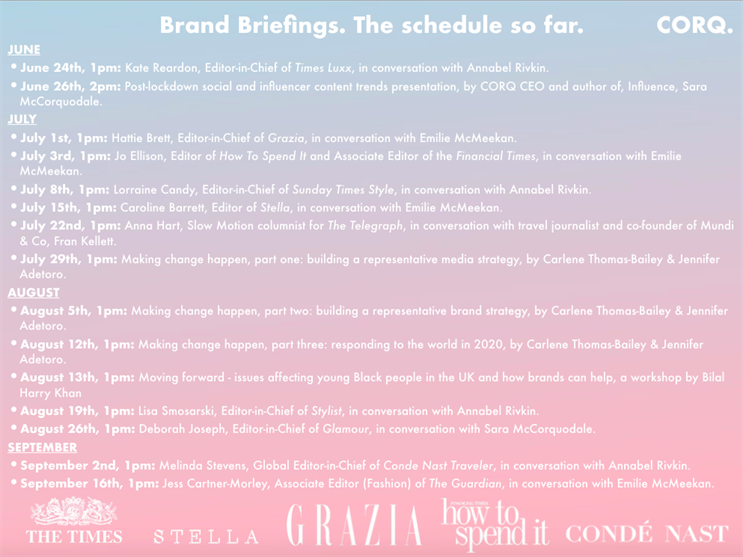 BOOK NOW via Eventbrite with code PRWeek50 to get 50% off across all ticket options. Price for a weekly individual pass, valid until the end of 2020 = JUST £99.50 (equivalent to £3.82 per session!)