PR professionals know that there has never been a more challenging time for reputation management. And with that picture predicted – even before the current coronavirus crisis hit – to get ever more complex, no agency or comms team can avoid the need to innovate how it's managed and measured.
Almost three-quarters (73%) of corporate communications professionals believe that managing reputation will become more challenging this year, according to Kantar's Brand Reputation Benchmark 2020, which surveyed nearly 300 PRs in both in-house and agency roles.
Just as strikingly, while 20% of those surveyed think it will get no more challenging, just 7% are optimistic enough to say it will get less challenging. And that was a survey carried out before Covid-19 had turned life upside-down – the outbreak has already created huge PR challenges and might well change the rules of the reputation game for ever.
This should make it even more concerning that few PR pros are overly confident of meeting the challenge of running campaigns that will have the desired impact on reputation. Just 7% of those surveyed in the report say they are 'extremely' confident of doing so this year, while a modest 37% are confident. The remainder, nearly three in five respondents, are less confident or not at all confident.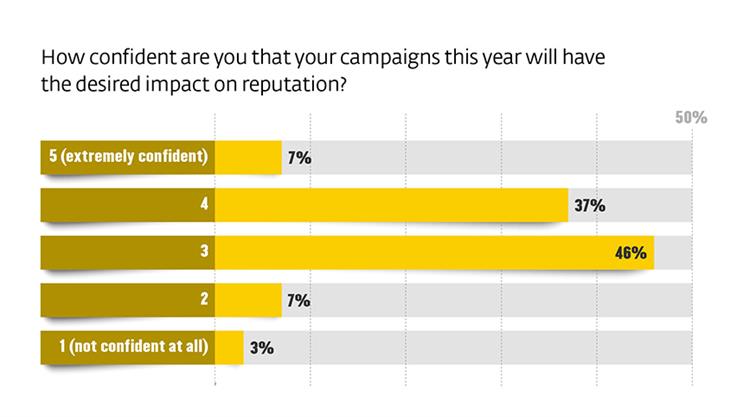 Moving on from that very broad goal, it is clear that PR professionals are better prepared to tackle some of the component parts of reputation. Benchmark respondents indicated more confidence that their campaigns this year will influence the right people, with a total of 50% registering confidence levels of four or five out of five. And when asked how well-positioned they are for responding to a crisis or opportunity, that figure was 60%.
While those crisis and influence figures are stronger than for reputation as a whole, they could and should be better. One clear barrier to PRs having confidence in the ability to manage reputation is an understanding of stakeholders – just 37% of respondents thought they understand all media and stakeholders relevant to their reputation, with others only having a partial picture.
"These findings attest to a PR industry that is already highly-skilled and very capable," comments Mark Inskip, the UK & Ireland CEO of data and insights firm Kantar's media division. "But it's clear that some agencies and in-house operators are missing that final piece of the puzzle to allow them to add huge strategic value through precision reputation management."
Another barrier to better reputation management is measurement – when asked on a scale of one to five how easy they find it to measure the true impact of campaigns, just 4% said 'Five – very easy'. The bulk (71%) could give only a two or three rating.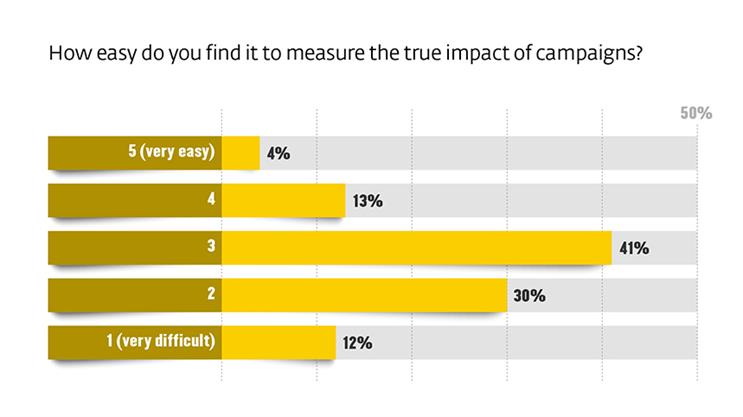 "Understanding the impact of a campaign can be challenging but media monitoring and analysis providers are here to help. Using the right mix of AI and human analysis means that brands can gain a lot more insight than they might think," says Anna Salter, evaluation director of Kantar's media division.
"Increasingly, we are working in a bespoke fashion to bring together multiple data sources to help clients understand the impact of changes in different stakeholder groups on overall reputation – from customers to journalists."
Measure for measure
Thanks to campaigning by the PRCA and other PR thought leaders, the profession is getting to grips with that new age of measurement – just 7% of respondents to the 2019 PR Census named AVEs as their favourite evaluation method, down from 12% the year before.
With AVEs on the way out, 52% of respondents to the benchmark report said that proving the impact and value of their PR activity was their measurement priority – measuring either reach or the visibility of stakeholders, media channels and upcoming events were all far less of a priority.
Inskip says: "PR and comms teams are under significant pressure – and now so more than ever given the unprecedented times in which we find ourselves. As these teams deliver critical work to build and manage brand reputation, businesses need to invest in the insight that will enable them to analyse their work, developing strategies which help drive longer-term brand value and loyalty.
"Smart PR professionals know that making this case and investing in measurement and insight essentially gives them an advantage over those content to stick with the old ways of doing things."
To access the full Kantar Brand Reputation Benchmark 2020, get in touch here. To find out more about Kantar's media monitoring and analysis services and how they could help supercharge your reputation management, click here.