Objectives
Global media campaign required to:
Announce Vodafone's first international LGBT+ programme, designed to make everyone feel equal and that they can be themselves in the workplace
Generate positive global Tier 1 media coverage
Create awareness and support for Vodafone's international LGBT+ initiatives
Drive engagement and advocacy across Vodafone's social platforms
Set an example as a global employer
Ensure LGBT+ employees feel supported and valued within the business and beyond
Harness the support of prominent digital influencers
Attract and retain new LGBT+ employees
Results
The video and news of Vodafone's initiative reached 7.5+ million people in 18 countries (with a potential media reach of at least 184 million)
Over the summer, job applications to Vodafone on the Group jobs site more than doubled from the previous year
85% of 2,000 adults independently surveyed by external research company 3GEM in the UK, Portugal, Spain and Italy said Vodafone's LGBT+ Friends Connect campaign made them feel more positively about Vodafone as an employer that is committed to championing diversity and the LGBT+ community. This number rises to 88.6% in the 18-24 age group.
127 online media articles in 18 countries, including 12 Vodafone markets (Czech Republic, Germany, Hungary, Italy,
India, Ireland, Netherlands, New Zealand, South Africa, Portugal, UK)
Articles appeared in Tier 1 media publications including The Telegraph, Metro, The Independent, The Indy 100, Irish Mirror, Corriere della Sera, La Vanguardia, El Espanol, Vanity Fair Italy and hvg.hu. Headlines included 'Vodafone overhauls recruitment to attract more LGBT talent' (Daily Telegraph), 'Social experiment film reveals extent of LGBT+ discrimination at work' (Indy100) and 'Brands must do Pride right if they truly want to support the LGBTQ+ community. Vodafone is a great example' (Marketing Week)
Background
Context
Vodafone wanted to create a culture where employees can be open about their sexual orientation and gender identity, setting an example as a global employer. While different Vodafone markets have local initiatives to encourage diversity in the workplace, no international programme existed.
A campaign was designed to communicate Vodafone's zero-tolerance stance towards homophobic, biphobic and transphobic discrimination and to announce a set of new initiatives that ensure LGBT+ colleagues feel safe and supported from the moment they start work - a time when many young LGBT+ people are known to go back into the closet for fear of discrimination.
Budget
€104k
Strategy
To gain insights into the experiences of LGBT+ people in the workplace, Vodafone commissioned a 15-country study of young LGBT+ people in multiple industries from LGBT+ research experts 'Out Now'. Questions included:
Did you go back into the closet in your first job, despite being 'out' in your personal life, school or college?
Have you encountered negative comments about LGBT+ people in your place of work
Is being open about your sexuality and gender the hardest thing you've done?
The survey results - including insights into the importance of ally programmes and other LGBT+ initiatives in the workplace - were taken back to the global HR teams to help craft a unified international programme called 'LGBT+ Friends Connect', aimed at hiring and supporting LGBT+ people. This included:
LGBT+ inclusive messaging on job adverts and careers channels
global graduate 'buddying' programme
refreshed code of conduct and leadership training programmes
toolkit for managers to create an inclusive workplace
interactive learning programme for ally accreditation
The most impactful statistics were used as headlines in the international news release to announce the programme
With 'Pride' weeks taking place at different times across the world, Vodafone planned the launch for the 4th of July, to coincide with London Pride and other European Pride festivals, ensuring maximum appeal to media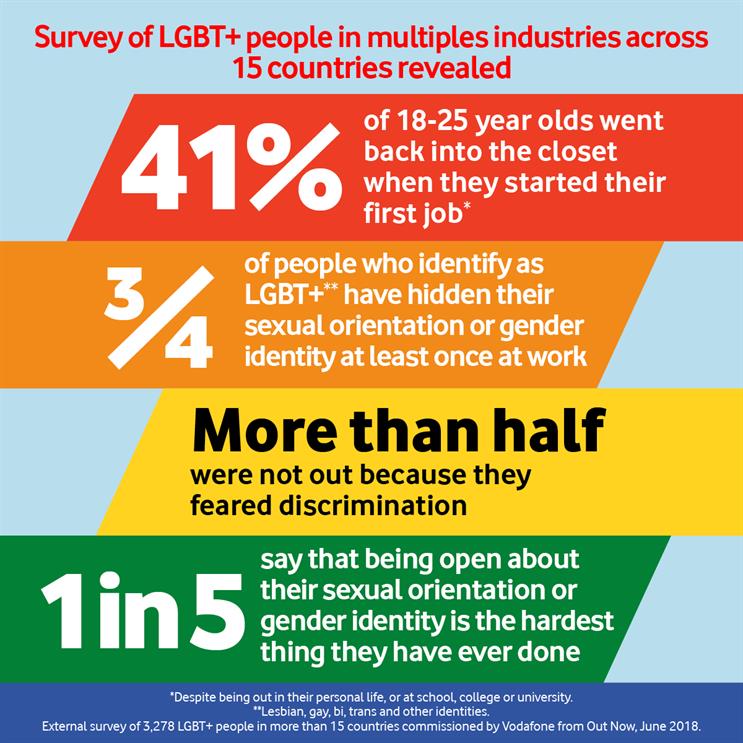 Execution
Delivery
Vodafone worked with Stonewall, Prague Pride and Sbarvouven in the Czech Republic as well as other leading international LGBT+ NGOs to formulate its international LGBT+ policy, using insights from the international study about LGBT+ discrimination in the workplace, as well as feedback from LGBT+ employees
Collaboration between Vodafone's global HR team and HR heads within each market, as well as the external communications team, was essential in shaping both the programme and campaign
16 markets signed up to support the programme in full and each received a global media toolkit, which included:
The international and local survey results from Out Now,
International and local infographics highlighting the most powerful results from the survey and Vodafone's solution
Memes and photography
A social media plan
The #EqualAtWork film with their local subtitles
Five tips to help anyone wanting to be a better workplace ally
From the 4th of July (Pride week for many markets), Vodafone's in-house team conducted targeted media outreach to Tier 1 global media outlets and coordinated local market teams and their agencies using the toolkit
In October, to coincide with Spirit Day, Vodafone Group worked with global LGBT+ Influencer Tyler Oakley to share the results of the survey and amplify the international programme, with Tyler posting multiple times on his YouTube, Instagram and Twitter platforms.
Additional LGBT+ influencers with a strong international following were also targeted
Creative

A shareable creative content idea was needed to amplify the announcement and drive home the message that everyone is equal. Vodafone devised a social experiment called #EqualAtWork, in which we paired one LGBT+ person with a heterosexual and cisgender colleague from the same industry.
Each pair was filmed in a studio, with a wall of rainbow bricks between them. They were asked to pick up bricks and place them in their bag in response to a set of questions projected onto the wall beside them, which included asking them if they had ever been forced to leave their job because of their sexuality, or if they had been physically
threatened in the workplace because of who they are. A number of the questions were taken from the survey, so the external communications team could bring this into the narrative. The participants were asked to read out some of the most hard-hitting results from the survey and their natural, spontaneous reactions were caught on camera.
The team made the decision on the day to keep cameras rolling after the experiment with the permission of the participants, to capture genuine exchanges to end the film. This proved to be one of the most powerful moments of the experiment, as the case studies share personal experiences with each other, and the heterosexual and cisgender participants expressed their shock at the discrimination their LGBT+ counterparts have faced.
Results in full:
[Statistics: Meltwater, 3GEM]
The video and news of Vodafone's initiative reached 7.5+ million people in 18 countries (with a potential media reach of at least 184 million)
Over the summer, job applications to Vodafone on the Group jobs site more than doubled from the previous year
85% of 2,000 adults independently surveyed by external research company 3GEM in the UK, Portugal, Spain and Italy said Vodafone's LGBT+ Friends Connect campaign made them feel more positively about Vodafone as an employer that is committed to championing diversity and the LGBT+ community. This number rises to 88.6% in the 18-24 age group.
127 online media articles in 18 countries, including 12 Vodafone markets (Czech Republic, Germany, Hungary, Italy,
India, Ireland, Netherlands, New Zealand, South Africa, Portugal, UK)
Articles appeared in Tier 1 media publications including The Telegraph, Metro, The Independent, The Indy 100, Irish Mirror, Corriere della Sera, La Vanguardia, El Espanol, Vanity Fair Italy and hvg.hu. Headlines included 'Vodafone overhauls recruitment to attract more LGBT talent' (Daily Telegraph), 'Social experiment film reveals extent of LGBT+ discrimination at work' (Indy100) and 'Brands must do Pride right if they truly want to support the LGBTQ+ community. Vodafone is a great example' (Marketing Week)
314 unique social posts with a potential reach of at least 4.7 million
Riyadh Khalaf, an Irish-Iranian LGBT+ influencer and BBC Queer Britain presenter retweeted the #EqualAtWork film organically because he had been moved by it
Through collaborating with world-renowned LGBT+ influencer Tyler Oakley, Tyler not only talked about Vodafone's groundbreaking programme, but he featured his favourite moments from Vodafone's #EqualAtWork film in his popular viral video clips reviews on his YouTube channel in the week of Spirit Day 2018. This global date supports young LGBT+ people who experience bullying for their sexuality or gender identity. Tyler also posted the
#EqualAtWork film on Twitter and discussed the survey findings on his Instagram, gaining 91K+ likes. The film received 123k+ views through Tyler's platforms, with a potential further reach of 7.7 million for Vodafone's campaign
Browse all Case Studies