The move has been supported by new talent arriving from Costa Coffee and Homebase, and several internal promotions.
Domino's appoints new corporate PR agency, begins consumer pitch

The company has moved away from a traditional delivery channel comms model towards one it says will build "authentic reputation from the inside out", influence commercial strategy and drive behavioural change across the enterprise.
Domino's has talked about running its reputation from inside-out before, but what has changed substantially is the structure and role of comms to support this.
Comms has been organised to support Domino's four business areas: business and environment; food and digital; community and stores; and people and events (see below).
The new structure places comms as internal business partners that support and guide all areas of business to take ownership of reputation, sustainability and communications – an approach that is vastly different from its previous model, which separated comms into 'corporate' and 'consumer'.
This means comms gets brought into strategic decision-making much earlier in the process, rather than coming in at the end and focusing on channel execution.
Underpinning this move is the importance Domino's places on communications, which reports into the CEO rather than the CMO (which it did four years ago), and has a broader remit.
'Communications' oversees public affairs, financial PR, reputation management, corporate brand PR, internal engagement, events, CSR and policies, charity, consumer PR, corporate website and crisis communications, plus support to international markets.
Domino's head of communications Nina Arnott told PRWeek the move is being driven by the growing importance of brand reputation and colleague engagement, which the company regards as "critical business priorities".
"Domino's has really grown in recent years and we now have 1,100 stores," she said. "We are now more high profile than ever and there's a lot more going on than before.
"We took a look at the comms team the start of the year and completely overhauled how we do things. We got rid of the old 'corporate versus consumer' because the days when you have different messaging for different audience groups are gone – life is so blurry now.
"Most people are on social media and you might see the Sun, the FT and the Daily Mail on your social media feed. We're in an era of ultra-transparency and it's no longer good enough just to talk to people once a quarter at trading updates; they want constant dialogue.
"We are now focused on building a reputation from inside out. What that means is we are far more concerned with influencing behaviours, actions and decisions that a business makes, so we do the right thing in the first place and you don't need to go out and PR things when they go wrong because there is less going wrong."
Arnott said this shift in mindset means comms is less focused on working with the media and more with internal business units to act as strategic advisers.
Previously, Domino's had split comms into corporate and consumer, but this has now changed with four managers assigned to business units. All comms divisions cover consumer, corporate and internal comms – which Arnott describes as "360 comms".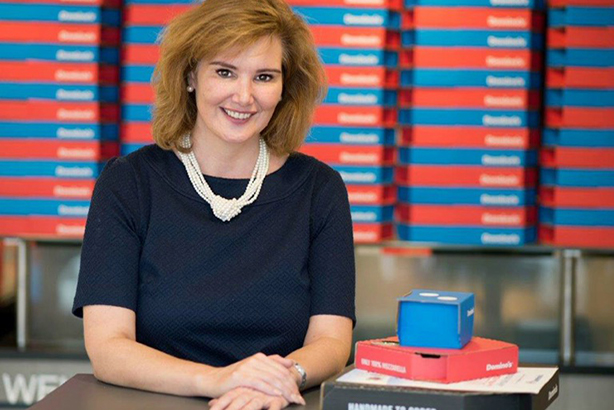 Nina Arnott has lead an overhaul of Domino's comms team strucutre and role.
The new communications structure
Head of communications Nina Arnott; communications co-ordinator Josie Clarke.
Business and environment: works with company secretariat, finance, supply chain
Katie Arnott Walker, formerly senior corporate communications manager, becomes senior business and environment communications manager. Abbey Everett has been promoted from corporate communications executive to business and environment communications specialist.
Food and digital: works with marketing and digital teams
Melissa Greenwood has joined Domino's from Costa Coffee (where she was senior publicist UK and Ireland) to become food and digital communications manager. She is supported by Rhiannon Berriman, who has been promoted from consumer communications assistant to become food and digital communications specialist.
Community and stores: works with planning and operations
Rachel Townsend has joined from Homebase (where she was events manager) to become community and stores communications manager. Domino's is in the process of hiring a people and community specialist.
People and events: works with HR department
Helen Tosney-Collins, formerly internal communications manager, becomes people and events manager.
'More companies will follow'
Domino's has had the new structure in place for two months. It has been rolled out for the Domino's Milton Keynes headquarters, but is not part of a global initiative – as Domino's in the US, Australia and other markets operate as separate entities.
Although it is early days, Arnott says comms is having a greater influence in the business decisions and the work is better aligned to Domino's strategy.
"What we are already seeing is that the business units think that comms understands their issues and is able to give more closely aligned, strategic counsel," she said.
"We are being brought into the decision-making process far earlier and being used as strategic advisers."
Arnott said she is not aware of other UK comms teams that are structured in this way, but came across a couple of examples in the US.
"It's not a very common structure but if I was to look into my crystal ball, I think a lot more companies will be doing this over the next few years," she said.
"Certainly we are seeing a lot of changes in comms agencies in the way they are structured; a move away from 'we are just corporate or consumer' to recognising that this is the way the industry is going."