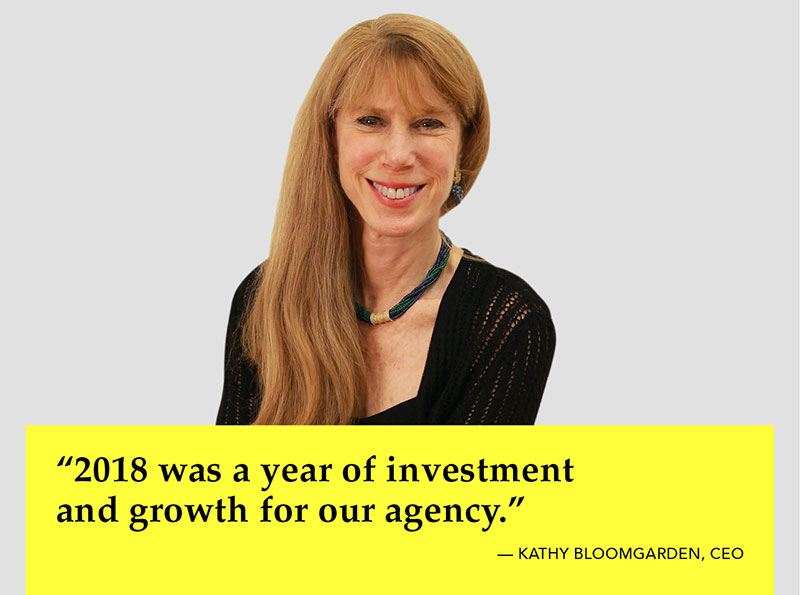 Built on a foundation of ethics, transparency and trust, Ruder Finn has grown over the past seven decades into one of the world's largest independent agencies. Co-headquartered in the U.S. and China, our unique global focus ensures our people are among the most diverse, curious and passionate consultants in the communications business. And, our independence gives us the flexibility to do whatever it takes to do right by our clients.
Over the years, we have successfully grown with our clients as they navigate the complexity brought on by the intersection of technology, health, lifestyle, corporate reputation and public trust. We work with some of the world's most established brands, as well as with many entrepreneurs and startups disrupting their respective industries. We also do important work in partnership with progressive CEOs, NGOs and government agencies to drive change across sectors that deliver measurable business results.
2018 was a year of investment and growth for our agency. We doubled down on evolving our core communications capabilities and intensified our efforts to magnify our creative edge, while reinforcing our technological capabilities with new digital, social and analytics offerings. We've seen these investments deliver returns. We won more than 30 new clients across sectors and grew relationships with several important, longstanding clients who partnered with us to build current assignments into integrated campaigns that drove greater impact.
Last year, we also added senior talent around the world. Our New York team welcomed Fred Hawrysh (EVP, head of integrated communications), John Nolan (EVP, brand marketing), Laura Ryan (EVP, corporate communications) and Rowan Benecke (EVP, chief growth officer). Additionally, Neil McGregor-Paterson (head of U.K. healthcare) joined our London office and Atul Sharma and Martin Alintuck joined as MDs in India and Southeast Asia, respectively.
We acquired RLA Collective in the U.S. in a move to expand our integrated marketing and predictive analytics expertise — particularly in the fast-growing health and wellness sectors for retail and e-commerce channels. This important acquisition marks the beginning of a new chapter in our future growth. We will continue to build new partnerships, acquire new tools and capabilities and add fresh talent in service of our clients worldwide.
We are proud of the momentum we achieved last year and remain grateful for the support from our employees, clients and partners. As we look forward to continuing our journey as an industry pioneer, we're excited about What's Next!
Principals
Kathy Bloomgarden, CEO
Ownership
Independent
Offices
Global: 12
Head count
Global: 603
Global Revenue
2018 -- $70.5M
2017 -- $68M
"2018 was a year of investment and growth for our agency."
— Kathy Bloomgarden, CEO