The agency has also hired Mark Swainson as Manifest London's first finance director and promoted PRWeek 30 under 30 alumnus Julian Obubo as its brand strategy director, with an expanded remit as the group's head of diversity and inclusion.
The internal restructure expands Manifest's leadership team and will see founder and group CEO Alex Myers step back from day-to-day London operations to focus more on global strategy and innovation for the group.
Myers will still work on the group's clients and told PRWeek he is looking to expand the business into new cities, including Cape Town, Melbourne and Hong Kong, as part of its long-term growth strategy.
Maynard James will be in charge of the 30-strong London team, managing clients and day-to-day operations of the business alongside Swainson and Obubo.
Maynard James joined Manifest in 2011 as a junior account manager and has risen through the ranks to group business director before taking the reins at Manifest's London headquarters.
She helped grow the team from three to 30 staff in London and helped establish international offices in New York and Stockholm, as well as build Manifest's network of international partner agencies, known as The Cartel.
"I've been at Manifest for nearly eight years, I was the third member of the team and watched it grow during an incredible fast-growth period and I love the agency," she told PRWeek. "To be part of the managing team is such a reward and honour. Manifest has always been a place where intrapreneurs can really excel.
"Right now is a really exciting time with our new proposition as a brand communications agency. That throws up a lot of challenges and opportunities with a new approach. We now want to offer our clients a unified approach of our services. For me, if we can do campaigns and brand communications that work for our clients and showcases all of our skills, that would be success."
Building a US presence
Becker joined Manifest London in 2016, before making the switch to Manifest New York two years ago. Since her arrival, Manifest's US business has doubled its team and grown fee income to over $1m.
Based in Brooklyn's creative hub, DUMBO, the company moved to larger offices this month and intends to open on the west coast later this year.
"Over the past four years we have proven that Manifest's unique brand of cross-channel creativity has real appeal in the US market. Our next big step is to expand to the west coast, and it's amazing to be steering that as a managing partner, alongside an incredible group of bad bitches leading the way in Stockholm and London."
Myers told PRWeek that Maynard James and Becker have played pivotal roles in the development of Manifest and their promotion is a natural progression.
"Our agency leaders across the group are a force to be reckoned with and reflect the new shape of our industry through their broad range of backgrounds, skills and experience," Myers added.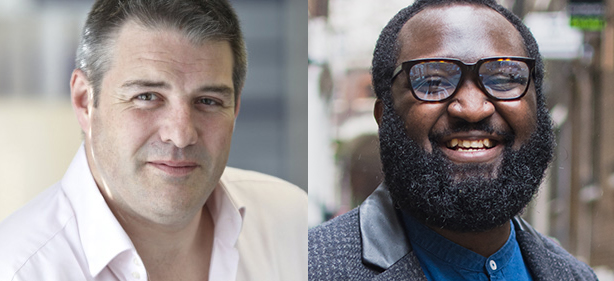 Swainson (pictured above alongside Obudo) joined Manifest London, having previously led finance teams at Virgo Health, Frank PR and Four Communications during more than twelve years in the industry.
Obubo is a mentor in BME PR Pros and PRWeek's mentorship scheme. Both he and Maynard James have previously been named in PRWeek's 30-under-30.
"We are incredibly lucky to have attracted and retained such an incredible group of leaders in our business that not only set the industry standard in terms of their skills, but also their ethics, their creativity and their passion to build brands that change the world," Myers added.
Manifest's Stockholm office is led by co-founders co-founders Anna Karlsson and Josefine Hedlund.
Manifest's regional leadership team
Ali Maynard James, Josefine Hedlund, Jess Becker, Anna Karlsson