This comes in the wake of rising awareness of the dangers of disinformation, with the GCS pointing to Russia's response to the Salisbury poisonings, and the actions of campaigners opposed to vaccinations as examples.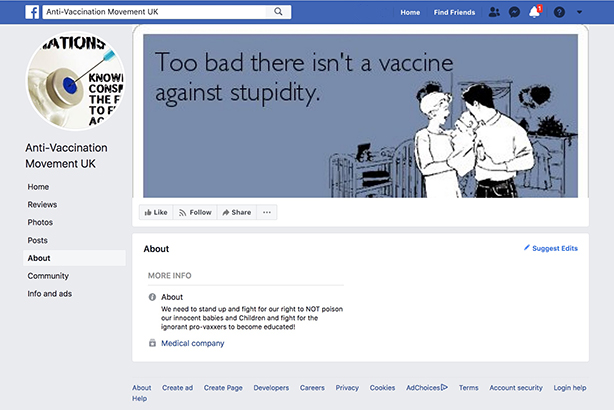 Concerns over the threats to democracy posed by disinformation have prompted the GCS to create a RESIST counter-disinformation toolkit, which is being launched today (Wednesday).
It provides a step-by-step guide to recognising and tackling disinformation, to help organisations prevent its spread and develop a capability to deal with the issue in a standardised way.
"Handling disinformation should not be based on a gut feeling. You need to follow a structured, coherent process using a common language that leads to consistent decisions," the handbook states.
Defining the problem
It defines disinformation as the "deliberate creation and dissemination of false and/or manipulated information that is intended to deceive and mislead audiences, either for the purposes of causing harm, or for political, personal or financial gain."
The threats this poses range from threatening public safety, damaging community cohesion, and reducing trust in institutions and the media to damaging economic prosperity and undermining the integrity of government, the constitution and the democratic process, according to the handbook.
In some cases, the "objective is to support the foreign policy goals of a hostile state actor", with a scenario given where "a hostile state actor hacks the servers of a political party, adds forgeries to the documents and then leaks them during an election campaign".
Growing concern
PRWeek understands that Whitehall officials are concerned about the 'acceleration' that social media platforms and online media give to the spread of disinformation.
The handbook states: "Our primary objective in countering disinformation is to give the public confidence in information so they are equipped to make their own decisions."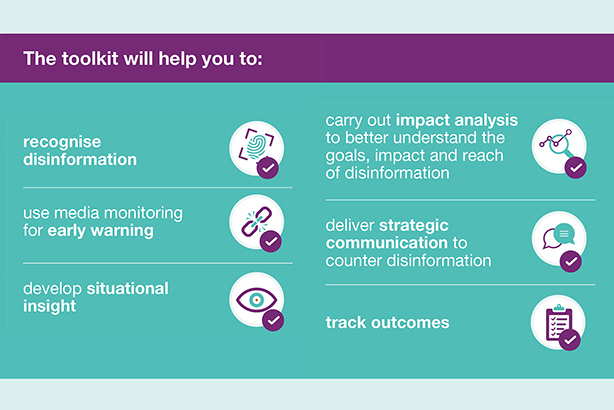 In recognition that having a handbook alone will not solve the problem, training in counter-disinformation is already underway.
A one-day course based on the handbook, being run through the GCS Accelerate programme, is being rolled out beyond government departments to cover the public sector.
Government officials are particularly keen to ensure that police and other emergency services comms teams are aware of the new resource, but stress that it is aimed at the whole of the public sector.
Unprecedented
It is believed to be the first time that a government has rolled out a counter-disinformation capability across government, with the intention that every public-sector organisation in the country be ready and able to deal with the problem.
Although officials acknowledge that public-sector comms teams are under pressure and may not have the resources of their private-sector counterparts, they insist that disinformation is an increasing priority and a core part of the comms function.
The handbook and training are being promoted through existing internal comms networks within the public sector, with managers being asked to share the information with their staff.
In the handbook's foreword, Aiken writes: "Disinformation is not a new phenomenon: malicious rumours have always travelled faster than the truth. However a changing media environment means that disinformation can now spread faster than ever, to more people than ever."
He adds: "The rise of disinformation and the multiple threats this poses to our society means that we must respond urgently.
"Our vision is to strengthen the institutions of democracy and uphold our democratic values by ensuring the public and our media have the means to distinguish true news from disinformation."
Recognising the threat
The handbook highlights the various forms disinformation can take, from faking content through forging documents or creating false images to the use of bots to automatically amplify messages.
Potential impacts are outlined, such as undermining confidence in government and encouraging political polarisation. In some cases, disinformation is aimed simply at generating income by using provocative headlines as clickbait.
Public-sector comms teams need to ensure they use digital media monitoring as an early-warning system against signs of disinformation, and act on a case-by-case basis by making an assessment of the aims, impact and reach of the disinformation.
In low-priority situations, where disinformation has "limited circulation", it should be monitored but not responded to, according to the handbook.
For medium- or high-priority cases, where the disinformation poses a threat to a policy area or even national security, it advises that a swift response is required and that senior officials and policy advisers be made aware of the problem.
Sophisticated approach
The handbook states: "Not all disinformation has to be responded to. In many circumstances, public opinion will self-correct. Any public response to disinformation that you do decide to make should represent the truth, well told."
However, to have "an immediate and lasting impact", responses should counter the central idea since "countering individual narratives can be ineffective and in many cases has the impact of amplifying or entrenching the falsehood".
The handbook advises that "a more nuanced and strategic approach than rebuttal is required" which focuses on exposing the disinformation and motives behind it rather than correcting the actual detail.
It cites the response of the Counter-Daesh Global Coalition to Daesh (also known as IS or ISIS) propaganda, which initially focused on rebutting and refuting its claims. It soon became apparent that it was more effective to expose the "false narratives of life under Daesh" and increase "positive messaging focused on life after Daesh illuminating important international and grassroots stabilisation efforts in Iraq and Syria".
Responses should be part of a "strong, shared narrative so that all communications are coherent, in contrast to a potential multiplicity of disinformation narratives".
And government comms should be truthful, open, fair and accurate, as "communicating in this way will enable us to build and maintain trust with our audiences".
Time to act
Time is of the essence when disinformation needs to be countered. This can mean "working to faster deadlines than is usual and developing protocols for responding that balance speed with formal approval from senior officials and ministers", according to the handbook.
But knowing when to wait, for more information to come to light, is also important, and instead of rushing out a fast response it is better to "think in terms of a timely response".
Comms need to be able to be "edgy and interesting enough" to compete with "sensational and attention-grabbing" forms of disinformation.
"You should consider stepping outside the usual 'tick box' government responses and creating an approach or a narrative that will carry in a crowded information space," the handbook suggests.
And the use of third parties to deliver the government's messages can be "a valuable means of building bridges to sceptical audiences, particularly if they are seen as an objective source of credible information".
Aiken described the handbook as the "latest development to support the dissemination of reliable information", and told PRWeek: "Our aim is to help people make informed decisions and support their engagement with government and public services."
---
Click here to subscribe to the FREE public sector bulletin to receive dedicated public sector news, features and comment straight to your inbox.
Make sure you register for the site to access more than one story per month.
To submit a news, comment, case study or analysis idea for the public sector bulletin, email Ian.Griggs@haymarket.com