Some believe brands, government bodies and other organisations should distance themselves from using Brunei-backed businesses, such as Dorchester Collection hotels and Royal Brunei Airlines, while others believe the backlash against these companies are an unfair overreach that punishes innocent businesses and will have little political impact on the kingdom's leadership.
On 3 April, citizens of the tiny South-East Asian kingdom, with a population of around 450,000 people, became subject to draconian interpretations of sharia law, which include death by stoning as a punishment for gay sex and adultery, and amputations for theft.
The tough new laws are a directive of the Sultan of Brunei, Hassanal Bolkiah, one of the world's richest leaders with a personal wealth of about £15 billion. Although the motives of these new laws are unclear, some regional commentators suggest they are an attempt to shore up the support of more conservative parts of the tiny country.
High-profile events have already been cancelled at The Dorchester in London, including The TV Choice Awards and events organised by the Financial Times and The Conservative Party. Deutsche Bank and other companies are banning their staff from staying at Dorchester Collection hotels, which include The Dorchester and 45 Park Lane in London, Coworth Park in Berkshire, as well as famous Hollywood haunts The Beverly Hills Hotel and Hotel Bel Air.
The protests have been led by A-list celebrities, including George Clooney, Elton John and Ellen De Generis, spreading across the world with demonstrations held in front of Dorchester properties.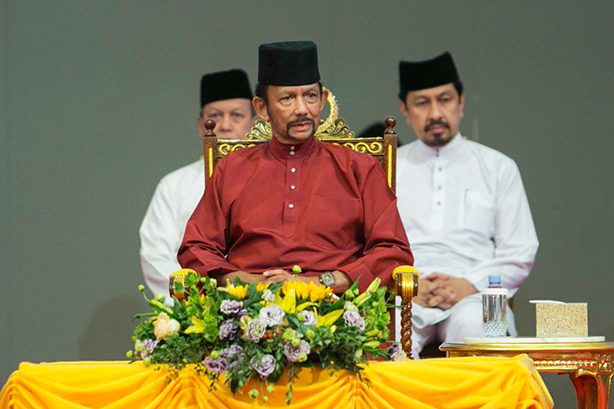 The Sultan of Brunei, Hassanal Bolkiah, has enacted barbaric and controversial anti-LGBT+ laws. Photo: AFP/Getty Images.
'Be on the right side of history'
Several British PR professionals are appalled by Brunei's laws and have called on brands to join the boycott.
"Brunei is sadly an extreme example of a large part of society that still believes my sex life is their business," Talker Tailor Trouble Maker co-founder Steven Strickland told PRWeek.
"It shouldn't take George Clooney to prompt people into action. If you're a brand manager and consider yourself an ally of the community you need to act. If you've ever been to a Pride festival you need to act. If you don't believe it's your fight, you are wrong. LGBT+ rights are human rights. Brands must be on the right side of history."
Rooster, which specialises in PR and comms for the travel industry, told PRWeek the sector has "quite rightly" moved to join the outcry against Brunei's anti-LGBT laws.
"You'd be hard pressed to find a travel business that would sell you a flight or holiday to the country right now," Rooster managing director James Brooke said.
"The national carrier, Royal Brunei Airlines, has overnight lost valuable commercial partnerships and this after launching non-stop flights from Heathrow to Brunei in 2018. The question now is whether British Airways will terminate its new Special Prorate Agreement that was only announced in March."
It's not just airlines that are under the spotlight. STA Travel has stopped selling flights and packages to Brunei, while the British Royal Family, which has been a long-serving ally of the Sultan, has also faced pressure to sever ties.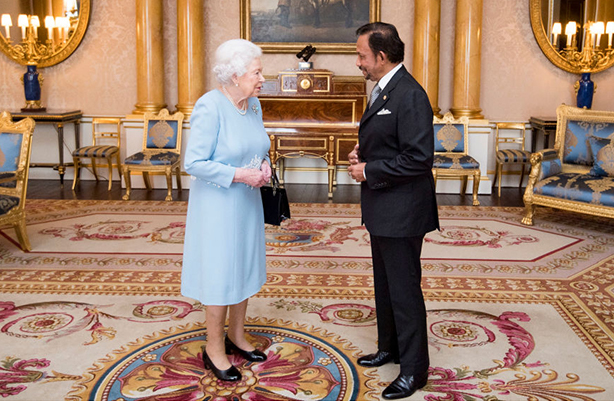 The British Royal Family, close allies of the Sultan of Brunei, has come under pressure to sever ties. (Photo by Victoria Jones-WPA Pool Getty Images)
'These aren't our values'
Brunei-owned businesses are in a difficult position and have adopted different comms strategies. The most high profile of these, the Dorchester Collection, has issued a statement distancing itself from the political situation, while Royal Brunei Airlines has declined to publicly comment.
A Dorchester Collection spokesperson told PRWeek that "inclusion, diversity and equality are the foundation of Dorchester Collection".
PRWeek is aware the Dorchester Collection and its HR leaders have won several accolades for its people management and diversity policies in the past and the business is known to have an inclusive culture.
"We do not tolerate any form of discrimination, we never have and we never will," the spokesperson added.
"We understand people's anger and frustration, but this is a political and religious issue that we don't believe should be played out in our hotels and amongst our 3,630 employees. We're deeply saddened by what's happening right now and the impact it is having on our employees, guests, partners and suppliers in particular.
"Our values are far removed from the politics of ownership. We are aware that many other brands have ownership with similar backgrounds in this increasingly global world. We are a team of people representing 67 nationalities, who love what we do and care enormously for our guests and communities."
The Dorchester Collection has dialled down its social media presence, with eight of its nine hotels removing their Twitter accounts, and six hotels either deleting or deactivating their Instagram accounts.
The PHA Group's head of consultancy Tim Jotischky told PRWeek this is a sensible short-term response because the accounts would otherwise be flooded with abusive comments, "making it impossible to pretend it is business as normal, but it is not a long-term strategy".
"[The Dorchester Collection's] is the right message, but it may need to be amplified through a more proactive fightback strategy. The livelihoods of 3,630 employees are at stake and they risk becoming unwitting victims of the boycott," Jotischky added.
"A big gesture, such as a 'Not In Our Name' open letter written on behalf of those employees, would help crystallise the debate around this aspect of the story.
He added that whilst it is tempting for leaders of the business to lie low and "hope that the storm passes", they cannot expect to avoid public scrutiny altogether.
'Boycotts don't always work'
Paul Charles, founder and CEO of The PC Agency, agrees that taking down social media channels in such a toxic online climate is the right thing to do. He'd advise the businesses impacted to place pressure on their owners, explaining that a boycott will ultimately harm the people of Brunei.
"The hotels have been in a similar situation before, but the level of negativity this time was much higher because of the presence of celebrities. I think there are instances where politics and countries' attitudes should not be linked to tourism," he added.
"I would be saying to the government, how long are you prepared to lose your market share and investment? Once you introduce this policy there will be consequences. In a world where investment and tourism is global then there's going to be an impact."
"Aviation isn't just about tourism, it's about trade and bringing in vital supplies, like medicines for example.
Charles welcomes a spotlight being placed on barbaric laws against LGBTI rights, but points out that there are far bigger and more powerful countries where similar laws exist and questions whether a boycott of one country is the answer.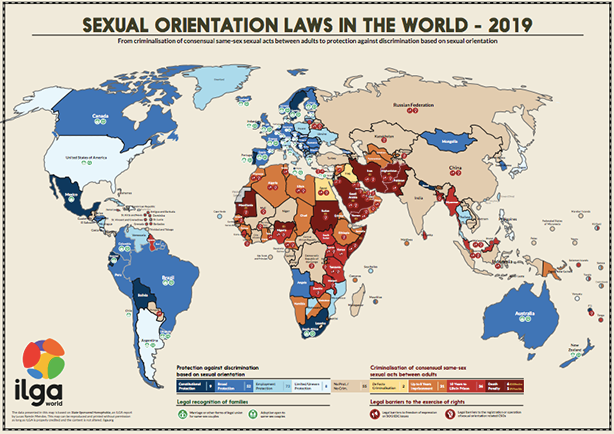 Brunei joins 11 other countries where same-sex relationships can be punished by death (click on map above for full details).
Saudi Arabia is the most high-profile of these, and its laws are effective. The oil-rich Gulf state, through various sovereign wealth funds, own stakes in hotel groups, including Fairmont Raffles Swissotel, Four Seasons Hotels & Resorts and Accor. It also has invested billions of dollars into Silicon Valley start-ups, including Uber, Lyft, Snapchat, Twitter, WeWork and more.
"There are several countries around the world whose stance on issues are not right. If you boycott, you're starting to restrict travel around the world, which expands minds and opportunities to all. And boycotts don't always lead to political change. I don't believe the government (in Brunei) will change," Charles added.
The Sultan of Brunei has held onto the throne since 1967 and there is little prospect of change in a country that enjoys a high level of per-capita wealth due to its vast oil and gas reserves, which is explored and produced by the Brunei Shell Petroleum Company.
It's also questionable whether the Sultan's religious convictions are even shared by members of his own family, let alone the wider community.
Prince Jefri Bolkiah, his brother, is known for living a lavish lifestyle, and is said to have once owned 600 properties, 2,000 cars, a private Boeing 747, erotic sculptures of himself with his fiancée, and a luxury yacht called Tits (pictured below).
The last time the regime pandered to the religious conservatives by promising to introduce these barbaric laws in 2014, it led to similar calls for boycotts against The Dorchester Collection and other Brunei-owned brands.
They managed the ride out that storm, albeit with short-term pain. The question remains if this boycott will gather enough steam to force serious change.