Avon – #Stand4Her
Beauty brand Avon unveiled Catrin Pugh, who suffered 96 per cent burns in a coach accident in the Alps six years ago, as one of the faces of its latest campaign. She became the firm's first model with a visible difference and it runs as part of #Stand4Her – a 'new global initiative that aims to improve the lives of 100 million women each year'.
As part of the initiative, Avon has signed up to charity Changing Faces' pledge to represent more people with visible differences in beauty and fashion campaigns – claiming to be the first beauty brand to do so. Agency Good Relations is running PR on the campaign, which was covered across the BBC, ITV, Daily Mail, Independent and beyond.
EasyJet – Britain's Youngest Pilot
After 16-year-old Ellie Carter became the country's youngest licensed pilot in January, budget airline easyJet decided to offer her a mentorship by line training Captain Zoe Ebrey, as part of its ongoing efforts to attract more women into the profession.
Britain's youngest pilot Ellie Carter offered mentorship by easyJet from St Marks Studios on Vimeo
The campaign, by Taylor Herring, is part of the carrier's commitment to ensure 20 per cent of all its new trainee pilots are women by 2020, and achieved reams of national news coverage.
KFC – Chicken Town
Another gem from the fast food brand, this campaign from Mother alludes to the multitude of KFC imitators with similar-sounding names. A film features Colonel Sanders cruising through the streets of the UK, past people eating in chicken shops with names from AFC to ZFC, saying they are unable to compete with the taste of KFC's "original recipe".
The film is supported by out-of-home, press, social and digital executions that feature images of the chicken shop pretenders from A to Z, with the line: "Guys, we're flattered."
Samaritans – Real People, Real Stories
This powerful work for the Samaritans features messages from real men who have experienced depression and suicide attempts, using their own handwriting. The work, "Real people, real stories", was developed by Mother with Goodstuff Communications and supported by National Rail.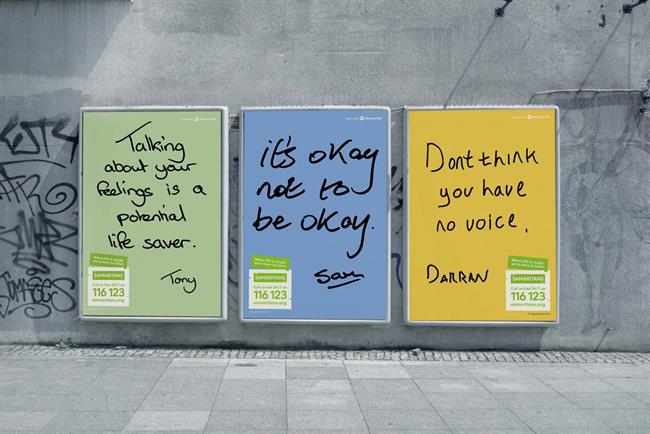 It encourages men who need help to contact the charity for free on 116 123 or at Samaritans.org. It follows a nationwide survey by Samaritans of men aged 20-59 in England, Scotland and Wales that found 41 per cent do not seek support when they need it because they prefer to solve their problems themselves.
Our Future, Our Choice – Fyre Festival Brexit Spoof
This zeitgeist campaign humourously tapped into the backlash against the notorious influencer marketing strategy behind Fyre Festival to make a serious political point. Our Future, Our Choice - a youth organisation campaigning for a new public vote on Brexit - has compared the process of leaving the EU to the illusive festival in its latest social campaign.
The one-minute film, made in association with the People's Vote campaign, is a tongue-in-cheek spot inspired by the Fyre Festival trailer. It depicts Brexit as an "immersive leaving experience built on the boundaries of the impossible" complete with Morris dancing, hospital staff breaking into the dance from Gangnam Style and plenty of alcohol.
Read next: Five Campaigns We Liked in February - your winner revealed