What would you do if you weren't in PR?
I was a psychology major at Barnard College. I always thought I would be a doctor or a therapist when I was growing up. I love helping people, giving advice, and solving problems. I often use what I studied and learned at Barnard in my role today.
How long ago was the last time you took the time to recharge your batteries? What did you do?
My happy place is anywhere near the beach or on the water. This is the one place where I truly disconnect. I try to get away every couple of months to recharge and spend time with the people that matter most to me. My most recent trip was to Aruba at the beginning of February. We go there every year, and it is our home away from home. The quiet and calm of being underwater with some of the most beautiful fish in the world is everything.
What is it about this industry that frustrates the hell out of you sometimes?
Too much talking and not enough doing. The folks that are consistently putting themselves out there to make real change happen and are setting the example are who keep me going and excited about what's next for our industry.
When have you seen this industry or your organization really shine?
When Ogilvy comes together, we are at our best because anything is possible. Over the past several years, I have seen the commitment and follow-through to change the face of leadership at our company. We recently named one of the most diverse and inclusive boards in the history of the agency – from different capabilities, crafts, geographies, and clients. This new leadership team has the goods to take our company into the future, and I am excited for what's next.
Words to live by?
Expect nothing. Appreciate everything. Be kind. Be generous.
Favorite drink?
Tito's on the rocks with a lemon.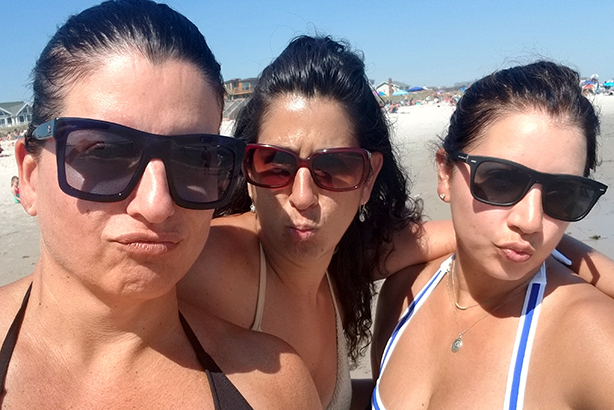 What would you tell your 20-year-old self?
It will be an amazing ride. You will do things you never imagined. You will go places you never dreamed. You will meet so many people from different backgrounds and places with different experiences. You will achieve great success. You will also fail – sometimes hard, but, thankfully, much less often than your victories.
You will fall in love a bunch of times, and you will have your heart broken a bunch of times, but you will survive because of the incredible people around you.
You will create and work on many campaigns that will have an impact on the world we live in. You will also work with colleagues that will support you, teach you, and advocate for you to continue to grow – and you will be back at Barnard College, so many years later, giving back to the place that would influence who you would become while also using what you learned to help make the industry you work in and love more equal and inclusive. Be open to anything.
Finish the sentence: To ensure career advancement and pay parity for women, I will...
Continue to sponsor women and use my position to drive real change by challenging my organization to rethink how we do things and continuing to make the agency a place where people want to be.
I believe two things. First, every woman deserves and needs a sponsor – a person to say nice things about you when you are not in the room. If I didn't have sponsors throughout my career, I would not be where I am today. It's not just about the good work you do – it's also about the people around you who appreciate it, understand it, value it, and value you as part of the organization. Each and every day, rockstar women are getting it done but need sponsors to give them the exposure and opportunities to get to the next level.
Second, women need to support each other and help other women to reach that next level. I have the opportunity in my current role to be someone who does what they can, to do what is right – calling out when things are wrong, going that extra mile to change things I don't agree with, and recognizing people that do amazing work and giving them a platform to get noticed. In my role, I feel I have a responsibility. It is not always easy, and people will not always agree with me, but it is important that you be true to yourself. Always follow your gut and do what you believe.
Who are the three people, living or dead, you would like to host at a dinner party and why?
I would like to have four people at my dinner party.
Whitney Houston, because I love her and want to know why. Jackie Kennedy, because she is fabulous and more interesting than your usual first lady. And my two grandmothers, Millie and Rose, because I miss them more than they know.
If heaven exists, what would you like to hear God say to you as you enter?
You did good.