Ari Segal, CEO of Immortals, is tired of talking about "normalizing" esports.
It's July 2018, the eve of the Overwatch League Grand Finals, which sold out the Barclays Center in Brooklyn. The esports owner is visiting the offices of his PR agency, B/HI.
While the debate surrounding the validity of esports rages on, Segal believes those in the sport have moved past it — or, at least, ought to.
"For folks that viewed esports skeptically, these kinds of third-party validations matter quite a bit," Segal says. "But esports does not need them to succeed. They need esports to succeed."
Segal recalls a joke his friend, Bryce Blum, the founder of esports law firm ESG Law, likes to tell: "Every day a baseball fan dies and two esports fans are born."
Segal has other aphorisms up his sleeve.
"The market has spoken, and the market continues to speak very loudly," he continues. "There's an old Wall Street axiom: Don't fight the tape. And if you look at the tape, it's telling you esports is a thing and the more time it's going on and the more people that are born and mature, the more people are going to be watching esports."
It's telling that Segal relies on references steeped in business and traditional sports to get his point across: He's the former COO of the NHL's Arizona Coyotes.
Esports has been stuck in a years-long loop of justifying whether it's "actually a thing." A competitive title reaches wild levels of popularity. A spasm of intense mainstream interest ensues, followed by incredulity over the fact that people play video games for money. Repeat.
Like the broader esports community, Segal is eager to tell new stories. Moving beyond the skepticism will open "an entirely new universe" for esports, he says.
"[It] will allow us to tell our story and actually dig into the substance," Segal explains.
Crafting compelling drama and storylines that can connect players and teams to a specific place will activate a new wave of "civic pride," he continues.
However, finding stories that revolve around players is just as important. Superstars can lift a league to another level that allows it to flourish, notes John Furnari, marketing director at Riot Games, the developer behind one of the most popular video games, League of Legends.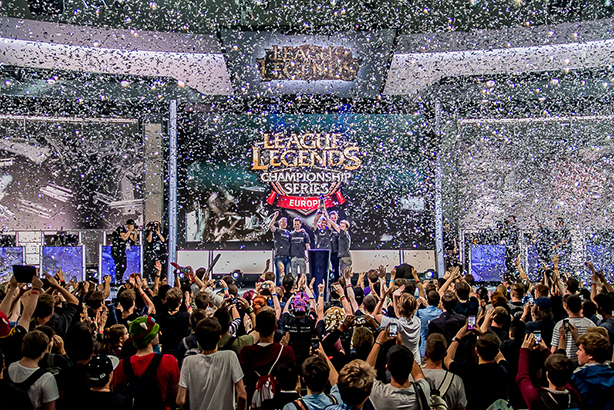 A raucous scene at Gamescon 2014 in Cologne, Germany. (Photo courtesy of Riot Games)

The NBA's resurgence in the 1980s rested on the shoulders of Magic Johnson, Larry Bird, and Michael Jordan; the NHL was powered by Wayne Gretzky, Mario Lemieux, and Mark Messier.
"The best voices for this game are the people that play it," Furnari explains.
"Something that I love about being an esports operator is we're able to operate multiple teams in multiple titles," Segal adds. "Each title has a different personality, a different origin story, [and] is [either] more or less popular in various geographies. So, there's this amazing and rich tapestry of player stories that emerge that are so diverse."
It's here where esports may have an inherent advantage. Streamers are expected to play in front of a live audience for long periods of time, routinely upwards of 12 hours per session.
Patrick Wixted, SVP, client services director of Ketchum Sports & Entertainment, says opportunities abound in building brands around the players themselves. These people are sneakerheads, music aficionados, fashion enthusiasts, with the same interests as any professional athlete. And now, with the professional backing that's flooding into esports, they should be treated as such, Wixted says.
"They can use esports as a platform to access other parts of culture," he explains.
The Mob takes over esports
Spend a couple of months reading about communications and marketing in esports, and you learn two important lessons: You can't fake enthusiasm, and almost everyone is a noob.
The Story Mob, which is run by three women, was founded on the premise that esports deserved the highest level of PR counsel. In the same way clients seek the services of some hyper-specialized Washington, DC, firm, The Story Mob aspires to be the go-to consultancy for esports issues.
Some of the biggest names in the industry have joined its roster, including Riot Games and esports organization Team Liquid. In its first year, the agency recorded $1 million in revenue, according to cofounder Nicola Piggott.
"There is a real gap for high-level comms pros who understand esports and have experience in it," Piggott says. "We started working in a young industry early enough to gain a ton of trust, knowledge, and a core fundamental understanding of the audience."
Piggott was formerly the esports comms lead at Riot Games and organizes tournaments for the video game developer.
Her cofounders are Anna Rozwandowicz and Kalie Moore. Rozwandowicz was previously VP of comms for ESL, an organizer and production company, and Moore was head of comms at investment firm Bitkraft Esports Ventures.
That combined experience means The Story Mob can speak the language of esports, break down a publisher's business, and run communications for a tournament, brand, team, and, in the future, individual players.
This is why The Story Mob recently launched a talent vertical to manage individual high-level esports professionals. Piggott estimates that less than 1% of pro players and "casters" (as esports commentators are known) today have a publicist. She expects that dynamic to change in two to three years.
With a growing stable of broadcast talent and players, The Story Mob is primed to be a beneficiary of the coming windfall.
"We strengthened our work with publishers, teams, brands," Piggott adds. "Two weeks ago, we started work with the Premier League in the UK, who are working on their own league. We're increasingly working across different brands. It's been a great year."
A running start
On December 5, 2018, Ogilvy held a special event in its New York office in partnership with the live video streaming platform Twitch.
With about 125 guests, the half-day event convened the once disparate worlds of brands and esports. The highlight was a presentation on a campaign involving Castrol and racing franchise Need for Speed called Titanium Gamer, in which a top drift racer and a Need for Speed gamer went head-to-head on a real course. To promote the campaign, Castrol partnered with Pax East, one of the premier gaming events in the country, to create the Castrol Edge Titanium Gamer Tournament.
The hero video from the event generated 8.5 million views, while media coverage spanned Ars Technica, Red Bull Magazine, and Business Insider. In addition to the 800 live attendees, more than 200,000 viewers watched the tournament on Twitch.
Rob Davis, head of digital at Ogilvy USA, says the fan events fascinated attendees.
"Everybody had kind of heard people are filling arenas and doing this stuff," Davis explains. "But when we started getting into how there's fanfare into the individual teams and the same passion around, say, an NHL team, that opened a lot of eyes."
As a result of the success of the New York event, Ogilvy secured a couple of projects around in-person events. Davis says he expects more work around online advertising.
"We talk a lot about 360 campaigns," Davis notes. "You can do a full 360 just within esports."
The Ogilvy event represents just one push into esports by the broader marketing and comms industry. Other legacy agencies have seen similar success, including Ketchum, which rolled out a number of activations this past year on behalf of its clients, Wendy's and Gillette.
"We have brands that have long been in marketing or gaming or sports, and now they're applying that to esports because they know the value is there," Wixted says. "They know if you do it right and authentically, it's a very loyal fanbase and highly coveted group to market to."
The Omnicom agency reps esports organization Gen.G, which is led by Chris Park, a rising star who was formerly with Major League Baseball as EVP of product and marketing. Burson Cohn & Wolfe is increasing its investment in esports, although it declined to name any clients. London-based consultancy M&C Saatchi Sports & Entertainment launched an esports practice in 2016.
Esports hasn't caught on as quickly in the U.K. as it has in other parts of the world, partly owing to the country's slower broadband speed, says Jodie Fullagar, MD and head of entertainment at M&C. She also points to the common perception that gamers are "unhealthy, antisocial, and the antithesis of the heroic athlete."
"I think [esports] is one of the greatest marketing tactics of all time," Fullagar says. "Before anyone really understood what this industry looked like, it instantly aligned with sports and sporting structures, and the brands and broadcasters. It's definitely been the source of its growth into mainstream."
A brief history of esports
The first recorded video game tournament was held in 1972 at Stanford University's Artificial Intelligence Laboratory. As recounted in Roland Li's "Good Luck Have Fun: The Rise of Esports," it was a modest event, and the purse less than lavish.
The game was Spacewar, a five-person shooter set in space that was played on a 1,200-pound machine. The winner received a year's subscription to Rolling Stone.
By most accounts, this tournament is the seedling that sprouted esports and its myriad forms.
Even from its earliest days, video games captured the imagination of the media. The tournament flyer boasted: "The gala event will be reported by Stone Sports reporter Stewart Brand & photographed by Annie Liebowitz. Free Beer!"
More important, there was always a competitive aspect to it, Li notes. And that element of competition would echo through its history for the next four decades, through the arcade era, when games such as Pac-Man and Centipede kept record of high scores, all the way through the first StarCraft tournament to today.
From college dropout to brand whisperer
In 2014, Justin Warden was a college dropout, a couch surfer, and a Starbucks barista in desperate need of change.
Sleeping on his friend's couch and harboring the self-doubt of a typical 20-year-old, he had "no confidence he could achieve anything," he says. That all changed when a friend told him to pursue something he was passionate about: gaming.
Eventually, Warden married that passion for gaming with a marketing business and launched a company called Ader with some friends.
"I just started cold emailing a bunch of people," Warden says. "They all thought we were full of shit, but a few eventually hit us back and said, 'Sure, if you manage to get a deal, we'll be happy to help.' Still, that was enough to get us excited about the idea."
Warden and his friends went to TwitchCon wearing bright pink shirts with the words "If you're a brand that wants to connect to streamers, come talk to us" scrawled across the front.
One company offered them $1,500 for a campaign. Eager for success, Warden and his friends connected it with small-time streamers. In the end, they turned a profit despite spending $3,000 to $4,000 worth of man hours.
"The energy we put in compared to our return was so little, it was like working for $0.50 per hour," Warden says.
In 2016, Ader received a bit of funding for a small percentage from accelerator 500 Startups.
"We ignored all the classes and all the teachings they wanted to tell us, and instead said, 'Let's see if we can spend all our money and get a big client,'" Warden says. "And we did. We got Audi as a client for one campaign."
Ader received another boost when YouTube changed its policies and allowed independent content creators to monetize their videos. That made multichannel networks "obsolete" and sponsorship houses such as Ader the leading players on other content services such as Twitch.
This past October, Ader helped orchestrate a partnership between Hershey's, its media agency, UM Worldwide, and Twitch icons Ninja and DrLupo.
Today, Warden runs the $10 million company with chief revenue officer Andrew Temkin. The two have complementary skill sets: Temkin is the salesperson, while Warden manages the talent. Ader has grown from two employees to 20.
The company often serves as an intermediary with legacy agencies. One of the challenges of working with gaming talent is making sure they understand how to work with brands.
"Right now, the industry is built around players: players' friends, managers, agents," Warden explains. "We're trying to change that model to 'Who's going to be a brand advocate?'"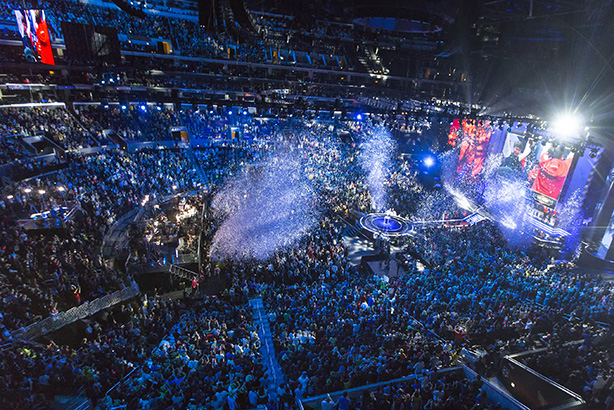 The Staples Center was at full capacity when it hosted the 2013 League of Legends World Championship. (Photo courtesy of Riot Games)
A league of their own
The 2013 League of Legends World Championship shocked the world when it sold out the Staples Center, home of the NBA's Los Angeles Lakers and the NHL's Los Angeles Kings, in an hour.
Just two years before, the game's developer, Tencent-owned Riot Games, made the radical decision to run its own League of Legends tournament.
Fans questioned the developer's motives for organizing the tournament, with some speculating it was nothing but a "money-grabbing play," says Chris "Chopper" Hopper, the head of North America esports for Riot.
"No one had seen what Riot was doing before or why it was doing it," Hopper says.
To convince investors and brands of its products' stability and quality, Riot aligned itself with "traditional sports stories and structures, [such as] player hero stories, strong and understandable league formats, and high-quality broadcasts," says Piggott, who worked at Riot at the time.
In 2017-2018, Riot franchised its North American League of Legends Championship Series (LCS), following the examples set by traditional sports leagues, such as the NFL.
Once League of Legends franchised, it created stability for the North American league, signaling to the world that it wasn't going anywhere. To brands, it meant teams would be a safe investment for sponsorships, esports' largest source of revenue.
In 2018, Mastercard became the exclusive payment service partner for the Mid-Season Invitation, All-Stars, and World Championship, per Rift Herald. In addition, State Farm implemented a branded analyst desk for the North American LCS.
"State Farm has a long history in sponsoring sports, including our current partnerships with the NBA, Aaron Rodgers, and 100-plus collegiate sports teams," explains Ed Gold, marketing director at State Farm. "Our goal in entering the esports world and partnering with Riot Games/League of Legends Esports is to associate State Farm, the leading auto and homeowners insurance company in the U.S., with the leading competitive esports brand in the game. At State Farm, we see this partnership as a long-term opportunity with lasting ROI associated with it."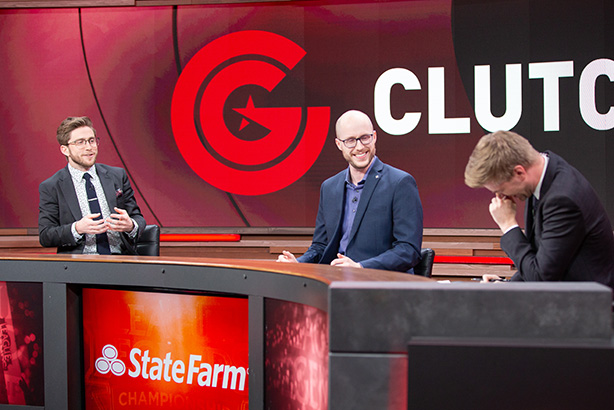 Commentators at the State Farm Analyst Desk break down the action at the 2018 NA LCS Regional Qualifiers in Los Angeles. (Photo courtesy of Riot Games)
Riot works "very closely" with brands, Hopper explains. Both sides of the relationship — the brand partners and the audience — have to benefit. Riot wants partners to find deeper engagement with its fans than simply throwing logos all over the show.
Equally important is that the brand wants to help grow esports and not just capitalize on the spotlight, Hopper says.
Every year, Riot pours more than $100 million into global esports. Today, its leagues are regarded as some of the most established and professional in the world.
"[Fans are] looking at us to continue to push the bar," Hopper says. "We know there are other esports titles and [organizers] out there and they're hungry to take our place as the No. 1 esport in the industry. So we have to stay hungry and keep pushing our boundaries."