Manifest's retained contract with BrewDog concluded at the end of February, and PRWeek understands both parties decided to part ways amicably after collaborating on some of the most memorable and successful campaigns in the drinks industry and chalking up nearly 50 industry awards.
Manifest helped the craft brewer develop from a relative minnow in 2010 to one of the fastest-growing drinks brands in the world, valued at more than £1bn. It held the retained business for seven years, with The Romans taking over for a couple of years between 2015 and 2017.
The split comes days after the brewer touched down from the maiden voyage of BrewDog Airlines, a creative campaign developed and delivered by Manifest to launch the world's first craft beer airline.
"Our work with BrewDog over the years has been exhilarating and at times groundbreaking – from driving tanks to the Bank of England to building a bar across the US/Mexico border to stop Trump's wall. However, we both felt now was a good time to part ways – nine years is a long time and as Manifest grows there are different creative opportunities that we feel it's the right time to pursue," Manifest founder and group CEO Alex Myers said.
"We wish BrewDog all the best with their continued adventures. The brand will always have a special place in Manifest's history and I'm confident they will continue to build on their awesome success in the future."
BrewDog co-founder James Watt added: "Manifest has been an integral part of our success over the past nine years, and some of the work we have done together holds a place as the best creative PR work the drinks industry has ever seen."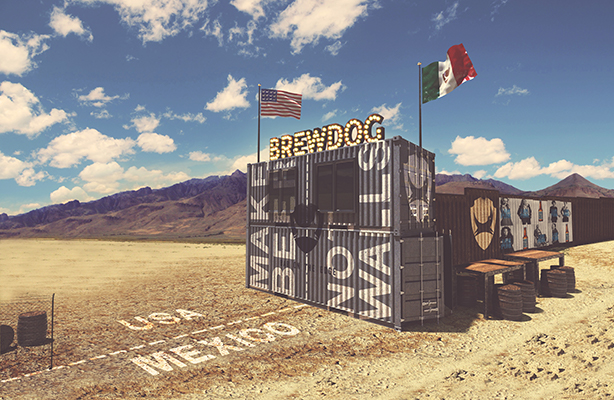 Pushing the boundaries of beer PR
Manifest represented Brewdog between 2010 and 2015 before its consumer PR moved to The Romans.
In 2017, BrewDog wanted an agency with US reach and the account returned to Manifest without a pitch, with the agency driving BrewDog's PR strategy across the UK, the US and Sweden.
BrewDog has become synonymous with bold and sometimes controversial PR stunts throughout its history.
These have included hits like creating "protest" beer Hello My Name is Vladimir, targeting homophobic legislation in Russia, and driving a tank to the Bank of England to launch Equity for Punks.
More recently, BrewDog earned praise for campaigns like 'Make Earth Great Again' and 'Bar on the Edge' (pictured above) – both which took a dig at policies favoured by US president Donald Trump.
Not all of BrewDog's stunts have hit the mark. BrewDog campaigns that have caused controversy include a launching parody porn website called BeerPorn to deliver video content, and its attempts to satirise gender stereotypes by launching a Pink IPA, 'Because women only like pink and glitter'.
Recently, BrewDog severed ties with US craft brewer Scofflaw over a 'rogue' press release that offered free beer to Trump supporters.