The campaign video, an altered version of the Greenpeace animation 'Rang-tan', has been viewed 65 million times across social media and Iceland's owned channels, which makes it one of the most viewed Christmas campaigns of all time.
Its success has helped shift the dial in how consumers perceive the brand and sales, according to new marketing and sales figures shared with PRWeek.
During launch week, consideration of Iceland among consumers in the supermarket sector shot up 5.9 points to a score of 21.6, which is the highest score of any retailer on the YouGov BrandIndex. This placed Iceland ahead of Waitrose in terms of consideration.
The viral campaign has also lifted the talkability score of the brand, which increased 7.9 points to 15.5, making Iceland the second most talked about supermarket brand after Aldi. Prior to the campaign, Iceland was ranked seventh.
There has also been a positive impact on the sales of mince pies – the hero product of the campaign. Iceland has made its mince pies palm oil free by using butter instead. Since the campaign launched, year-on-year sales of mince pies have risen by 11 per cent.
Iceland's PR agency Weber Shandwick, which helped drive the PR campaign across earned and owned channels, said the campaign has received more than 700 pieces of media coverage and the endorsement of celebrities including James Corden, Ricky Gervais and Stephen Fry.
A petition to have the original ad ban overturned has been signed by more than one million people. Aside from the video, Iceland and PR agency Taylor Herring also ran an experiential stunt with an animatronic orangutan visiting sights in London.
Answering the cynics
The decision to ban the ad from TV is due to the fact the creative was originally commissioned by Greenpeace. Clearcast was unable to approve the ad because Greenpeace was unable to demonstrate it is not a political advertiser as defined under the Communications Act.
The managing director of Weber Shandwick's Manchester office, Heather Blundell, told PRWeek that although the ban helped hype the campaign, it was never Iceland's intention for it to not run on TV.
"They tried incredibly hard for weeks to get it over the line," she said. "The slightly cynical nature of the response that we got is that some people have asked if we always knew it was going to get banned.
"Iceland have responded to that by saying, 'no, we're not that clever', and that's true. We never anticipated that it being banned would elevate it so much. I genuinely believe it would have done really well if it had run on TV. It's a beautiful film."
Blundell said Iceland never wanted "to start a war with Clearcast", but was forced to reveal they did not approve the video to clarify speculation it had been banned by the Advertising Standards Authority.
Another criticism of the campaign is that Iceland has not yet stopped selling products that contain palm oil and that the ad was hypocritical.
However, the supermarket has made significant inroads towards its stated objective of dropping Iceland-branded products with palm oil. It has dropped or substituted 450 products that previously contained palm oil and is on target to change all Iceland-branded products by the end of the year.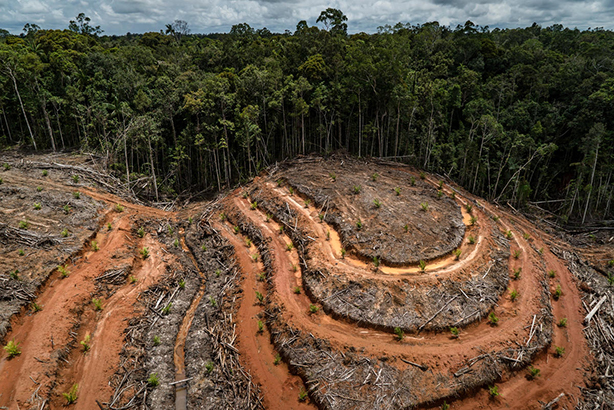 An area the size of a football pitch is cleared in Indonesia's rainforest every 25 seconds to grow oil palm plantations. Photo: Ulet Ifansasti/Greenpeace.
Palm oil prevalence
This is no easy task. Palm oil is used in about 50 per cent of consumer goods and finding a viable and sustainable alternative is tricky. Other vegetable oil crops such as soy, rapeseed or corn, require up to nine times as much land to produce than palm, according to a report by the International Union for the Conservation of Nature (IUCN), which means simply substituting palm oil for other vegetable oils could cause more harm than good.
Another problem is that FMGC giants, including Colgate-Palmolive, Kraft Heinz, L'Oreal, Mars, Mondelez, Nestlé, PepsiCo, Reckitt Benckiser and Unilever, still get their palm oil from producers that are thought to be behind deforestation in Indonesia and Malaysia, where most of the world's oil palm plantations are located, a Greenpeace report found.
Blundell told PRWeek she has been to several buyer and supplier meetings with Iceland and seen how difficult it is to remove palm oil dependency.
"It's been a painstaking process and difficult with some products but they've been working with manufacturers and invested £5 million of their own company funds to do it."
Blundell said Iceland's managing director Richard Walker is genuinely committed to palm oil free products and eliminating plastic packaging.
"He is a passionate environmentalist who believes that business can serve as a force for good," she said. "He has been out to Borneo himself and seen the destruction caused by palm oil firsthand and needed to do something about it in the business.
"Iceland will continue to make these commitments that are five years ahead of other supermarkets; it's not just a box ticking exercise and they are challenging other manufacturers and their supply chain. It's far from hypocritical, it's brave."
Further evidence of Iceland's green credentials can be found beyond its palm oil pledge. In January, the supermarket pledged to eliminate plastic packaging for all Iceland branded products by 2023.
A recent report by Greenpeace and the Environmental Investigation Agency ranked Iceland as the top UK supermarket for reducing the amount of plastic packaging, although the same study criticised just how slowly some supermarket brands are acting.
A win for PR
There is little doubt, however, that the Rang-tan campaign has kicked off a debate about the power of earned media at a time when advertising budgets are under increasing pressure in many sectors.
"What this campaign shows is that if you have the right content with the right context and timing, you don't always necessarily need advertising spend to generate genine cut through. That's really exciting for us in PR," Blundell said.
"It's an undeniable success story and in PR we are often challenged to show the impact of earned media."
Iceland has 65 million reasons that make a pretty solid case for clever PR.