UKTV comedy channel Dave and the Campaign Against Living Miserably (CALM) will take over an ad break on Monday to raise awareness of the problem of male suicide.
At 9:09pm on 26 November, Dave will encourage viewers to get in touch with a mate to see how they are. Developed by UKTV's in-house creative team, the four-minute ad takeover will be voiced by comedian James Acaster, who recently appeared in the seventh series of Dave's Taskmaster.
The ad break will launch a year-long partnership between the channel and CALM, a charity aimed at preventing male suicide.
The "Be the mate you'd want" campaign will include branded beer mats and coffee cups, on-air promos, print, outdoor and radio ads, as well as social media activity. Next year, CALM and UKTV will launch a podcast and commissioned comedy, all with the goal of supporting male friendship and preventing suicide, which remains the single biggest killer of men under 45 in the UK.
The campaign's idea is that small gestures from a friend can be a lifeline for someone going through a tough time, so the ads will encourage people to do something that will show a mate they care.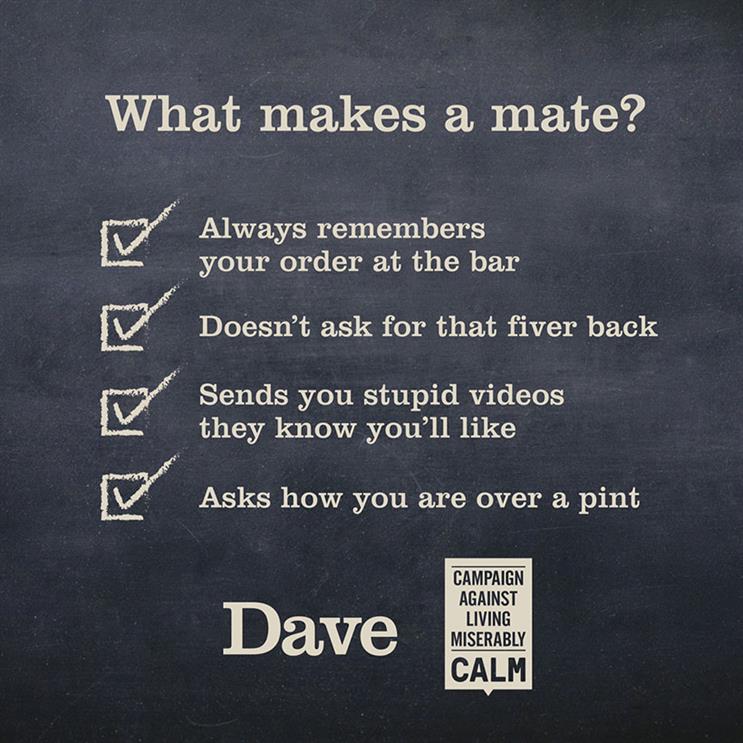 While 86 per cent of men agree that they would want to help a friend during a hard period, 35 per cent would not know how, according to a survey commissioned by Dave and CALM. The research also revealed a disparity between men and women when it comes to noticing warning signs: 41 per cent of men find it difficult to recognise when their friend is having a tough time, compared with 26 per cent of women.
Dave is supporting CALM's mission to create a more positive and open culture around mental health, according to channel director Luke Hales. He said: "This campaign is our small gesture for anyone who may be going through a tough time. We hope it will encourage people to reach out to friends who need a reminder that someone is thinking of them and someone cares."
UKTV Creative produced the marketing materials, while Aaron Gillies, author, CALM ambassador and Dave senior social editor, wrote the copy. W Communications provided PR support.
"Our call to action is simple," Cherie Cunningham, head of marketing at UKTV, said. "All it takes is a text, a chat, a tweet – something to show you're there."
Earlier this year, CALM installed 84 sculptures of men with a hood pulled over their faces on top of the ITV Tower to raise awareness of the number of men who take their lives every week.
A version of this article first appeared on PRWeek sister title Campaign