The CDP advocates companies and governments reduce their greenhouse gas emissions, safeguard water resources and protect forests.
The partnership is being managed by sustainability experts in Ketchum London's corporate reputation team. It aims to further the CDP's ambitions to a broader range of investors, companies, cities, states and regions that use disclosure systems to manage their environmental impacts.
The remit also involves supporting CDP's leadership team and the organisation's upcoming events, including the CDP Europe Awards, as well as a series of workshops being held across Europe.
"We are at a tipping point in the global transition to a low-carbon, water-secure and deforestation-free economy, and the companies, investors and policymakers here are instrumental in taking the lead on the urgent action that's needed," CDP Europe managing director Steven Tebbe said.
"With a greater share of voice within this crucial discussion, CDP Europe can drive more ambition at the pace and scale required."
Ketchum London MD of corporate reputation Jamie Robertson added: "Climate change is one of the defining issues of our generation and open, transparent communication is absolutely key if we are to drive a broad consensus on the change required to meet long-term emissions and other climate targets. We're proud to be supporting CDP at this vital time."
Ketchum told PRWeek the partnership neatly dovetails with the agency's internal and external focus on sustainability.
Ketchum has provided sustainability work to clients in the FMCG, food, beauty and corporate sectors.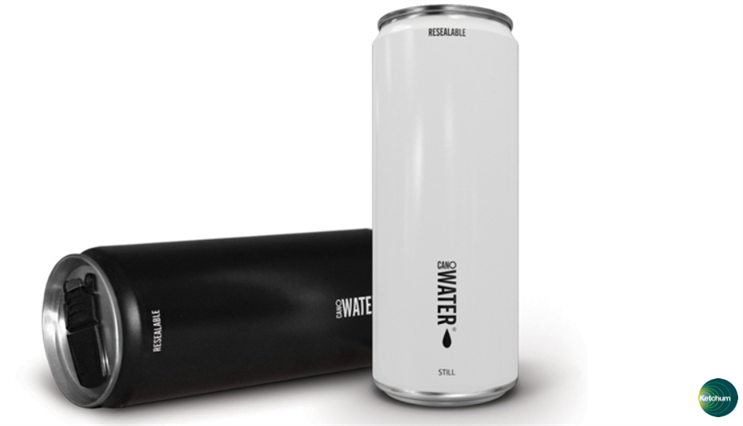 An example is a recent media campaign for Ball Corporation, which manufactures cans for CanO Water (above) in an effort to reduce plastic waste.
The campaign earned press coverage in national newspapers, news websites and trade press, including the MailOnline, Huffington Post, Sunday Times and The Grocer.
Ketchum's internal focus on sustainability is detailed in its KSR (Ketchum Social Responsibility) programme. The global programme includes local community initiatives, such as helping make local spaces greener, to reducing clothing waste, or helping a local mental health charity revamp its spaces.