In addition to impressive metrics for the impact of the 'Invisible people' campaign, it resulted in a surge in calls to the police and two victims of slavery coming forward for help.
The campaign, launched in December 2017, centred on a touring exhibition of grim photographs depicting the plight of victims of modern slavery, from people working in illegal cannabis factories to those forced into sex work.




Eleven cities across the UK were visited by the campaign, which was supported by social-media activity and ended in March this year.
The images were displayed on giant illuminated cubes strategically placed in town centres so that they could not be avoided by people passing by.
The key messages to target audiences – which included the public, law enforcement and government departments – were that modern slavery is taking place throughout Britain and that people should report any suspicions they may have to the Modern Slavery Helpline.
The campaign had a twin-track approach: to drive people to the exhibition and to generate coverage of the issue using the images and events.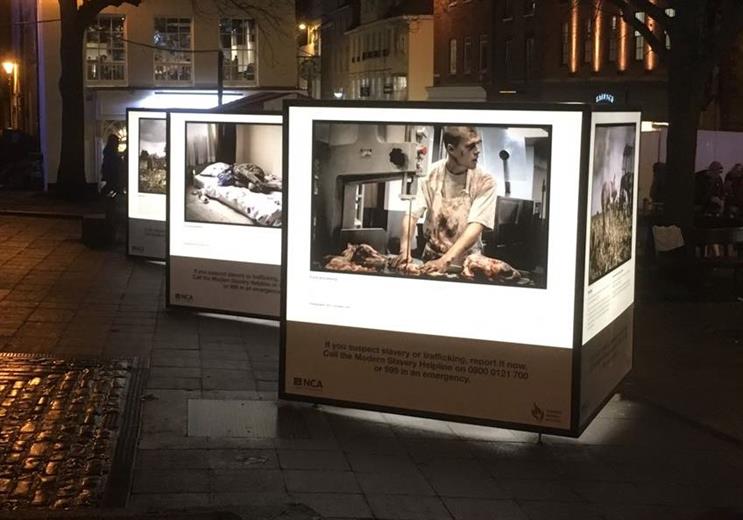 Case studies, sourced with the help of charities including the Helen Bamber Foundation, Bawso and Hope for Justice, helped to secure widespread coverage.
More than 70 pieces of coverage, including national print and broadcast items, resulted from the campaign, with a collective reach of 883 million.
A key aim of the campaign was to increase the number of reports of suspected cases of slavery – a crime which had a very low profile because the public has almost no knowledge of the issue as a result of it being so hidden.
Reports of potential human trafficking and slavery to local police forces more than doubled in the areas visited by the exhibition, and calls to the Modern Slavery Helpline went up by a quarter.
Although the actual campaign ended earlier this year, the exhibition has continued to be used by organisations ranging from trade bodies to police forces.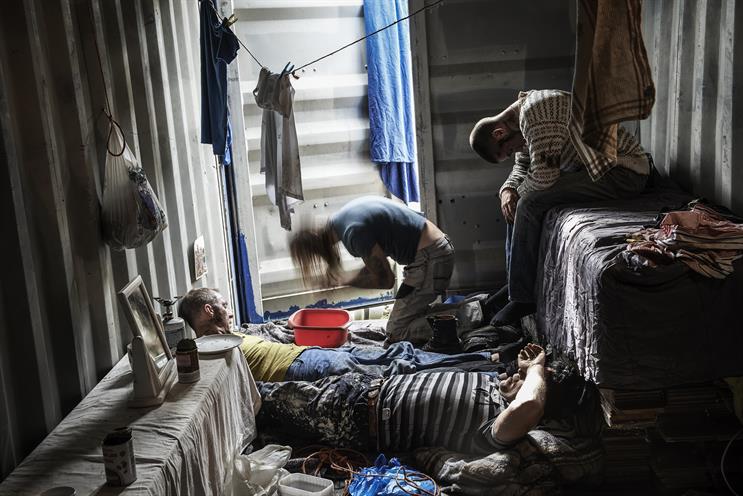 Adam Edwards, communications account manager at the National Crime Agency, said: "The 'Invisible people' campaign contributed to moving the issue of modern slavery into the mainstream – it wasn't before. It provided a catalyst for wider discussions among audiences that had no knowledge or didn't think it relevant to them."
And Bethan Davies, campaign lead and associate director at Kindred Agency, commented: "We wanted to create a campaign that would provide value for money and would have longevity beyond our work on it. 'Invisible people' far exceeded all our targets and the physical exhibition lives on almost a year since launching. The images we created continue to be used in media, and are regularly requested by charities and other NGOs."


She added: "The positive change Kindred wanted to make was to free people from slavery, and our campaign literally did this. Reacting to the campaign in Manchester and Cardiff, two people came forward to event staff and identified themselves as modern slaves, realising their treatment was illegal after seeing the exhibition. They are now being supported by the relevant authorities and charities."
Davies said: "The intelligence gathered from the increase in reporting is currently aiding the release of other slaves, investigations and prosecutions, the measurement of which cannot yet be calculated, but is deemed invaluable."

---
Click here to subscribe to the FREE public sector bulletin to receive dedicated public sector news, features and comment straight to your inbox.
Make sure you register for the site to access more than one story per month.
To submit a news, comment, case study or analysis idea for the public sector bulletin, email Ian.Griggs@haymarket.com