Iceland
Iceland's overtly cause-led Christmas campaign campaign has become a major talking point after it was banned from TV broadcast for its political nature. The supermarket group partnered with Greenpeace for the animated film, which shows a loveable orangutan causing havoc in a little girl's bedroom, before it's revealed that "Rang-tan" is taking refuge because her habitat is being destroyed in the pursuit of palm oil. Iceland had been working with Greenpeace on plans to remove palm oil from its own-label products by the end of this year. The video, produced by Mother, has been a hit on social media – research released on Tuesday (13 November) found it has received more than 30 million aggregated views across social media after catching the attention of celebrities. A petition to allow it to be shown on TV has more than 850,000 signatures. Weber Shandwick Manchester is handling the PR. Meanwhile, a second phase of the campaign - created by Taylor Herring, which went live after our panelists submitted their comments - has seen an animatronic orangutan appear at different locations in London.
Lotte Jones, creative partner, Freuds
"You've seen it on your Facebook feed, you've signed the petition, you've even ditched your Timotei... now read the review of an ad campaign from a PR person! I'll let others talk about the PR coup-i-ness of this whole event. Instead, I'll say that this is a great example of an ad that not only makes its point beautifully, but also has the potential to actually impact consumer buying habits for good. Palm oil is one of those issues you read about but is rarely brought to life through an emotional lens. And despite the lack of jingling bells, the simplicity and drama of this story makes it perfectly chime with the spirit of the season – generosity, thought for others and selfless action. Verdict: A new Christmas precedent has been set."
Mark Perkins, executive creative director, W
"All the components of a John Lewis ad: cute, fluffy character; cute kid; social purpose partnership and heartstrings. Only the Greenpeace ad had already been made and issued; Iceland co-opted it and knew it would most likely be banned. Cue one million public signatures, timelines full of shares, blanket media coverage and even Michael Gove jumping on the bandwagon demanding that it should screened on TV. All achieved without spending a penny on production or media buying. Genius. Rip up those PRWeek Award entries, folks. Iceland has won it."
Fenella Grey, London chair, Porter Novelli
"The unfestive non-ad that we've been waiting for. And with it the first goosebumps of the season. In this era of having to earn attention first and foremost to drive behavioural change, the orangutan walks all over any penguin or chomps through any carrot by tugging hard on our heartstrings to highlight his plight. And behind his higher but understated purpose, he refreshes our memory of Iceland's commitment to remove palm oil from its own label. And there's more: a beautiful, third, unsaid dimension to this story. In a time of over consumption, be more conscious on how we consume this Christmas. Iceland will have expected this ban 100 per cent and deserve the 100 per cent favourability in the surround sound."
Nick Woods, partner, Well Hello
"This is a re-badged Greenpeace ad, which I've never heard of anyone doing before but is now, officially A Thing. And while it's hard to disagree with the overall sentiment, it seems that there's a smart (cynical?) operation working behind the scenes here. I know the PR team have 100 per cent been heavily involved, but I'm not convinced Iceland's igloo is whiter-than-white and this ad lets the huskies loose to dig up some dirt. Meanwhile, I'm off to re-purpose Missing Type for a completely different campaign now – it's A Thing, you see. #repurposed."
Tesco, Asda, Aldi, Lidl, Argos: which Christmas campaigns sing and which sink (so far...)?

Sainsbury's
The Sainsbury's campaign centres on a school theatrical rendition of a pop classic, with kids performing New Radicals' You Get What You Give dressed as decorations and constructing an enormous Christmas tree scene on stage. It forms part of the wider "We give all we've got for the ones we love" campaign, which will include additional product-led TV spots, as well as radio, print, digital, social and out-of-home activity. The campaign is by Wieden & Kennedy London. Several commentators have highlighted the fact a John Lewis/Waitrose campaign from September also featured a school theatrical rendition of a pop classic.
Fenella Grey
"No spine-tingler of a campaign but one that gives a small glow in the heart, and not just because it just feels so awkwardly close to John Lewis & Partners' ad from a few weeks ago, but because of the well-trodden formula of another slowed-down rock song, another triumph in the face of a nearly embarrassing moment and another attempt to catch a moment in the festive calendar we can all relate to. All leading to a little too much of the 'expected' for me and with no saving grace of a humorous, surreal or wonderous twist. However, a double dosage of nostalgia does make it count for many, just not me!"
Mark Perkins
"Making a blockbuster Christmas retailer campaign is, in many respects, the poisoned chalice of marketing. John Lewis always wins (except for this year with Iceland). For the past decade John Lewis has done Christmas better than the Church of England. Creatives, therefore, face the unenviable task of trying to fight for second place with something sentimental and John Lewisy or be damned for trying something completely different. (The crushing truth is most people would probably prefer some crazy cat clips nicked off of YouTube with a Slade soundtrack). So, it seems Sainsbury's, by fault or design, has created an ad eye-wateringly similar effort to a recent John Lewis campaign. It's directed by Michael Gracey who made The Greatest Showman. I still haven't forgiven Michael, nor my wife, for the two-and-half hours of trauma that put me through in a cinema, my personal low of 2018, and I had an immediate Pavlovian response as soon as the Sainsbury's ad came on screen. Maybe they could've enlisted Raymond Briggs and made The Greatest Snowman instead?"
Nick Woods
"Let's be honest, its pretty close to JL/Waitrose from a few weeks ago, isn't it? Orange lettering doesn't cement it in our minds perhaps as much as the Kool-Aid drinking execs might like to think. Last year's song was divisive, but funnier, more real and waaay more original. #yougetwhatyougive."
Jo Chappel, creative director, Fever
"Take a cast of cute kids, add a 'classic' 90s anthem, mix into the emotionally charged (and familiar) setting of the Christmas school plan then sprinkle The Greatest Showman magic, gently heat for two minutes and you get the perfect Christmas ad right? Unfortunately, despite having the very best ingredients 'The Big Night' lacks depth, spice (the only bit of dramatic tension is the microphone crackle at the start) and the relatability to make you really care about the characters - apart from the plug of course. At risk of sounding like the Grinch's grumpier sister it's all showmanship over substance.
Waitrose
Waitrose is eschewing a blockbuster TV ad in favour of a series of short spots in which characters abandon their Christmas rituals to tuck into tasty treats as quickly as possible. The six TV spots, which run until 14 December, feature storylines in which Christmas revellers aim to finish their Boxing Day walk, choir-singing and other activities quickly in order to get started on products such as chocolate and cherry mince pies. The campaign is by Adam & Eve/DDB.
Lotte Jones
"I think the worst crime committable by a Christmas campaign is to generate no emotional reaction at all, but if I'm not mistaken I think that's what we have here. It's funny, but not funny enough. It's relatable, but not relatable enough. It's heart-rending, but... ok, you get the drift. Verdict: with 300 executions you'll be sure to get a taste of vanilla this Christmas."
Jo Chappel
"Gently poking a canape cocktail stick at our obsession with festive food, The Too Good to Wait campaign follows Lidl's lead by creating multiple short ads rather than one big blockbuster. Featuring people 'fast-forwarding' familiar festive scenes to get to the main event – the food – the first two spots have some amusing moments ('Simon pass us the sprouts'), but are ultimately blander than a Boden catalogue."
Fenella Grey
"A fun and fast romp through a classic festive scene to get to gorge on the brand's sumptuous delights. Six executions, no less, will keep the campaign fresh and at one with the spirit of the content. Whilst pacey, fun, mouth-watering and with a surprising dose of humour, it's a solid trailer for the main feature still to come from its brother."
Nick Woods
"Too good to wait' is nice, but the media buy on this campaign is arguably the biggest talking point. OMD has persuaded three other clients to have their ads deliberately sped up in order to get to the Waitrose ad, which is all about how we speed through certain Christmas events to get to the food. At first this seems like a neat idea, but people who aren't really paying attention (quite a few) might wonder what's going on, and those who already fast forward (also quite a few) might also be a little confused. I'm not sure confusion helps. The bit I do quite like is that if you pause live programming across all of Channel 4's stations you'll get a 'time for a mince pie' message. #themediaisthemessage."
Marks & Spencer
The retailer is running two separate festive campaigns for the first time since splitting marketing operations for the two businesses – clothing & home, and food – earlier this year. M&S's biggest ever Christmas food campaign uses real people's opinions in its first unscripted film (below). In "M&S Christmas favourites", created by Grey London, it incorporates customers and colleagues alongside shots of the "food porn" for which it has become known. The agency cast people from across the country to talk about their favourite festive food items from M&S, and viewers can also share their picks on social media with the hashtag #MyMarksFave. Meanwhile, Holly Willoughby and David Gandy star in Marks & Spencer's clothing and home Christmas campaign, which highlights a series of "must-haves" for the festive season.
Jo Chappel
"Covering all bases and budgets M&S has opted for two ads this year with product at their heart. The first starring Holly Willoughby and David Gandy (in marigolds ooh er) and a second featuring 'REAL LIFE PEOPLE' talking about their M&S Christmas favourites and inviting the public to share theirs #MyMarksFave. Cue a blizzard of angry Tweets slagging off their 'poor vegan range' and 'pretentious' dishes (tempered by praise for their legendary raspberry puffs and Percy Pigs of course.) The lack of interaction on Twitter suggests that the brand wasn't prepared for anything less than a large helping of public love, but sadly that's the ghost of Christmas past."
Nick Woods
"So much rich territory to play with. So many powerful human emotions to evoke. Such fertile ground upon which to build. And yet, M&S have managed to 'dullify' arguably the most food porn-y food offering on the high street. We'd all bought into deep, rich, velvet tones telling us 'this isn't just Christmas pudding…', so to replace exquisitely written and deliciously OTT copy (reflecting both product and occasion) with ordinary punters saying 'it's nice' just doesn't cut it. It makes it blander, less interesting, less 'Gramable. #thisisntjustanyM&Sad #thisisareallydullM&Sad."
Fenella Grey
"With a new marketing director comes restructure. Herald the first M&S Christmas ad totally focused on its 'food porn'. Ask me what my favourite festive food is and the ingredients are bottomless. Ask me what my favourite M&S festive food is, and it feels a little contrived and exclusive to those in the know. Pedantic perhaps, as #MyMarksFave is sparking engaging and positive conversation. This, coupled with two pending Christmas episodes from the aptly named Keith Lemon on their Instagram TV series, means that younger mouths will drool and pass through the M&S doors this Christmas."
Lotte Jones
"The insight about everyone having an M&S Fave at Christmas is sweet, but not sure it quite rings true for me. Feels like M&S lucked out with Percy Pigs entering the cultural lexicon, but you can't apply that same love and affection to the whole Christmas food inventory. So the faux seasonal nostalgia about shimmering chocolate acorns falls a bit flat for me. And when I say 'falls a bit flat', I mean 'is completely self serving'. Verdict: If you catch me talking about my M&S Faves at your dinner table this Christmas, it's fair to assume your party is a bit shit."
Mark Perkins
"They've hit a 'food porn' truth here. When the M&S Christmas food brochure lands around mid-November, Mrs P and I get as excited as a dirty old man with a copy of Razzle. We have actually had binge dinners consisting of M&S party food (we have no friends), resembling a upmarket version of Pete Doherty's greasy Margate mega-breakfast. For that reason, this ad speaks directly to me. Also, this is the only Christmas campaign to feature the word 'moist'."
And finally...
The much-anticipated John Lewis campaign is to be launched imminently, although the retailer may have been dropping hints after changing the storefront of its Oxford Street flagship to simply 'John'. The switch might be a reference to the supposed role for Elton John in the festive campaign. Watch this space.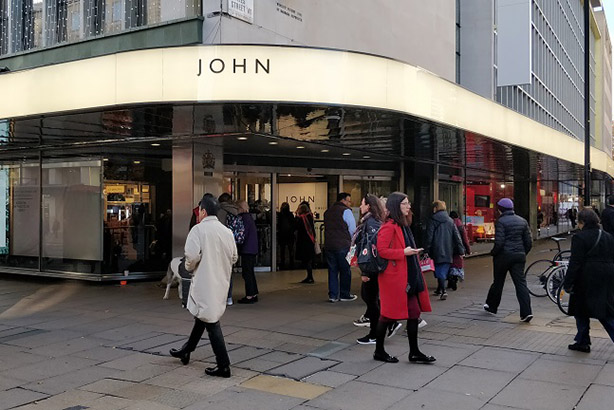 Tesco, Asda, Aldi, Lidl, Argos: which Christmas campaigns sing and which sink (so far...)?