BOSTON: Cardi B is all about defying the norm, so Reebok took a leaf out of her unconventional book and created a press release in the form of eight memes to announce its partnership with the rapper.
The sneaker brand wanted to avoid a typical "boring, formulaic" press release, so it created eight individual memes to break up key messages about why the partnership is important to Reebok as a brand, said Dan Mazei, senior director of Reebok's global newsroom.
When Reebok finds a new partner for "all the right reasons," the last thing its comms team wants to do is "squeeze that person into a box," he added.
"We want their personality to come through loud and clear so long as it is aligned to who we are as a brand," said Mazei, who called Cardi B "the queen of memes." "[By using memes], we could take something we have never done before and use it as a tool to tap into an audience that has come to expect and love that from her."
The brand is also targeting a "more youthful audience" with its Cardi B partnership, which was carried out by Reebok's internal team.
"That is where our business is going; that is who our products are built for," said Steve Robaire, senior director of sports and entertainment marketing at Reebok.
Reebok, a subsidiary of Adidas, saw a 16% decline in net sales in the U.S. last year, but global sales were up 4%, according to Business Insider. The brand is actively targeting female consumers and CrossFitters.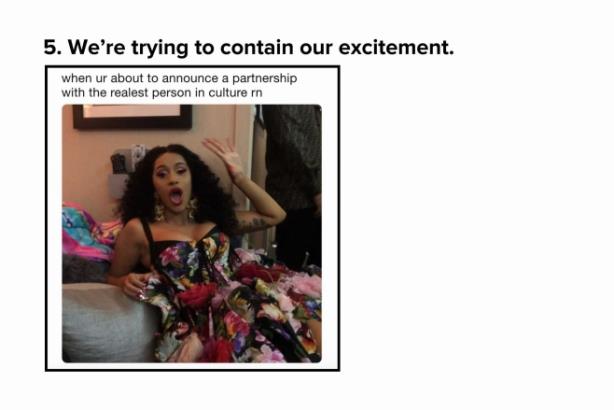 The Cardi B partnership is part of the brand's aim to increase its online presence and drive traffic to its e-commerce site. It also created a Cardi B x Reebok landing page.
The meme release also gave Reebok a new way to communicate with journalists, many of whom consider press releases a "thorn in the side," Mazei said.
"Press releases are an old, trite form of communicating that people have wanted to die for a long time, not because it is not valuable to share news in that form, but because it is such a formulaic way of sharing information," he said.
Reebok sent out the meme release last Monday. Mazei said the response from the media has been "really positive," gaining coverage from outlets including Elle, The Los Angeles Times, Ebony, and Us Weekly.
"It really runs the gamut of the titles we know our consumers are getting their information from," said Mazei. "We are nailing every category we wanted to and [a meme press release] is effective to help us do that and contextualize the story."