DeVries to handle Pickering's Gin bauble campaign
Pickering's Gin has appointed DeVries Global to promote its Gin Baubles this Christmas following a competitive pitch. The Scottish distiller sought an agency to raise awareness, create demand and drive sales through stockists of the product, which sold out within minutes of being released in 2016. DeVries Global's 'Grab Christmas By The Baubles' campaign aims to 'put the novelty back into Christmas', and the campaign spans traditional media relations, influencer engagement, social media and consumer events. The account will be led by associate director Alexandra Smart.
Mitsubishi Electric warms to Brands2Life
Brands2Life has won a consolidated brief to promote Mitsubishi Electric's cooling, heating and ventilation business. The agency is tasked with helping Mitsubishi Electric engage with the wide range of stakeholders responsible for selecting, specifying and installing the systems across the UK. The integrated campaign involves a content programme, amplifying Mitsubishi Electric's customer storytelling and thought leadership on owned, earned and social channels, as well as supporting with product launch promotion. Mitsubishi Electric's market is undergoing several changes to regulations related to fluorinated gas emissions, as the growing electrification of heating and Government plans to reduce the UK's carbon impact. Brands2Life will engage with a broad spectrum of trade and business media across multiple vertical and industry sectors to deliver the brief.
Dating app swipes right on Milk & Honey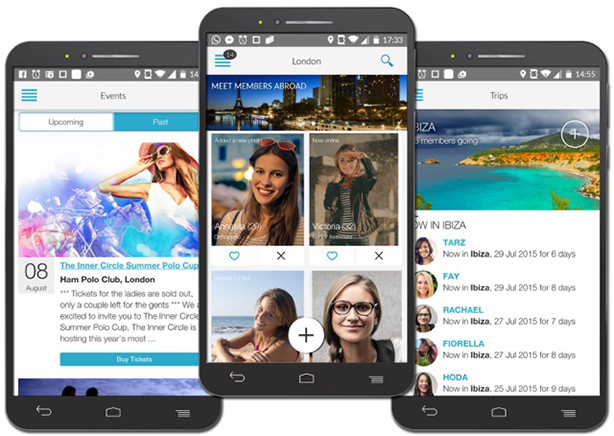 Milk & Honey PR has been appointed by dating app The Inner Circle (above) to boost visibility of the globally expanding brand. The agency will be responsible for optimising The Inner Circle's brand visibility across business and consumer audiences in the UK. Founded in Amsterdam six years ago, The Inner Circle has expanded internationally, with more than 1.3 million individually vetted members. The business was founded by David Vermeulen, who noticed a gap in the market to offer a quality dating experience for like-minded individuals. With a small team of 12 across the UK and the Netherlands, the app has been recognised as the fastest growing technology company in the Netherlands and was recently crowned winner of the Deloitte Technology Fast 50 2018.
HS2 internal comms chief joins 44 Communications
Internal communications specialist 44 Communications has appointed HS2's former head of internal communications Tom Abbott as managing partner of the agency's strategy team. Abbott led the high speed railway's employee communications strategy, as well as supporting its leadership and culture development. "Tom brings extensive experience of working with executive and senior teams to 44 Communications, helping organisations connect the pride and passion of their employees to business strategy and outputs," 44's founder and managing partner Corin Ashby said. Recently, 44 Communications opened a satellite office in Birmingham.
Golin to tackle fraud prevention in Cifas PR brief
Golin has been appointed to provide retained PR services to Cifas, the UK's leading fraud prevention service, following a four-way pitch. The agency's London office will help Cifas reach new audiences and grow awareness of fraud prevention during a 16-month programme. Golin will use creative media and a thought leadership programme to build awareness and understanding of instances of fraud. "We were enormously impressed by the strength of Golin's pitch," Cifas head of communications Sarah Samee said. "We were looking for a brave, intuitive and creative partner to help build upon the success of our award-winning campaign work and to integrate with our communication's team. Golin were able demonstrate a perfect blend of creativity and strategic thinking to deliver an approach that will really challenge Cifas to see opportunities to engage a wider audience."