Rich in coverage
Hats off to Rich Leigh, founder of Radioactive PR, who's been in The Guardian and The One Show this week for his agency's decision to move to a four-day week (and pay staff for five) – PRWeek covered it back in June.
What impact has this head on the business? Leigh tells Flack: "Can't move for CVs, team's really happy and (decent) client enquiries coming in as a result - can't complain!"
Who says being nice doesn't pay?
Can't Bayer the pun?
Internal comms can be a tricky business at the best of times, but have sympathy for Stephen Boyle, who oversees the role at Germany-headquartered life sciences giant Bayer.
Speaking at PRWeek's Strategic Internal Communications conference on Wednesday, Boyle said the firm changed its intranet no fewer than three times in five years. Ripples of mirth spread through the audience when our speaker revealed that the latest incarnation is called BayerNet (say it out loud).
The pun was apparently lost on his colleagues at HQ. "I don't think the Germans understood what BayerNet was when we told them," Boyle shrugged.
Keeping up with the Salesforces
Also at the Strategic Internal Communications conference, Salesforce's head of employee communication and engagement Amanda Atkinson provided an insight into how the tech giant keeps on winning 'best workplace' awards.
It's hardly surprising a market leader in cloud technology has some pretty cool tech that, frankly, makes some of our own intranets look distinctly medieval. For example, Salesforce staff can check out the likes and interests of co-workers with the click of a button and communication between workers is a digital breeze, plus loads more. Everything floats on the cloud and can be accessed by your phone.
All of these bells and whistles wowed most of the room, but wasn't quite enough for one delegate, who had a more pressing matter to get to the bottom of.
In the Q&A, the delegate asked: "Does Salesforce provide employees with their own phones or do you need to use your private phones?"
A somewhat apologetic Atkinson responded: "We do get given our own iPhones and Apple Macbooks."
Not bad for a technology company that makes $8.4bn in annual sales.
...and the Winklemans
Flack was pretty impressed with the selection of Strictly Come Dancing's Claudia Winkleman as host of this year's PRWeek Awards.
But it clearly wasn't good enough for friend of the brand – and PRWeek Awards judge, no less – Mary Whenman, who got much closer to Claudia at another awards ceremony. PRWeek promises to up its Winkleman game next time: "Claudia, Mary needs a top-up..."
When you get invited to the @GIAwards and find yourself on the top table w/ @ClaudiaWinkle

Note to @prweekuknews *must do better!* ???????????? #GIAwards18

— Mary Whenman (@marywhenman) November 7, 2018
Flipping the festive bird
PRWeek convened a panel of PR experts to sort the Christmas crackers from the turkeys (aren't we bored of this cliché yet? Ed) from the first batch of retailers' festive campaigns – read it here.
There was a mixture of responses, but few were as scathing as this put down of the new Elves Behavin' Badly festive effort in PRWeek's sister title Campaign, which named it (with seasonal aptness) Turkey of the Week.
"Frankly, I just want it to elf off," lambasted Campaign head of audience engagement Yasmin Arrigo.
Ouch. Flack was impressed, however, with this response from one of the elves (presumably with a bit of help from their PR agency, Taylor Herring, which created the film).
DAY. MADE. pic.twitter.com/crEg2aykEr

— Elves Behavin' Badly (@ElvesBB) November 8, 2018
"Demonic foreskin"
Back to responses from our Christmas panel, and one character from Argos's festive effort was described by W's creative guru Mark Perkins as "what appears to be a malevolent, demonically possessed foreskin". Some things you just can't un-see.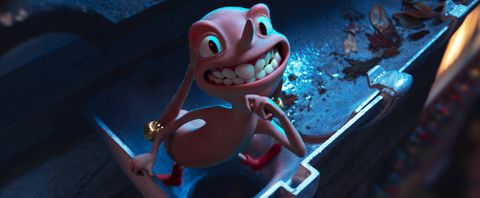 The good, the bad and something from Argos that looks like a demonic foreskin: chipping in on the first batch of blockbuster Christmas ads for @prweekuknews https://t.co/nwxF4pb4Qe

— mark perkins (@thatmarkperkins) 7 November 2018
Gunning for Spurs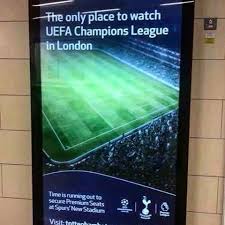 Flack was saddened to see Premier League team Tottenham Hotspur rapped by the ASA this week for a misleading poster (right), which claimed its new stadium would be 'The only place to watch UEFA Champions League in London' this season' – expertly trolling rival teams in the capital who didn't qualify for Europe's premier competition.
Now, as has been well-documented, Spurs have yet to play a match in the new stadium, due to delays, instead being forced to play home matches at Wembley instead – in turn rendering the poster's claim as false. But which mean-spirited member of the public reported it to the ASA in the first place? An Arsenal fan, apparently.