Tesco
Tesco is once again portraying the rich tapestry of UK family Christmases in its latest work from Bartle Bogle Hegarty. In common with last year's push, the campaign, "However you do Christmas, everyone's welcome at Tesco", is a montage of Christmas Day scenes with various characters sharing their own traditions. Every idea is based on an insight from the retailer's consumer research. A 60-second spot that covers various aspects of Christmas dinner will be followed by shorter executions focusing on specific components, such as turkey and pudding. They are soundtracked by a new, brass-led instrumental version of Fleetwood Mac's Go Your Own Way.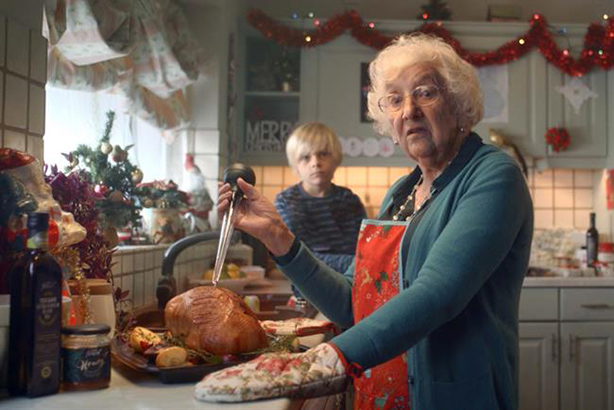 Lotte Jones, creative partner, Freuds
"I see myself and every family Christmas I've ever had when I watch this campaign. The insight is crisply simple and captures the quirk of Christmases perfectly. For every example of family traditions depicted I can think of 10 more and that's what makes the campaign so wonderfully limitless. I want them to go further than food and explore their other categories too – family gifting traditions? To open pressies in your PJs or to get dressed first? When is it socially acceptable to have your first drink? So many chances to go as far as possible with it. Verdict: The leader of the high street retailer pack so far. And what a pack it is."
Fenella Grey, London chair, Porter Novelli
"Hardly a new approach to steer away from celebrities and focus on 'real' people, but Tesco's warm and cuddly, inclusive campaign to celebrate the diverse ways we celebrate Christmas is particularly powerful and poignant this year given the context of social division and tensions across the nation. Christmas is the time to unite and this campaign points at our differences with humour and dare I say elegance, which will spark conversation and debate around all the familial quirky rituals. Timely, in-touch, not over-thought or over-produced, Tesco showcases quality. No doubt value-led messaging further down the line will make the quality positioning work harder."
Mark Perkins, executive creative director, W
"Tesco has really upped its game since its Christmas ads with Ruth Jones and Ben Miller, set in the aisles of its own supermarket. The results were as joyless and austere as a Turkey Twizzler Christmas dinner. With a 'diversity' theme it could be a try-hard exercise in tick-box mawkishness (Asda made sure to throw in some ginger kid close-ups for good measure). However, this campaign is artfully done; consciously addressing the tension of our different opinions and beliefs (even if it's about sprouts or custard) at a time when the nation is most divided by Brexit. Yet, the outcome is a feeling of togetherness. It's a seriously clever and subtle piece of work."
Jo Chappel, creative director, Fever
"Although not ground-breaking, this 60-second execution builds on last year's warm Everyone's Welcome campaign, and putting festive traditions through a contemporary lens places Tesco at the heart of the modern Christmas. By celebrating the nuances on tradition and ritual that make every family's Christmas their own, Tesco creates an emotional connection to its customers, a cosy post-mulled wine glow, and invites us to join in the debate – ketchup on turkey? It's all about the horseradish… Festive feels, 8/10."
Nick Woods, partner, Well Hello
"'Do, don't just tell' is a mantra pretty much all retailers still need to work on, but as one-way, shouty ads go, I mind Tesco's less than others. The whole campaign is based on an insight around how we all do Christmas differently, with everyone thinking their way is right, which unlocks all sorts of creative paths pretty nicely. And the evolution of the creative that it has baked-in works too – no big, single, monolithic ad loudly on repeat for seven weeks, which let's face it, must be pretty tempting when you're Tesco and can afford to shout louder than anyone else. Maybe the OOH [out of home] will really unlock some of its regionals stats… the 48-sheet equivalent of every regional release ever written. As for the in-car-park-Christmas markets being planned… hopefully they won't just be the brand's own products, because as my office Grinch has eloquently pointed out, 'no-one will want to shop at Tescold'."
Asda
Asda's campaign celebrates the energy and effort involved in "coming home" for Christmas. Starting with an image of Santa firing a cannon while at the top of a mountain, it goes on to show groups of dancing skiers, motorbike riders and yetis, carrying Christmas food and presents, descending from the peak in the snow to "bring Christmas home" to an excited girl. It is set to the track Christmas (Baby, Please Come Home) by Darlene Love. It was created by Abbott Mead Vickers BBDO, with Mischief handling PR.
Lotte Jones
"Music has of course become a key component for any good Christmas ad, but a good festive banger shouldn't take away from a decent narrative. There's not enough time spent getting us invested in the girl to really care about the Christmas fayre hurtling down the ski slope towards her. Who lives at the bottom of a ski slope anyway? A bit dangerous if you ask me. Verdict: too much product and not enough punch."
Fenella Grey
"A straightforward and heart-warming TV campaign with no inbuilt suspense or cliff-hangers but rather a joyful showcase of all that's on offer at Asda this Christmas. No tears, no big reveal, no clever devices, no obvious off-air activation as yet, but instead a new playful dose of surreal humour and a nostalgic message to 'bring Christmas home' in the year we tried to do the same with football. One to sit back, relax and enjoy for not trying too hard and for not jumping on the whimsical character bandwagon."
Mark Perkins
"Where Argos decided to replace Santa with one of its delivery men, Asda made sure to include St Nick in the opening frames to kick off things off. Once he is out of the way it's an adrenalin-fuelled romp and product showcase. Apparently, Asda cast staff members and members of the public to be in it, which is a nice touch. Completely OTT with obligatory cute kid, snow bikes, turkeys, giant snowmen, macaroons, and yetis all thrown in. It very nearly made me feel festive, which is remarkable in itself."
Jo Chappel
"I don't love it – and to me the shots of the actual products feel slightly shoe-horned in – but it captures that magical window of anticipation before loved ones arrive home and the effects of being cooped up together with too much booze. It's a bit mad but then Christmas is a bit mad. Festive feels, 6/10."
Nick Woods
"The first issue is that if the idea is to show the build-up of excitement of extended family coming home for Christmas, the action has to take place in the home, not with a cast of weird travellers you'd really hope are going next door. Secondly, whatever happened to coming up with something only your brand could do and why has it totally forgotten its brand, audience and the role of Asda in their lives at Christmas? Lastly, and most 'bigly', self-indulgence: 'I want cannons, I want giant inflatable snowmen, a cast of hundreds, and movie-level explosions. I want a team of stunt motorbike riders, a gang of dancing/serving/skiing-women, a guy riding a giant Christmas tree downhill. And get me some Wookie-like creatures, everyone loves a Wookie at Christmas…' I guess it is Christmassy, in that it's hugely expensive and largely forgettable."
Aldi
Aldi's festive mascot Kevin the Carrot has returned for a third year running with a teaser that ends in a literal cliffhanger. The 40-second animated spot, created by McCann UK, opens with the plucky root vegetable driving a Coca-Cola-style truck, with the words 'Kevin the Carrot' written on the side in a typeface reminiscent of the the soft-drink's logo, through a snowy mountain landscape. But when the vehicle hits a snowdrift, it jackknifes and the back of the lorry swings off the side of the road – causing it to teeter on the edge of a cliff. Kevin's fate is expected to be revealed in a follow-up film.
Lotte Jones
"Seeing this trailer makes me realise how much we've missed some wry, subversive humour from our seasonal ads. I'm not so bothered about the carrot, but I'm hoping the full-length version has a full-throttle poke at many more familiar Christmas ads – like a massive Christmas ad orgy containing references to all the Christmas ads that have gone before it. Verdict: here's hoping the full-length version is a full-on festive Frankenstein of a campaign."
Mark Perkins
"At the core of almost every John Lewis Christmas campaign is the creative tension, of loneliness, yearning and isolation. We have been lonely snow people, a lonely bear, a lonely penguin, a lonely old man on the moon and a boxer dog who yearned to trampoline. All beautifully done. Yet, for those of us who felt emotionally fatigued by this Stalingrad of schmaltz, Kevin the Carrot sending up the entire genre was a breath of fresh air and he is now in his third year. We've only had a teaser so far, a parody of the iconic Coca-Cola Christmas ad with a nod to The Italian Job, but I want to see more of Kevin and his crazy Christmas capers."
Nick Woods
"For Aldi, Kevin the 'Romantic Hero' Carrot is back. Three cheers for this: firstly, because a recurring character works when everyone else chops and changes… routine and familiarity are such a big part of Christmas, and it's nice to see a brand building a new tradition. Secondly, any brand that (admittedly gently) takes the mickey out of Coke's big, red, gas-guzzling truck is ok by me. Thirdly, this feels like an actual Christmas story (hero, travelling, traumatic interruption), told across channels (Kev has already taken over Aldi's Twitter feed), part of a wider campaign, not an end point like so many of the others. #saveKevin."
Fenella Grey
"The antithesis of Asda's campaign. A bold campaign that's full of suspense and surprise, from assuming it's Coke's Christmas campaign to wondering how it's possible to care so much for a carrot. Dramatic storytelling leading to stacks of off-air chatter topped off playfully by Coke of course expressing its desire to help save Kevin too, as opposed to criticism of infringement. While this campaign will succeed in playing a role in building anticipation in the countdown to Christmas overall, it will be interesting to see if it drives people instore."
Jo Chappel
"#SaveKevin is gathering some momentum on Twitter with a bunch of carrot puns (keep your eyes peeled) and some back and forth with Coke in good humour. Kevin has become part of the Christmas cultural conversation for the third year and Santa hats off to Aldi for building a campaign with longevity. Festive feels, 7/10."
Lidl
Lidl's "Upgrade your Christmas" campaign focuses on the message that customers don't have to spend more at Christmas for top-quality food and drink. Shoppers take preparations to the extreme in Lidl's Christmas campaign, the last by TBWA\London for the supermarket. A series of films depict Lidl customers who have upgraded their celebrations with extravagances such as a cul-de-sac ice rink, dining-room orchestra, giant Christmas tree, imported Arctic snow and reindeer grazing by the dinner table. Good Relations handled the PR.
Lotte Jones
"Ah, that age-old reductive battle between creative concept and client demand for more product stills. I can almost hear the client calling for a closer shot on that turkey. And yet despite the roll call of merch, I love the simplicity of the humour and quirkiness of the vignettes. Verdict: Deliciously unpredictable humour with a side helping of classic prawn cocktail."
Jo Chappel
"The ads have a relatable human truth at their heart while reaffirming Lidl's commitment to over-deliver on quality versus price but, for me, they lack emotional value and the comedy fell flat as a Christmas cracker joke. Festive feels, 5 /10."
Mark Perkins
"Lidl has gone for three short ads (so far), which are fittingly budget rather than blockbuster. Nigel being swept away by a torrent of his melted shipment of snow raised a smile, but the punchline to the other two clips were as random and unfunny as a Christmas cracker joke. While Lidl is all about price point and value, seeing price tags in festive ads feels a bit naff. Definitely the cold turkey of the batch so far."
Fenella Grey
"A showcase of a campaign that does what it says on the tin. A simple but strong reminder from brand Lidl to 'upgrade' Christmas and come to it for affordable quality. Self-deprecating, classic British humour coupled with a three short-clips-of-an-approach will keep the campaign fresh and engaging. It will be interesting to see whether the whimsical character (Aldi's carrot) will trump a single-minded but indirect bash at expensive retailers – perhaps not in social, but I would predict instore – for having a greater understanding of our Christmas pressures."
Nick Woods
"It's quite cute, isn't it? Simple point, entirely in keeping with the brand and everything it stands for, consistently told through a little range of five quite funny shorts all with a very British 'oh Nigel' voice-over, which means we won't get quite as bored of seeing exactly the same things shouted at us time and again. #atleasttheytriedtodofunny."
Argos
Argos has introduced a new mischievous imp-like character, the Christmas Fool, in a campaign that flags up the retailer's ability to help customers solve last-minute Christmas disasters. A 90-second video, by The&Partnership London, features the magical scallywag romping around a neighbourhood at night, knocking out Christmas lights, causing the needles to fall off Christmas trees and stealing Scrabble pieces and Sellotape rolls. Fortunately, his victims are still able to enjoy their Christmas thanks to Argos' swift delivery and collection services. A voiceover calls on consumers to "Foolproof your Christmas", with Argos also highlighting that collection is available at Sainsbury's – the first time the link between the two brands has featured in a Christmas campaign. Hope&Glory is handling PR.
Lotte Jones
"Not sure what just happened there but I kind of liked it. The Christmas Fool has had enough orthodontics not to be totally grotesque and the ad was a sweet blend of animation and IRL. It feels fresh for a brand like Argos and grizzly enough to avoid falling into the tired saccharine samba beat of most of its peers. Verdict: The fool can make a comeback next year."
Fenella Grey
"While the Christmas Fool is without doubt a clever characterisation of a consumer fear of what might go wrong at Christmas, it feels dark and Gremlin-like, particularly in contrast with Aldi's Kevin the Carrot. The Fool's purpose is clearly to build emotion around the functional message of Argos' ability to fool-proof your Christmas with its swift delivery and collection service. However, in contrast with the other campaigns so far, it's lacking the anticipation, wondrous and joyful excitement of Christmas, which might make it harder for shoppers to relate to and in turn drive them through the doors."
Mark Perkins
"More Tim Burton than Tiny Tim, Christmas Fool is the most polarising of all the ads we've seen so far and has already stirred debate on social media. There's no magic or sentiment here, instead depicting how our idealised plans for Christmas are undermined by what appears to be a malevolent, demonically possessed foreskin and Argos saving the day. Herein lies a potential pitfall for parents as it shows Christmas presents arriving at home… via an Argos delivery van. Eh? What about Santa? It's funny, dark and beautifully crafted but may crush the beliefs of the little ones. Santa's non-appearance is the one single thing parents can use as a threat to get their rabid offspring to behave, and now Argos has taken that away. Cheers for that."
Nick Woods
"Argos has rather romantically hit upon the idea that it might be able to help you when everything goes tits up (honestly, that's what Amazon is for). To bring this keen insight to life it has created the Christmas Fool, undoubtedly the most annoying character ever created for Christmas. And, thanks to the joys of programmatic, he'll really cement that role before the first door on your advent calendar has been opened. #properturkey."