With the merging of marcoms disciplines – and PR agencies more eager than ever to eat adland's lunch – scarcely has PR focused more intently on creativity.
Indeed, over the past couple of years more and more PR agencies have hired their first creative directors: M&C Saatchi PR, Hotwire and Speed among them. PRWeek is keen to support the creative trend, teaming up with the PRCA Creative Group to launch the Creative Mentoring Project, through which 30 senior creative figures in PR offer advice and guidance to up-and-coming talent.
To mark the launch, we surveyed the mentors and other creative PR chiefs to gauge their views of how PR is responding to the creative challenge. The survey is qualitative – we received 20 responses in total – but it provides a good overview of what some of the biggest creative minds in the sector think about key issues. We summarise the findings below.
Home of creativity?
First, a theoretical question: asked whether they believe PR is the true home of creativity in marcoms, 61 per cent of the PR creative chiefs disagreed (11 per cent strongly).
Matt Wilcock, creative director at Cow, urges PR to up its game. "The best practitioners of creative PR know how to deliver brilliant creative for brands that can be seen and talked about by millions of people without having to pay for that visibility and fame. But PR needs more creative people delivering these kinds of ideas across the industry; especially at a time when, by accident or design, ad agencies are producing more and more ad campaigns with PR ideas at the centre."
Others are more upbeat, however. "Creativity is channel-agnostic, but what PR creatives bring to the table are ideas that can achieve momentum in paid and earned," argues Kat Thomas, founder and global executive creative director at One Green Bean.
Elsewhere, Sky head of creative campaigns Oliver Francis highlights fundamental differences between creativity in PR and adland: "PR is the home of nimble creativity. Advertising is the home of considered, artistic creativity."
And Leila Mountford, global creative manager at Amnesty International, is critical of how our side of the marcomms universe works in practice. "I think PR has the potential to be the true home of creativity," she says. "But a lack of strategy and rigour can sometimes lead to sloppy-looking work in comparison to ad agencies."
PR vs advertising
This leads us to the second question. Asked whether PR and PR agencies were more than a match for advertising and marketing professionals/agencies when producing effective creative campaigns, respondents were more positive. Seventy-six per cent agreed they were – 35 per cent strongly.
Chris Bamford, creative and strategy director at Freuds, believes PR shops are "absolutely" a match: "And our campaigns arguably have more impact on audiences; they leave a more indelible impression, because they have been delivered through sources of integrity. Progressive clients understand this, as do progressive agency groups."
Wilcock says: "The best PR ideas are more than a match for ad creatives. It's also often the case that great PR ideas can become great ads. The reverse, not so much." However, he points to challenges ahead. "To really take on ad agencies, PR needs to match the quality of activation. That means getting access to higher budgets and investing in the kind of production values ad agencies are accustomed to. It also means delivering PR ideas that have the legs to become longer-term ads, not just stunt ads."
Client-side, creative leaders also suggest PR has some way to go to match its marcomms brethren. Mountford says: "PR as a whole hasn't mastered the art of strategy and therefore campaign insights can sometimes be generic (millennials think xyz, according to that report that everyone has already read)
and evaluation isn't robust."
Creative abilities
PRWeek dug deeper into the abilities of PR agencies by asking whether the creative chiefs believed PR agencies were "very adept" at fostering and encouraging creativity. Opinions were divided, with 50 per cent in agreement and 45 per cent believing the opposite.
Several respondents noted a distinction between agencies that are strong on this point and those that are not.
Stuart Hehir, creative director at Pegasus, says: "I can only talk from our own experience, but we've worked to clearly define the creative, client and strategy teams in our business, placing greater responsibility on each to do what they do brilliantly and to work together around a client. I have a dedicated team of 20 who are allowed to focus on the creative response and build genuine creative careers. This means we can attract creative talent that might otherwise have been lost to other parts of the marketing mix." Cirkle creative director Chris Grabowski says he has "been lucky" his employers have encouraged creativity, "but I know this isn't always the case".
Bamford believes PR agencies are "not as adept as other marcomms at nurturing creative talent and creative thought". "The former because we rightly believe everyone should be creative (but missing the point that creative job titles should be about nurturing creativity and taking overall responsibility for output). The latter is about time. Brainstorms are often a chore on a to-do list. Wrong."
Similarly, Perkins states: "There are still a lot of bad ideas, habits and practices in PR that get handed down. Why are we still doing surveys? It's changing thanks to the relatively new role of creative director in the industry but it has to get better. Agencies need to encourage more risk, more ambition."
Client views
On the crucial question of whether clients recognised the creative value of PR, a resounding 95 per cent agreed.
"I think most do nowadays," says Bamford. "However, the real test of this recognition is when budgets are getting slashed and the client is brave enough to still give us a decent percentage (versus sticking it all in paid 'guaranteed' media)."
Not everyone is so positive. Simon Moore, a freelance creative director who works for Ketchum and Porter Novelli, says: "Sadly, it's my view that clients often view the creative value of other agencies more because the enormous media cost of exe-cuting that work means it gets more of their attention, but I have had some great clients who've definitely seen the value."
Of the in-house creative chiefs, Ben Hawley, campaigns director at the charity Campaign Against Living Miserably (CALM), is "sure" PR's creative value is "undervalued by some", "probably based on the fact that they often inherit an idea". "But a good PR company works with whatever the idea and the opportunity, and gets incredible value from it. So they should be valued. I'm sure many PRs are short of good ideas, though."
Sky's Francis has a different take – saying that PR is seen as "effective" rather than "creative".
Budgets
Asked if small budgets were hampering creativity in PR vis-a-vis sister marcoms disciplines, two-thirds of respondents agreed that they were.
Wilcock says: "A PR idea designed to be made famous in earned media alone need not have a big budget. So I don't think it's a creativity problem. But small budgets might affect the perceived quality, eg if an idea is best showcased through a film, then having a small budget means small production. Higher budgets can also broaden creativity and push PR creatives to think of ideas that can be genuinely great in any channel."
Others make a different point, however. "Some of the best ideas I've worked on or seen within the industry haven't come with a huge price tag, so I don't think budgets hamper creativity," says freelance creative director Gemma Vardon.
"I think it's more the value of creativity within PR that sometimes suffers as it can be undersold, and that creative thinking and development time isn't monetised as well as it is in ad agencies – although we are getting better at this."
Peter Mountstevens, CCO and managing partner at Taylor Herring, argues: "We've all moaned about the PR budget at some point when it's a fraction of the overall marketing spend but the upside is that it's enabled us, as an industry, to hone our creative skill set in a way that makes us far more competitive in the long term. Unlike our friends in adland, we rarely have the option of throwing money at a problem."
Action
Asked what the PR industry can do to step up its creative game, four respondents gave the same answer: hire more creatives.
Some urged more risk-taking. "Creativity requires investment and bravery, and this needs to come from the top down," says Mountstevens. "If we are unwilling to take risks we will see the same campaigns being activated year in, year out." He also pointed to the "shameful lack of diversity within the industry" (see box, left). Other focused on clients. Thomas says the sector must "educate clients that modern creativity in PR is about a hell of a lot more than a stunt, a survey and one day of 'print media hits'". "Having spent 13 years away from the UK market it was a surprise that marketers still think this equates to a solid PR campaign."
The Academy co-founder and creative director Dan Glover says agencies need to "be more confident… if you back your big ideas, clients will too, then we'd all have case studies that show the effectiveness of creative PR campaigns". A common theme was the need for a change in mindset. "Forget the confines of traditional PR and [don't] be restricted by tactics of yesteryear," says Lotte Jones, creative partner at Freuds.
The last word goes to Joe Mackay-Sinclair, co-founder and executive creative director of The Romans, who argues: "Let passion for incredible work drive the agency's revenue, not the other way around."
---
How can the creative industry encourage more diversity?
"Rely less on dusty grad schemes and more on aptitude testing for entry-level roles"
Lotte Jones, creative partner, Freuds
"Get young people interested in PR as a profession by showing them that there are role models in our industry working on great campaigns"
Leila Mountford, global creative manager, Amnesty International
"Introduce the Rooney rule [requiring employers to interview ethnic-minority candidates]"
Greg Jones, creative director, Mischief PR
"Stop just taking people who went to particular schools"
Simon Moore, freelance creative
"Perhaps [by] following Golin's example – the top-earning agencies put a minimal percentage of their annual profits into a central pot to help support new, diverse talents' career journey"
Chris Bamford, creative and strategy director, Freuds
"There are far too few women in the creative industry full stop. This needs to change, and frankly clients that are marketing to women and mums should perhaps push harder to see creatives who are also their target audience working on their business"
Kat Thomas, founder and global executive creative director, One Green Bean
"For a start, it's not just about young talent. That's missing the point. We need more diversity at board level, more role models"
Mark Perkins, executive creative director, W
---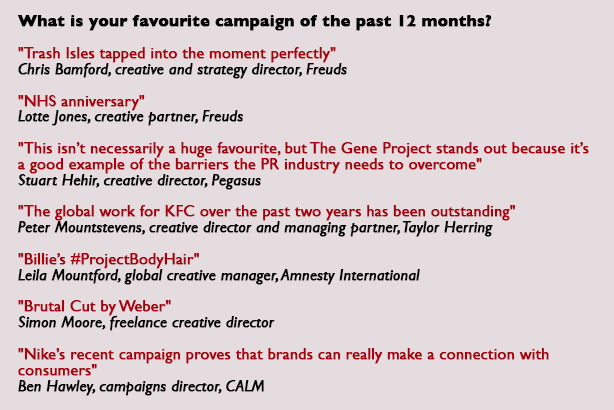 ---
The PRWeek/PRCA Creative Mentoring Project
The scheme has been launched by PRWeek and the PRCA Creative Group to encourage and nurture creative talent in PR. It sees 30 experienced creative PR figures – typically creative directors – offer guidance to their mentees through face-to-face meetings and other forms of contact over one year. The launch follows an application process on PRWeek.com.