Jackie Cooper smiles as she remembers just how much she had to learn about managing the creative process when she first attended the Cannes Lions Fest­ival, in 2013. One night the Edelman team – Cooper and two other senior managers – decided to eat at the popular Le Pastis restaurant. With no reservation, the three of them managed to blag a table for two.
Once seated, they looked around to see that the restaurant was full of people from advertising agencies occupying long tables. "There were the senior management, the young talent, producers, new­ business people... a complete cross­ section of everyone in their agencies," says Cooper.
"All around us party poppers were going off. And while they were all celebrating their work, we three were crammed in at our too­ small table, having steaks thrown at us by a disgruntled waiter. It felt like we were there just looking."
The lesson wasn't simply that it pays to book ahead if you want a table at a busy Cannes rest­aurant. Earlier that year, Cooper's boss Richard Edelman, the eponymous owner of the world's biggest PR agency, had asked her to be its global chief of creative strategy.
'Half the holding companies are in turmoil - I like our chances': PRWeek meets Richard Edelman

In response to the explosive growth of digital media blurring the distinction between the trad­itional marcomms disciplines, and the decline in the role of traditional advertising, he wanted Edelman to offer clients a broader palette of ser­vices as a 'communications marketing agency'.
Cooper's first task would be to build a creative department capable of competing with the very best ad and digital agencies worldwide. She is probably the only person to have done such a thing, on such a scale, in the history of marketing services. "It was easy to say in theory, but the prac­tice was much harder than it looks," she laughs.
Cooper's Pastis epiphany was that it would take a complete overhaul of her agency's structure and ethos if it was to master the soft, sometimes counterintuitive, management skills that are key to running a successful creative business.
"We looked at the awards and saw that many had elements of PR in them, but there were no PR agencies. It was clear that Edelman needed to change its culture if it was to achieve its new ambition," she says. "Our creatives come from ad agencies where celebration of the work, and the pleasure taken in it, is so unadulterated. We were more business­, results­ and impact­ focused. We needed those things to continue, but we needed to add pure celebration of the work to show creatives that their work is valued and respected."
A clear vision
So, the decision to focus on Cannes was not man­agement profligacy or the indulging of creative egos; it was a hard­headed and strategic focus on what gets results.
"There's a difference between recognition and ego," explains Cooper. "Creatives need recognition to create. We didn't have the culture to do that, but we needed to show creatives that their work would be respected. The Cannes relationship is the epitome of our journey [to becoming a com­munications marketing company]."
And what a successful journey it has been. In the years since her visit to Pastis, Edelman's creatives have been 'recognised' scores of times at Cannes, with no fewer than 65 Lions – including a Grand Prix in 2014 for the agency's 'Scarecrow' campaign for Chipotle Mexican Grill.
This has helped Cooper build her creative dep­artment into a force that can compete with even the best ad agencies. She has raided advertising and digital agencies to recruit 640 people into her creative fiefdom. Edelman's New York office alone has 120 creatives working under chief crea­tive officer Jimmy Stone. "We now have creatives, planners and strategists, digital specialists, pub­lishers and content people, all doing jobs that didn't previously exist," says Cooper.
The extent of her achievement was acknowl­edged in October when she was inducted into the PRWeek Hall of Fame at the PRWeek Awards (below). But Cooper is a very different animal from previous UK Hall of Famers such as Lord Bell and Matthew Freud. While they are empire­ builders – all wide braces, self­-congratulation and metaphorical cigars – Cooper comes across as very modest and quiet, concerned primarily with the quality of the work. While others have made PR bigger, or extended its influence, Cooper has made it better.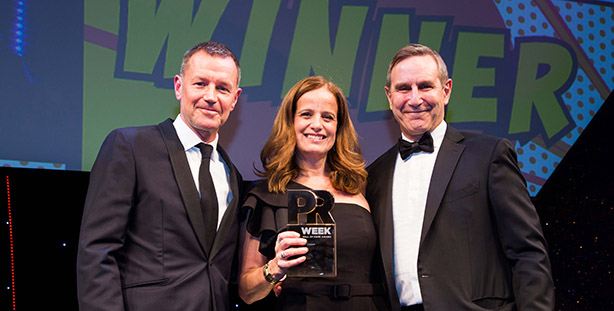 She doesn't boast, or seem obsessed with her own brilliance and status. She has no grand office, no queues of nervous juniors outside, none of the trap­pings of a creative maestro. In fact, the most strik­ing thing about her is how normal she appears.
This modesty almost certainly reflects the in­ auspicious beginnings of her PR career. Cooper, who repeatedly describes herself as "academically inept", left school with little in terms of qualifica­tions and less in the way of career direction. At 18 she got a temporary job as a receptionist at Co­ordinated Marketing Services, a small media relations agency owned by a friend of her father.
"I would be invited to brainstorms and always came up with ideas. I realised very soon that my strange brain was an asset. They realised it too, so I came off reception and worked in an account team. My days were brainstorming stories, pitching to journalists, a lot of phone [and] face-to-face work and gluing press cuttings to pieces of paper."
She learned quickly that fear was the big barrier to placing stories. "I just didn't have that fear. I was prepared to be hung up on. And every time a journalist did that, it made me hone my story better."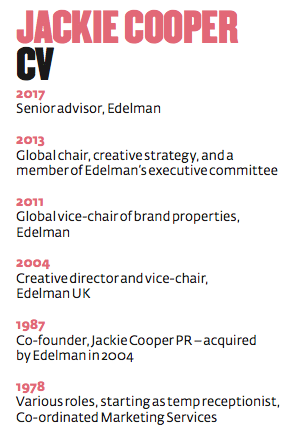 Five years later she found herself unemployed and, she says, extremely depressed. On impulse she called Greenpeace, which had just taken on its first ad agency. She asked whether it wanted help amplifying its new anti-fur campaign, shot by David Bailey. "Everyone said David Bailey didn't do interviews. I said: 'Has anyone actually asked him?' He was charming, did a load of interviews and the campaign became famous."
So, in 1987, at just 23, Cooper launched her own agency, Jackie Cooper Publicity. Subsequently, she co-founded seminal consultancy, Jackie Cooper PR (JCPR) with Robert Phillips. A string of high-profile and award-winning campaigns followed, for the likes of Snapple, Ashley Olsen, Sony PlayStation, Wembley Stadium and Wonderbra. Eventually, in 2004, Cooper and Phillips sold the firm to Richard Edelman – 10 years after his first approach. Phillips went on to run Edelman's UK, and then, European operation, leaving the agency in 2012 to set up Jericho Chambers.
Edelman wanted JCPR to be the consumer offer for his relatively small UK corporate agency. Initially Cooper was creative director and vice-chair of the UK company. Then in 2011 she was named global vice-chair for brand properties, providing strategic advice on the agency's major consumer accounts, such as Diageo, Starbucks and Microsoft.
Her next role, as creative supremo, puzzled some. The brief was to build a creative department to make Edelman more like an ad agency, but no ad agency would ask their head of planning to build a creative department. PR firms often blur the distinction between strategy and creative. Could it mean that they have understood neither?
No, argues Cooper. She makes it clear that what PR agencies mean by 'creative' is not the department, but the process – and that includes planning. More to the point, agencies like Edelman are not trying to ape ad agencies. "I've always said we are not trying to be a PR agency as they were, [or] an ad agency as they were. We are building a new planet." This new planet is a hybrid of the two worlds, she explains. "PR has grown up with people like me who became generalists. Now, to be more than a PR firm, we need the absolute [specialist] craft and skill sets to extend our marketing resource."
The process is additive. So, while Cooper has recruited scores of specialists, they work alongside the traditional PR generalists, not instead of them.
That recruitment has, of course, presented big challenges. A major problem was that Edelman has 65 offices, each run by its managers, with their own sophistication, skills, culture and client base. In some markets managers could make the transition on their own; in others the craft skills were locally available; and in yet others, US or UK managers were installed to lead the change.
Then there was the question of integrating the planners, journalists, art directors and producers. "I'd hire someone and wait a couple of months, and then they would ring and complain that this wasn't working the way they wanted. They had all come from a structure where... creative was king. They had moved to a structure where they were just a team member, and often those teams were used to doing the creative thinking on their own."
As a manager, one of her most difficult calls was to decide when to deploy the creative rigour of those specialists and when to fall back on the general creativity of PR pros who had been doing it for years. Cooper says there was no single answer; it depended entirely on the client and brief.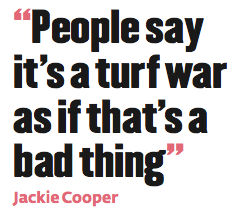 While there was no internal resistance to the changes, she says it helped that they were rolled out gradually so people could be enthused by the success of others.
"Creative here started in the digital teams, which were structured in a way that was familiar to the creatives. The PR teams would see this working and realise that there was something compelling here to offer clients."
Cooper soon found that the key to the entire process lay in the quality of the account lead. "If they were brilliant they could conduct the orchestra of expertise well and everybody got the best out of it." She doesn't say what happens if they aren't brilliant.
Conventional wisdom in the most creative agencies is that creativity must be fetishised and all agency structures and processes be geared round it. But that can't be the case in PR and it would be a mistake to make it so, according to Cooper. In her slightly shocking words, "creative is not king" – and never could be. "If it were, we'd be missing the most important trick of all. With the way the world is going, reputation and risk is as much of an issue as the drive to be creatively compelling."
While she is a proud advocate of the benefits of PR-informed marketing, surprisingly, Cooper says PR agencies don't have a God-given, orclient-given, right to their new role. They will have to earn it.
She agrees that the changes in Edelman and the wider industry are really a marcomms turf war, not a response to an overwhelming client demand for broader creativity from PR agencies – clients want more creativity and integration, but are not particularly bothered where it comes from.
"There's nothing wrong with competition; it makes people raise their game. People say it's a turf war as if that's a bad thing, but I don't think a battle for business to show you are the best is a bad thing."