WWF – Stop Wildlife Trafficking
A life-sized hologram of an elephant was spotted roaming around London earlier this month as part of a new campaign for the World Wildlife Fund (WWF).
The pachyderm projection appeared at locations including St Paul's, Abbey Road and Parliament and was part of the WWF's Stop Wildlife Trafficking campaign. It aims to surpass 100,000 signatures on a petition to the British government to end illegal wildlife trafficking.
We've unveiled a hologram elephant in London! Why? To remind global leaders who are gathering there this week that they need to take urgent action to #EndWildlifeCrime and #StopWildlifeTrafficking pic.twitter.com/v4im4IkRR3

— WWF ?? (@WWF) 11 October 2018
The campaign, from PR agency Manifest, urges supporters to promote the cause on social media using #StopWildlifeTrafficking and tagging @WWF_UK.
Matilda squares up to Trump
To mark the 30th anniversary of Roald Dahl's classic Matilda, statues depicting the book's eponymous protagonist squaring up to Donald Trump were placed in the author's former home town in Buckinghamshire.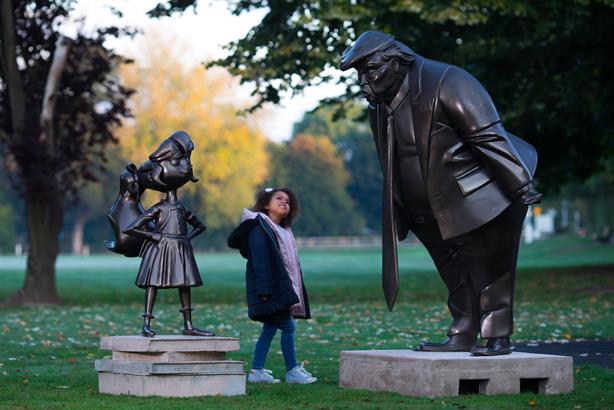 As part of the campaign, from PR agency Tin Man, the public were asked who Matilda – who famously stood up to her head teacher Miss Trunchbull – would stand up to today. Trump came top (42 per cent), followed by Theresa May (21 per cent) and Piers Morgan (16 per cent).
The clever stunt, which gained much publicity, managed to link a three-decade-old novel to the zeitgeist theme of female empowerment, with a cheeky nod to financial services firm State Street's hugely successful Fearless Girl campaign (but with the bull replaced by the bullish US president).
TrustedHousesitters – pet plaques
House and pet-sitting business TrustedHousesitters has launched an ongoing campaign designed to commemorate the country's 'most amazing animals' by giving them a 'pet plaque' – in the same way notable people have been regonised over the years by English Heritage.
The scheme, by PR agency Propellernet, sees green nameplates (with ears) adorn the abodes where high-achieving pets reside, and the first examples include recognition for bully-fighting cat, Smudge (below), and Flora, a life-saving dog. Accompanying research revealed that more than a third of pet owners would rather be with their pet than their 'friends'.
Smudge the brave cat and @CatsProtection Hero Cat Finalist 2014 protected his best friend from bullies is one of the first Pet Plaque recipients. Do you know a deserving pet? Nominate them here https://t.co/U4l2tVLBbJ #PetPlaques pic.twitter.com/UdJwrGhuUG

— TrustedHousesitters (@Housesitting) 27 October 2018
The campaign will continue to run into 2019, encouraging pet owners across the country to nominate their own heroic animal and it has acheived coverage across the likes of Sky Sunrise, BBC, the Mirror and the Express.
Ibis – relax we post
This original campaign had the PRWeek team talking. Hotel brand Ibis is offering a true 'digital detox' service called 'relax we post'. Available at all Zurich branches for one month, guests can put their Instagram accounts in the hands of experienced influencers, leaving them free to enjoy the city.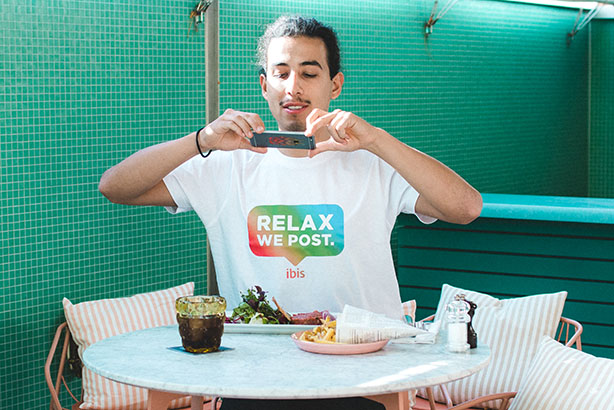 The 'sitters' will take care of posts and Instagram Stories, and guests can even ask them to respond to followers' comments. Influencers signed up include Sylwina, Sara Leutenegger, former contestant on Germany's Next Topmodel, and Geneva-based lifestyle blogger Cristina Gheiceanu. The campaign is from agency Jung von Matt/Limmat.
DfE – Every Lesson Shapes A Life
A campaign for the Department for Education to attract people into teaching uses highly resonant themes of pride, encouragement and young people fulfilling their potential under the strapline: "Every Lesson Shapes A Life".
The film at the heart of the campaign follows Abbie through her school journey, from a shy child arriving for her first day at reception to her final day as a confident teenager.



The campaign, with creative by Havas and PR by Kindred, packs a huge emotional punch as more than a decade of a child's life passes by the viewers' eye in less than two minutes.
Read next: Five Campaigns We Liked in September - your winner revealed