The NFL has grown its fan base to 14 million people in the UK, including '4 million avid supporters', as a multifaceted marketing programme helps the sport gain serious traction on this side of the Atlantic.
Influencers, including Premier League star Harry Kane, are at the heart of the NFL's strategy to grow the sport in this country.
"It's very difficult in this day and age with media the way that it is to ask somebody to become a fan, get a little bit interested and come to your platforms," Swanson said.
"The strategy has been let's try to take the NFL and put it where are target consumer and fan is already consuming."
This includes engaging with a wide variety of influencers, such as rappers, sports stars, YouTubers, food bloggers and so on.
The aim is to get influencers to talk post about the NFL to target teenagers and young adults under 30 – a target audience that is more receptive to new sports.
Over the past two or three years the NFL has worked with "hundreds" of influencers but not all of these relationships are long-term.
"When we have games, we invite lots of people to the games, take them down to the sidelines to try to create access and experiences for them. We've taken some to the US as guests to playoff games and even Super Bowl," Swanson said.
"We also do influencer events here, such as kick off weekend influencer media party."
Tottenham Hotspur stars Harry Kane is perhaps the most famous influencer. England's star striker has been a huge New England Patriots fan while his Spurs teammate Eric Dier is a Philadelphia Eagles supporter.
"We would get those guys to sit down and talk about the game (last season's Super Bowl between the two teams) and put that content on their channels, on the Tottenham channels and our channels," Swanson said.
"On our channels, they're talking to existing fans, but on their channels they are talking to potential fans."
Swanson believes the influencer programme has been "hugely successful" in driving interest in the sport, but admits it is hard to accurately measure its full impact.
"We measure fandom in general through a whole variety in different ways. But it's always the toughest thing to measure – how does a fan measure its own level of fandom to another sport?
"I think we've brought in a lot of influencers who are engaged with the sport and brand now. We measure success through samples and national representative questionnaires a couple of times a year."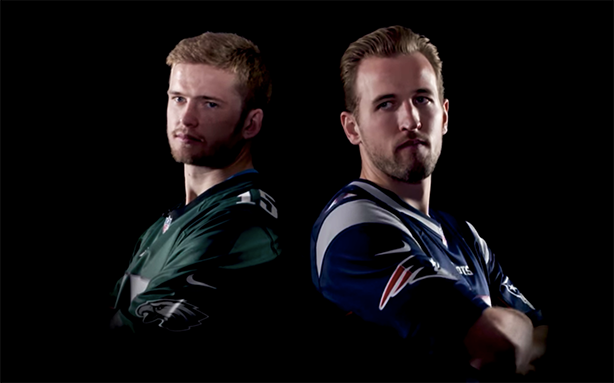 Tottenham's Eric Dier and Harry Kane are among an army of influencers to promote the NFL.
TV ratings, gate receipts soar
In these studies, fans consistently perceive the NFL to be among two to three sports to be growing in the UK. The 14 million figure is based on these sentiment surveys.
Another indicator of growth that is easier to measure is TV ratings. In 2017 season, NFL broadcasts on Sky and BBC reached 25 million unique viewers – a 40 per cent year-on-year increase on 2016.
Then there are the live games, which Swanson said sell out in "minutes and hours" irrespective of which teams are playing.
"About half of the stadium (Wembley or Twickenham) are season ticket holders, people who buy for all of the London games," Swanson said.
"The tickets are so hard to get and sell out so quickly that it's hard to use the games as a fan growth tool," she added. "It's a nice problem to have."
On the commercial side, the NFL has never looked stronger in the UK, welcoming Last year Subway became a presenting partner of the London games and sponsored NFL's youth Flag programme. Other new brands that signed up include Just for Men and Heinz Yellow Mustard, which are activating across the NFL's London programme. Virgin is another UK specific brand and several global partners also activate on London.
"For us it's about attracting new partners but also ones that want to use their rights in-store. For example, Subway has a kids pack, bus sides and TV ads, which is a clear sign the partners see value in the association with NFL," Swanson said.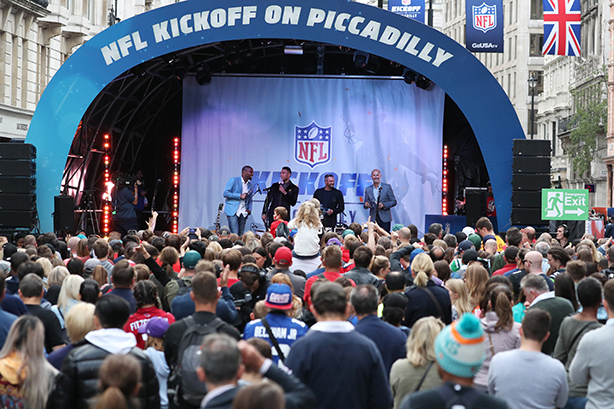 In September, the NFL took over Piccadilly in London for a season kickoff event.
'We need season-long consistency'
There's no doubt the NFL has made significant strides in the past decade in expanding its fanbase, TV audience and commercial programme.
However, much of the buzz around the sport in this market revolves around the London games and Super Bowl.
Swanson said the next step is to create a "season-long consistency".
"There is a lot of attention from a PR standpoint in the UK around our games and Super Bowl. We probably have a lot of fans in that 14 million that are fans when it is in front of them at those times of year. Our biggest challenge is about creating a consistent fan and consistent points of engagement, and really extending to be season long.
"This year for the first time we did an event at season kick off in the first weekend in September that was a takeover of Piccadilly with concerts, legends of the game and a kids mini pitch. That is part of the strategy of pulling the season forward so that kick off becomes a big moment."
The NFL is looking for other points of engagement throughout the season, such as pulling fans to watch the playoffs, the knockout tournament that decides who plays in the Super Bowl.
"We have fans who dip in and dip out, but I want them to pay attention all season long and the playoffs are a big opportunity for that."
The final London game between the reigning Super Bowl champions, the Philadelphia Eagles and the Jacksonville Jaguars can be seen live on Sky Sports Action from 12.30pm on Sunday.
Next week, PRWeek catches up with the Eagles SVP of media and marketing Jen Kavanagh to find out how the Super Bowl champions are making the most of their London visit and why it is important.