In 2017, 48% more UK revellers flew abroad for music festivals than in 2016 and the festival industry is tipped to be worth €3.5bn (£3.1bn) this year.
Jukebox, founded 10 years ago by Alex Jukes, is tapping into this trend by expanding into Bangkok and Shanghai (with local offices opening in June) and launching a new office in Spain in November that will cater to the US and Latin American market.
The agency has also opened up a sister business, Jukebox Management – a new division that helps connect festival management, promoters and musicians.
"In the past two years it has really taken off because we offer PR to international festivals to promote their event outside of their own country. We now do 70 festivals around the world, from New York to Brazil, Vietnam, Australia, Italy, Holland – all over the world," Jukes told PRWeek.
"There are so many people, especially from the UK, travelling outside of their own country to visit festivals abroad. There's also been an explosion in destination festivals, which are smaller festivals, under 10,000 people, taking place in exotic locations like the Caribbean islands or Vietnam. The festival goes for a few days and revellers then spend a week travelling the country.
He added: "The Asian market is really growing, particularly in China, which had 150 festivals last year. It's a huge market where we were offering international PR on some of their festivals, but we are also branching into local PR as well."
Asian countries that are becoming electronic music "hotspots" include Japan, Korea, Singapore and Thailand.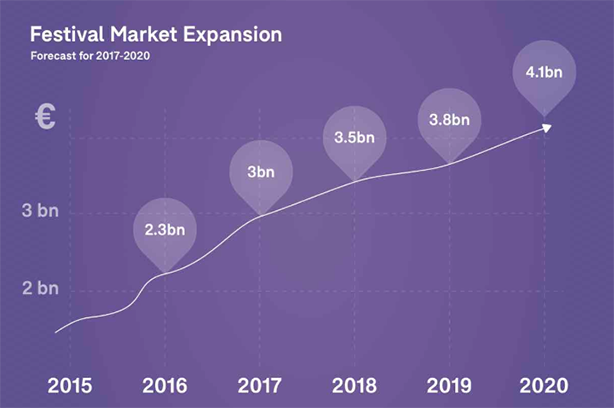 Festival tourism has grown into a multi-billion-Euro industry, according to research by Festicket.
Jukebox started out life by focusing on electronic music festival promotions, but now provides PR services to lifestyle brands that play in the electronic dance music (EDM) space, including alcohol brands like Corona and Smirnoff. It also works with brands trying to break into the rave scene, such as a new energy gel that is used by professional cyclists.
Some of the festivals and events include Movement Festival in Italy, Epizode Festival in Vietnam, BPM Festival in Portugal and Kappa Futur Festival in Italy.
Electronic dance music has become a multi-billion-dollar industry and although there are about 20 boutique agencies that provide similar services to Jukebox domestically, there only a handful of truly global players. The agency has 20 people in total, including 14 on the PR side and about six in Jukebox Management.
Jukes said the launch into management is a "natural progression", leveraging Jukebox's globals contacts from festivals, record labels and the music media.
Jukebox can help artists produce albums and break into Spotify and the music industry, and has access to a studio in Milan. It helps artists get songs onto movies, adverts and computer games, where "there's huge opportunity there and the whole world is looking at electronic music at the minute".