Rental woe and Brexit blow?
It may relate to a relatively historic period (the full year 2017), but Flack found some interesting morsels in the recently published financial results from Finsbury.
Firstly, operating profit dived by one quarter to £6.6m, with the agency citing decreased turnover – which fell from £8.9m to £7.2m – and "higher operating costs". Flack understands the latter was primarily down to the recent move to a new office at The Adelphi Building near London's Charing Cross, where rent is much higher. (The figures exclude the US business, incidentally)
"Although we only moved at the beginning of October, we took over the lease much earlier so effectively had double rent for about six months," a mole at the WPP-owned agency revealed.
Back to revenue, and the accounts blame the dip on higher project fees in 2016 and "the impact of Brexit on the market" in 2017. The Brexit impact is especially noteworthy given Finsbury CEO Roland Rudd's pro-Remain campaigning ahead of the EU Referendum.
However, Flack's well-placed source downplayed this factor, saying there had been "no obvious Brexit impact really on revenue", pointing instead to the bulk of work in 2016 that including the Softbank/Arm disposal, Sainsburys' acquisition of Home Retail Group, and the merger of ABInBev and SABMiller. Perhaps there's more than one school of thought at Finsbury on the impact of Britain's impending EU exit.
The slightly challenging year saw remuneration for the agency's highest paid director (surely Rudd – ed) fall more than £300,000. Still, £5.2m is not to be sniffed at.
Video nasty, or just bad comms
There was much discussion on social media this week about an, ummm, interesting corporate video from recruitment firm Haigh Associates. The video, to publicise the incentives available to Haigh employees, left some scratching their heads as to whether it was genuine. The lack of women and focus on materialism felt hugely out of place for many.
You can see the video below, in a tweet from one recruitment company boss whose response to the film was clearly not appreciated by Haigh:
Managed to get myself blocked on LinkedIn for saying that this is the best parody of the recruitment industry I've ever seen.

Turns out Haigh Associates were actually being sincere with this video. pic.twitter.com/qPKCYPHy5I

— Stevie Buckley (@StevieBuckley) October 15, 2018
This response sums up the opinions of many:
Wow.

Everything that is wrong with the #Recruiter industry in one film.

?? All men
?? 99% white
?? Materialism culture
?? Swagger over human connection
?? Bro theme song
?? Table tennis

Let's be like 1980s stockbrokers... because that all ended so well!

— Heather DeLand (@HeatherDeLand) October 15, 2018
As Buckley showed in his post, the firm was resolutely defensive:
oh no. i made them sad. pic.twitter.com/QXDrXJgwu1

— Stevie Buckley (@StevieBuckley) October 16, 2018
Chris Blackwood, MD of PR agency Third City, demolished the company's handling of the controversy. He told Flack: "When you've become a laughing stock for good reason, doubling down by coming out swinging isn't the right move. Haigh should have thought more carefully about the criticism and admitted they'd learned something. Evidently they've learned nothing.
"Instead, what shines through is staggering misunderstanding of the criticism. On the plus side, the fact that this is being called out and will perhaps become a learning for others is the only positive we can hope for from this tone-deaf trash."
Final point: "If you can afford a private jet to Ibiza, you can afford a small PR retainer."
Flack won't argue with that.
Creative spirit?
Mentors and mentees from PRWeek Creative Mentoring Project have started getting to know each other over the past couple of weeks but it appears CC Group boss Richard Fogg got a little spooked upon his arrival at Manifest's office for his first meeting. Was this his mentee, getting into the creative spirit? A ghost of mentees past? Either way, Flack didn't want to miss a pun opportunity open ghoul...
First @prcacreative @prweekuknews creative mentoring session with @andrewsoar Turned up a bit early to @ManifestLDN office. WTF?! pic.twitter.com/MTfQepsLII

— Richard Fogg (@TelcoGeek) October 18, 2018
Sexism is blow joke
Following news that, after 60 years, Kleenex 'mansize' tissue boxes will be renamed 'Extra Large' in response to criticism from customers and campaigners, BBC Breakfast and Football Focus front 'man' Dan Walker did a joke. What he did was, he found another product with 'man' in the name, and…
I am starting a campaign to stop everyone in the world from eating mango. Hideously sexist fruit
?????? https://t.co/VHfX8Le4Ru

— Dan Walker (@mrdanwalker) 18 October 2018
Ye-ha!-CA
Industry trade body the PRCA has been diversifying of late, with its much-publicised (and in some corners controversial) incorporation of the APPC into its ranks. Could Dynamo PR co-CEO Peter Bowles have unwittingly stumbled across a new venture for the organisation?
Google auto-complete has made me aware that @PRCA_UK has a rival in the Professional Rodeo Cowboys Association pic.twitter.com/IRz15LWQHC

— bowlesy (@bowlesy) October 18, 2018
An ode to NHS's flu jab campaign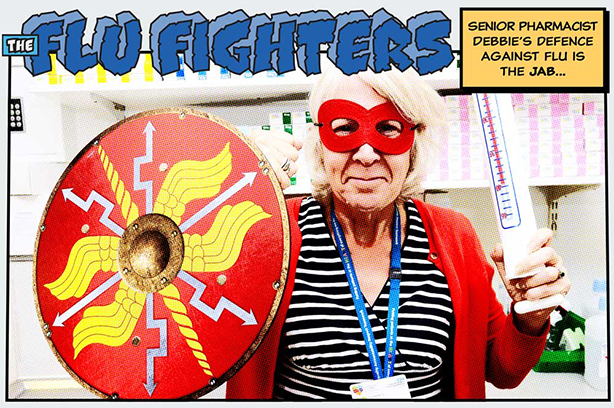 If there's something strange in your NHS Trust hood,
Who you gonna call? Flu Fighters!
If there's something weird and your throat don't look good,
Who you gonna call? Flu fighters!
I ain't afraid of no jab.
I ain't afraid of no jab.
"I think that's really unfortunate that you've done that"
Finally, check out this classic PR car-crash interview with Persimmon Homes boss Jeff Fairburn.