One of the family
One standout moment last night was when Edelman global creative chair Jackie Cooper was inducted into the PRWeek UK Hall of Fame.
It was up to Edelman CEO Richard Edelman, paying a special visit from the US, to be Cooper's inductee. Cooper founded seminal 1990s agency JCPR, which was acquired by the American firm in 2004.
Edelman recalled the desire to bring Cooper and her agency in order for the UK business to branch out into more marketing disciplines. Her impact was "immediate", Edelman said – almost like she was one of the family, in fact.
"I brought her to Chicago and my dad said, 'she's like me'. I said, 'what about me?' He said, 'you're not like me'. You're not a marketer, you're a corporate guy. I want someone like her.
"She's the sister from another mother, I get it. The spiritual heir to our brand practice."
Cooper told the crowd she "flunked at school", and decided to enter PR at the suggestion of her father.
"I didn't even know what PR was when he suggested it. It wasn't even given to me as a career option at school. Actually I was given no career options. But suddenly my weird lateral brain was an asset. I found a business that I loved."
A positive note to end on. Cheers, Jackie!
Had the honor of presenting @JackiePRCooper with the PRWeek Hall of Fame Award at tonight's #PRWeekAwards ceremony. Please join me in congratulating Jackie on this well-deserved honor! #EdelmanProud pic.twitter.com/pqkf1Zq6nE

— Richard Edelman (@richardwedelman) October 16, 2018
David Fraser: do-main man
Flack doffs his hat to David Fraser, founder and MD of Ready10, last year's Best New Consultancy winner at the PRWeek Awards.
After his agency's win in 2017, the canny Fraser bought the domain bestnewagency.com and redirected it to the Ready10 site. He has now vowed to pass it on to this year's winner, Munch.
He tells Flack: "It has brought us luck and so we wanted to pay it forward to this year's winners and give it to them with our congratulations. They've got a great 12 months ahead.
"Winning Best New Consultancy at PRWeek was transformative for our business – the feeling of having achieved it was nothing like anything I had experienced before or since. It's unique because most awards are recognising 12 months' work but that category is probably all about 2-3 years of hard graft and the achievement of a vision. And you can only win it once. I'm quite jealous of Munch , I'd love to win it every year!"
Romesh Ranganathan "semi-excited" by PRWeek Awards booking
Comedian Romesh Ranganathan didn't hold back from describing his excitement at being asked to do this year's PRWeek Awards.
He confided to the audience: "I was supposed to be doing the O2 but I said 'screw that mate, the PRWeek Awards'... I was backstage with a semi just getting ready for this.
In a swift pop at the diversity of the audience Ranganathan continued: "Don't worry, only 10 per cent of my stuff is based on me being Asian. However, the other 90 per cent is based on my issues with white people…so there's possibly been a bit of a booking error."
'W' for wasted?
As the PR industry shakes off some pretty epic hangovers this morning, spare a thought for the crew at W.
The agency picked up a few gongs last night and didn't hold back in celebrating.
After each success, Flack noticed the W table indulging in a round of tequila shots. Let's be honest, we've all been there and it usually doesn't end well.
However, W perhaps realised this when they booked a suite at the Grosvenor hotel for a lavish PRWeek Awards after party.
Flack is pretty sure that however dusty you may be feeling, there's a W equivalent who's a tad bit worse.
Winkleman's new BFF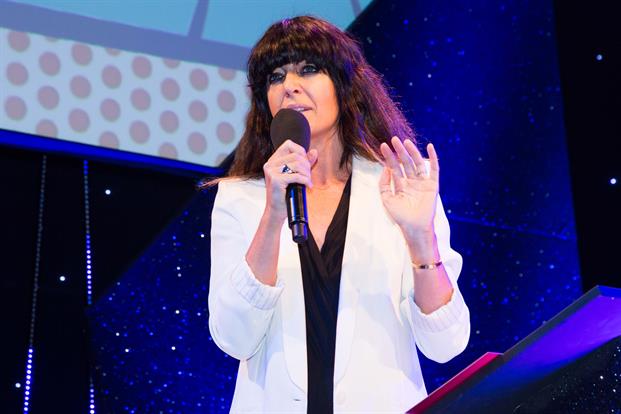 Legendary PR boss Angie Moxham made her usual impact on proceedings, quickly striking up a friendship with host Claudia Winkleman (above) on the editor's table.
Such was our Angie's effect on Claudia that the Strictly Come Dancing host interrupted her awards introduction with a stage shout out to the former 3 Monkeys founder, now of Fourth Angel.
It is testament to Moxham's comms skills, that she managed to impart much of her rock'n'roll life story to Winkleman, when most people struggle to get a word in edgeways.
Best dressed or tasteless?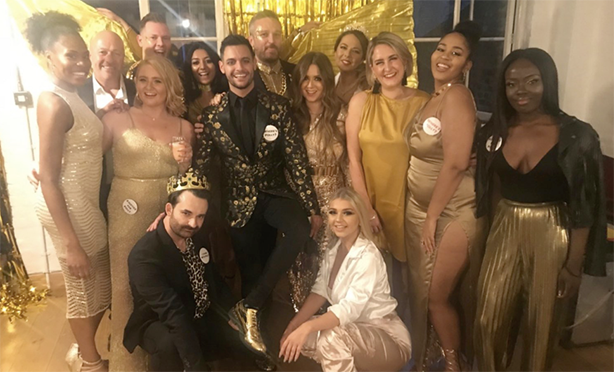 Talker Tailor lived up to its name last night on a several accounts. Their incredible gold trimmed outfits caught the eye of several guests, including Flack. It was awards tailoring at its finest.
However, it wasn't just the outfits that got chins wagging. The TT team sported badges in support of Polly with slogans like 'Where's Polly' and 'Justice for Polly', pictured above.
Flack is taking a guess that Polly refers to the Frank PR employee whose name was attached to a 'rogue press release' that offered free Scofflaw beer to Trump supporters.
Polly was subsequently suspended for the impasse as Twitter went wild.
One agency boss thought the stunt was in poor taste.
"It was probably meant as a joke but it just felt mean and unnecessary. We all mess up from time to time, presumably TTTM are no different – but I don't see how it helps our industry to call out another agency so publicly," the agency boss said.
On a roll
With six PRWeek Award wins, Taylor Herring was undoubtedly one of the stars of the night. Flack was pleased to see the agency's boss, James Herring, giving his client a pre-dinner push.
Two of our Greggs campaigns are up for an award tonight - so it was only right and proper to bring in special hors d'oeuvres for everyone

#PRWeekAwards #sausagerollstarter pic.twitter.com/fDsDdpQyLm

— James Herring (@itsjamesherring) October 16, 2018