PR expenditure grew 4.2 per cent in the third quarter, against overall sector growth of 2.5 per cent, according to the latest Bellwether Report from the Institute of Practitioners in Advertising (IPA).
PR grew at a slightly slower rate than main media advertising (+4.8 per cent) but performed far more strongly than direct marketing or market research - the amount spent on both declined (see chart, below).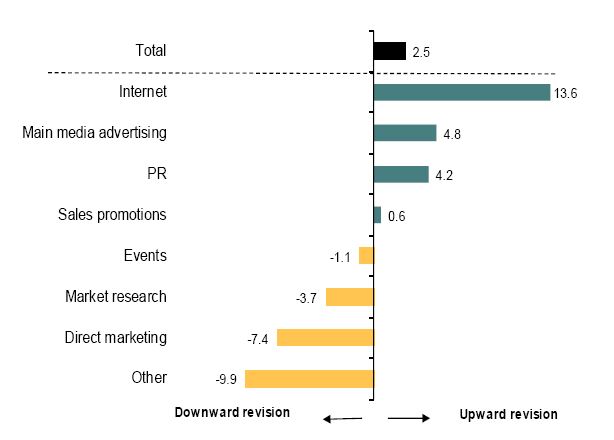 James Goddard, CEO of marketing agency JJ, who is quoted in the report, said: "While there are signs of uncertainty throughout the broader industry, the increase in PR budgets is a sign of the times. There is a clear crossover between PR and disciplines such as content marketing."
However, Goddard said there's a "significant need to incorporate PR into a wider marketing strategy and to consider better ways of measuring its effectiveness".
"Above all perhaps, creativity and innovative thinking are a must when trying to achieve cut-through among an ever-increasing range of media and influencers. While traditional media can't be ignored, simply distributing a press release and making a few follow-up calls is often not enough. More intelligent thinking is a crucial part of PR - and that's reflected in an upturn in budgets."
Total marketing budgets grew but at a slower rate, according to the research, which is based on responses from a panel of around 300 UK marketing professionals, primarily from the UK's top 1,000 companies.
Almost 21 per cent of panel members revised total marketing budgets up in Q3, while around 18 per cent observed a decline in spending plans, yielding an overall net balance of +2.5 per cent. That represents the weakest growth in total marketing budgets since the fourth quarter of 2015. The net balance was down from +6.5 per cent in Q2 2018.
Confidence dips
Meanwhile, marketing chiefs are less positive about the financial prospects for their own company and the industry as a whole than they had been previously, the study suggests.
A net balance of +5.7 per cent of panellists were optimistic towards their own company's outlook, compared to three months ago. That is the most downbeat assessment in six years, and it compares to +13.3 per cent in the second quarter.
For the sector as the whole, the net balance fell from -9 per cent in Q2 to -21 per cent in the third quarter. That's the strongest level of negative sentiment since Q4 2011 (-44.9 per cent).
The report estimates that adspend will rise 1.1 per cent this year. "A lack of clarity over the UK's future relationship with the EU after Brexit, alongside rising cost pressures, will both act as drags on marketing expenditure," it states.
Growth will be 0.7 per cent next year, it expects, citing "Brexit-related risks" plus "slower growth and muted consumer spending". There will be "growth in momentum" from 2020 to 2022, however.
Paul Bainsfair, director general at the IPA, said: "With ongoing Brexit uncertainty, it is perhaps no wonder that companies are having to be more cautious with their marketing spend and are inevitably increasingly downcast about their financial prospects.
"Despite this, however, we must take some solace in the fact that investment in main media spend is fairly constant quarter-on-quarter. As the evidence shows, main media is the most effective route to building brands.
"At a time when just under two-thirds are pressing pause on their marketing spend, perhaps this provides an opportunity for others to get cut-through and see whether fortune really does favour the brave."
The report was researched and published by IHS Markit on behalf of the IPA.